March 16, 2011
0

found this helpful
It depends on what size and/or color you need, but what about lids from jarred food products? Kraft Mayo in the 48 oz size has a pretty blue colored lid that is about 3 1/2" in diameter. Maxwell coffee has a silverish gray lid that is about 6" across. Metal lids from things like pickles and large bulk sized condiments could be spray painted (if color is an issue) to use as drip trays, too. You could also use lids from butter tubs or large cottage cheese or large yogurt containers, too.
If you wanted to get really cute and clever, you could look for china cup saucers with pretty patterns in thrift shops or garage/estate sales. Look for shallow soup sized bowls and salad plates at these places, too. Hope this helps.
March 18, 2011
0

found this helpful
I just look around the house and see what I can find that would look cute or nice under my plant. My favorite it to use a saucer or dessert plate. If I don't have one at home, Dollar Tree usually has some nice looking ones. Recently I've seen some clear plastic and even clear glass plates there and have used those. They also have some cute bowls that work great as drip containers.
Here's an idea I used for one of my Snake plants. I took a clear plastic bin and got some pretty rocks form the dollar store. I put the rocks in a single layer in the bin then set the pot in the middle. Then I finished putting rocks in till they were up to just below the upper rim of the pot. Now I can water my plant and it stays watered for a while. I can also see when the water level is low and needs more.
At one point it started leaking so I took the plant and rocks out and dried the bin thoroughly, using a hair dryer to really get it dried good. Once it had cooled I melted some candle wax over the places in the bottom where it was leaking to plug them up. At that time I was able to put the rocks and plant and water back in. It hasn't leaked since!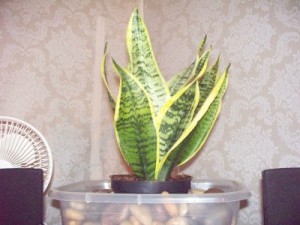 March 19, 2011
0

found this helpful
I save throw away pans that frozen rolls or pies come in. They're great for bigger plants, and drip pans keep plants moist longer requiring less watering in summer months.
Also, the clear plastic pans can be wired with florist wire onto hanging plants. this not only keeps them moist but prevents drippage if plants are indoors.
March 19, 2011
0

found this helpful
If you buy graham cracker crusts they have a plastic liner shaped like a pie pan that works really well under medium sized pots. I too use saucers and bowls from the Goodwill store. Can usually get them for a quarter.