October 17, 2006
0

found this helpful
I grow them in pots too but love to have them in my garden as well. Mine are still going stong even after all the rain and cold weather we have had recently.
~Wendola~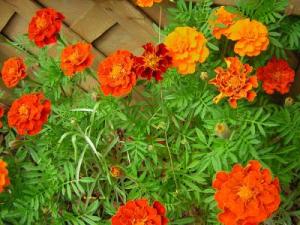 November 4, 2006
0

found this helpful
I've bought mine about 3weeks ago now and I can't seem to get them to bush out as they just look like sticks and small flowers if that. I've fed them seaweed fertalizer and water but i'm going to loose them which is a shame as i love them, any tips to make them bush out and last? Thankyou.
November 14, 2006
0

found this helpful
Lampchop,
I always grow mine from seed. They seem to have
no problem bushing out on there own.
I have really rich soil that I use that comes from
a natural wetland that is on a friend of mine's
property.
I feed them a light plant solution that you can
use on your grass shrubs you name it. Keeps
the guess work out on which plants need what
and saves time in changing solutions.
I am a big fan of dead heading flowers which I
think helps as well. I don't let water sources hit
the flowers except for rain.
If you water your plants and get all of the
foliage wet it acts like a maginifing glass on the
plants when the sun hits them. Water in the center
of the plant close to the soil.
Of course lots of TLC. ;-)
~Wendola~
November 16, 2006
0

found this helpful
WENDOLLA thanks for the tip,I was just wondering when I dead head them can I bury them in the soil so they can reseed or should I dry them first? If I dry them how long should I do so before planting the seeds as I adore marigolds so much and dont want to give up on them.
Thank you again, happy gardening :-)
November 16, 2006
0

found this helpful
WENDOLA sorry i missed spelt your name and the silly computer played up on me hence the double post. Nice picture by the way hopefully now I can grow mine like that, thanks again
November 17, 2006
0

found this helpful
Hi again Lampchop,
Thanks for the comment on the picture! My digital carmera has not gone to waste. I use it to take pictures of my flowers in order to have pretty wallpapers for my computer and to hang on my walls!
BTW, no problem on the mispell of my name.. it's just a nickname any way. You are welcome to the tips. I would dry the blooms out first. I just hold on to mine for the following year. That way I always have seeds around. You will soon see if you save that you will have more than enough to plant and share with friends.
I just place mine on a table once I pull them from the plant.. then I leave them alone for a few months... then store them in a brown paper bag. I found if using ziplocs and the plant is not completely dried out it will cause it to form mold.
You are quiet welcome for the help! I enjoy gardening and dont mind helping others at all. Flowers make the gloomy's days seem much brighter. Besides if a man doesn't give you some you can always pick your own. 8-)
Happy Gardening!
~Wendola~
November 22, 2006
0

found this helpful
Hi Wendola, Thankyou once again for the tip i appreciate them, now hopefully i can have lovely marigolds from the seeds too. Happy gardening & i agree with the bit about men not giving flowers, i think thats why all females grow flowers for themselves, ha ha
Cheers Lambchop :-)
March 8, 2009
0

found this helpful
The photos here aren't of pot marigold (calendula) but of African marigold (tagetes)
You can see pot marigolds here: en.wikipedia.org/.../Calendula_officinalis
Pot marigolds aren't very ferny and bushy - more straggly but very pretty flowers. these tagetes are bushier. could that be the problem lambchop?
March 18, 2012
0

found this helpful
Thank you pigeonseed for clearing that up! I was starting to worry that I have been trying to grow the wrong plant or have just been infact growing a weed! haha. Just out of interest, can you eat the petals/leaves of an african marigold? If not this confusion of names could leave many people with a bit of a poorly tummy instead of a useful ingredient!
March 18, 2012
0

found this helpful
Sorry, I forgot to also ask... I'm growing some at the moment and have 3 that have germinated. I really need to know;
How many flowers roughly come up from one seed?
If I wanted to put all 3 seedlings in one pot what size pot should I use?
Or, should I plant them in individual pots, if so which size?
I have got to a point where everything is germinating and I haven't thought the next step through properly! Didn't expect it to all happen so fast!
March 19, 2012
0

found this helpful
I agree the pictures on this thread are of tagetes, not pot marigold. I don't know if african marigolds are edible or not, I've read some places that say yes and others that say no.
Potty, don't worry calendula is a very forgiving plant! It's quite hardy and easy to grow. You will get one plant per seed, but each plant will produce many flowers over the season. To keep it blooming "deadhead" or remove the flowers once they start to fade. It will reseed itself if you leave some of the blooms on the plant at the end of the season. I have containers with calendula that comes up year after year with no help from me. Or you can easily save some of the seed for next year.
Calendula should be planted with about 6-10 inches space between individual plants to avoid overcrowding. A pot with about 10" soil depth should be enough. It grows to a height of about 18 inches. Pot marigolds make such nice, sunny flowers. Hope you have fun with your garden!