Information About a Deaf Pitbull
about 4 months ago i adopted a white pitbull. Turns out that he is deaf. However, I was told that he would be able to hear after a few months. Something having to do with his jaw interfering with his ears. His ears are completely closed. Is that how all deaf dogs have their ears? Any info would be great.
Jessica from Texas
Add your voice! Click below to answer. ThriftyFun is powered by your wisdom!
June 18, 2008
0

found this helpful
I think you can forget about the deafness clearing up. Deaf is deaf. White pits have a tendency toward this trait. My husband is a veterinarian and we have seen many white pits with this problem. On a better note, deaf dogs can and do get along quite nicely once they understand what is going on and the people involved understand how to communicate. Hand signals are good. Not approaching from the rear is a good idea. Making sure children understand about the deafness is necessary. Sometimes dogs quickly bite or snarl when they've no idea something is near and they're suddenly patted. My dog is deaf (old age) and we've learned some things to make it better for us all. I walk around to the front of her so she can see me and I pat my leg so she knows to come to me. She's also almost totally blind so it's a bit more difficult to work out but it can be done. A fenced yard is something you're going to need.
June 24, 2008
0

found this helpful
We had a deaf rat terrier who had been in several homes before it was discovered she was deaf. Of course the people thought she was dumb and somewhat abusive. It takes alot of patience, but they can learn all kinds of hand signals and most respond well to lots of love and positive reinforcement.
To ask Molly if she wanted to go out we would get her attention and "walk" two fingers in the air, like in the old phone book commercial of "let your fingers do the walking". We would shake our finger back and forth to say NO NO! Luckily she was a very smart little gal and learned quickly. She was a real jewel. When I came home from work she would bare her teeth to "smile" at me. The dog had a wonderful sense of humor!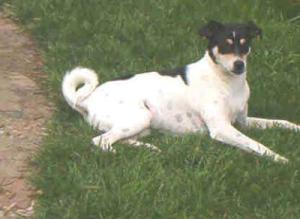 By guest (Guest Post)
February 19, 2009
0

found this helpful
I also have a deaf white pitbull. She is almost two years old, but when she was a puppy we were told the same thing, that once her ears opened up she would hear. That is not true. Having a deaf dog is wonderful but it is a lot of work at first.
My advice to you is to work on a no and ouch sigh at first. because if you puppy is anything like mine the teething is going to be the hardest part. I also suggest that you enroll her in a training class to get you started. Pit bulls are very smart and she will catch on fast, as soon as you show her who is boss. Also have fun with you signs you can think up some unique one.
The last thing that I want to say is you need to invest in a chip and a vibrating collar (not a shock collar) for recall because that is going to be a very difficult sign to train, waving your arms or patting your legs doesn't really help when they aren't looking at you. Have fun and good luck
March 1, 2011
0

found this helpful
Hi Jessica,
I hope this gets to you, I see that the post was back in 2008. I too have adopted a deaf pit. I am also doing research for a school paper on her. Any info that you can give me will be helpful.
Thank you,
Rebecca
Add your voice! Click below to answer. ThriftyFun is powered by your wisdom!
Related Content
In This Guide
Categories
Guides
More
Categories