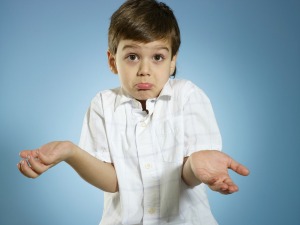 I seem to be having a sudden problem with my 5 year old moving her bowels in her pants. When asked why she does this she says she isn't getting there in time or she was playing and didn't stop. We have tried taking things away from her, putting her to bed, time outs, no tv but nothing seems to be working. It just doesn't seem to bother her. I am so frustrated and embarrassed as she is doing this in public. What can I do please give me some ideas.
Debbie from Berwick ME
Answers

SL Edens
Bronze Feedback Medal for All Time! 139 Feedbacks
June 13, 2008
0

found this helpful
Hi Debbie! You must be so frustrated to be dealing with this again. Have you had her checked by the doctor to be sure nothing is wrong (does it hurt to go)? If so, have you tried the reward system? You could have a container with little goodies (toys, games, crayons, etc) to reward her for going to the bathroom like "a big girl". I hope you find a solution.

June 13, 2008
0

found this helpful
Some kids just don't want to stop playing long enough to do their business, they might miss something. Try making her go sit on the toliet several times a day.
Give her a book or something. Kind of like make her take a time out on the toliet, but don't make it punishment.
By Linda (Guest Post)
June 13, 2008
0

found this helpful
Try putting her on the toilet every day after meals, and setting a timer for her to remain there until the timer goes off or she has a bowel movement. Make this very matter-of-fact, not a punishment but a "potty schedule" or something. Perhaps add a sticker system for every day she stays clean. When she gets a certain number of stickers-perhaps 3 or 4 she can have a small reward-like a favorite ice cream, extra story, game of choice with you, etc. Also add more water and fiber to her diet. Punishment rarely helps. Little kids have control over very little in their lives, but their toileting is one thing they can control and getting in a power struggle with her will make it worse.
By Phyllis (Guest Post)
June 13, 2008
0

found this helpful
If she had stopped doing this once and started again something is probably wrong! Either physically or emotionally. It may be a cry for help.
My grandchild did this and investigation found that she was being sexually abused by her father. Keep your eyes open.

Judi
Bronze Feedback Medal for All Time! 239 Feedbacks
June 13, 2008
0

found this helpful
Ok, somebody is sure to scream at me but I would vote for having her wash her own underwear out by hand - poop and all. Of course, you'd have to do them in the washing machine but maybe if she has a "close-up and personal relationship" with the big nasty she might have a better appreciation for having it go in the toilet in the first place. I know a woman who (when she was a child) wet her pants for the same reason: "I didn't want to stop playing!" and she had to wash her pants and take a bath every single time.
She soon realized she was missing much more play time than a bathroom break took in the first place. I'd do it with as little interaction as possible so she doesn't get the reward of mom all to herself but rather the stinky panties all to herself!
By sheila MA. (Guest Post)
June 13, 2008
0

found this helpful
Hi,
I have 5 children grown now. I also had this problem with one. He hated to use public bathrooms and was very shy, another had food allergies, and my niece who we found after many years had add and we also have a high for of autism in the family called assbergers syndrome. This is not a normal thing for a child of five especially a girl. Does the child have bouts of Diarrhea or constipation, allergies, hyperactivity or is she reclusive? Is she emotionally and chemically balanced ( which has nothing to do with how well you parent)?
Make sure you look into your child's health.There are many illnesses Dr.'s can miss. If the child does not care punishment won't work and may prolong the incident. Cleaning her self will not hurt but if it is a physical or emotional problem or need punishment will not help. Just being responsible is sensible and she, if well is old enough to help with cleaning her self. Good luck.

June 13, 2008
0

found this helpful
The ideas given are good! First, there is a REASON that this has started all of a sudden. Please let a doctor check things out, then quietly, make it her responsibility to clean everything needed. No fuss, no emotion, "Dunk the clothes in the toilet...etc....Here is the bar of soap, here is the old toothbrush and basin. Scrub until it is clean. Here are the cleaners for the sink and your hands afterwards." If it requires furniture cleaning or anything else, she does that too. If it is so much that you cannot take her out, then QUIETLY tell her, "Oh it is too bad we will have to miss..., but of course we cannot do...until we are sure there is no more problem with..." Make SURE you let her know it is NO problem for you, you'll just be right here enjoying your new library book you've been wanting to read, then go do it.
Do not pay any extra attention to the problem or to her. I am NOT saying ignore her by any means, just do NOT make it your job to entertain her because of this. When she "gains control of the problem, then I am sure you will enjoy doing...again." and walk off to do your usual things. There is some reward in this unusual behavior for her (attention or getting to continue to play or something), or some medical problem.
I had a child who was not potty trained till about 3.5 because he didn't want to stop playing to go, but he wasn't trained in the first place.

June 13, 2008
0

found this helpful
I agree with Phyllis, this started with my own daughter and she was being abused by her own father!! Please, please listen to your daughter and believe what she says. By being "dirty" she is trying to make the person not want to touch her. Tread softly, go gently, with love. Remember, if it is true,,,it is not her fault!!
I can only hope this is a medical problem.
I am sending healing energy and blessings to you and to your daughter.
Blessings, light and prayers.
Tena in Tahsis
Read More

Answers