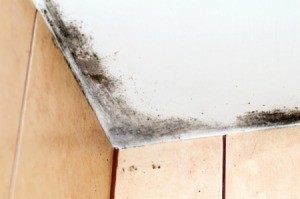 How do I remove black mold off of a ceiling? What else do I need to do other than just wipe it?
By keshauna from Jersey City, NJ

Answers
April 28, 2010
2

found this helpful
Best Answer
Bleach, bleach, bleach. If it's on the ceiling though, there might be a leak somewhere that you might have to fix. You might end up having to replace it. After you find out & fix whatever is causing it. Do you have a fan or exhaust vent in you bathroom if not, get one. That might be your problem right there.
April 28, 2010
1

found this helpful
Best Answer
This is a serious problem. Black mold can make you very ill. You probably have a leak over the place where the mold is. There are products you can buy to kill it (I think one is called Kilz) but you need to keep it from coming back. Make sure your home is well ventilated even if it means running a ceiling fan year round.
April 28, 2010
0

found this helpful
Best Answer
Afer you have applied the bleach, I use clorox, two or three times and it dries, apply Kilz oil base primer then it should be sealed so you can paint or finish however you want. Of course you want to stop the leak first.
April 28, 2010
2

found this helpful
Best Answer
Do not wipe the mold this could make it become airborn. Spray it with bleach and it will disapear with out touching it. Then paint over with kiltz. However you need to be very careful not to disturb the spores and inhale them, this can cause many health problems.
April 29, 2010
1

found this helpful
Best Answer
Black mold or mildew? I have mildew, which doesn't cause any health problems. I use the bleach method, which does kill the mildew. I have a textured ceiling in my bathroom, which is a pain. I would never have one put in, but the house came this way. There is no leak in my bathroom - it is just caused by the dampness. We always run the fan and open the window, but once the mildew spores are there, it is almost impossible to eliminate them entirely. I shall have to try the Kilz paint.
March 21, 2014
3

found this helpful
Best Answer
DO NOT ever use bleach! I just had the mold remediator here today and he said the spores sense the bleach and migrate. It's a sure fire way to spread mold. You should use a mixture of borax, tea tree oil, and vinegar. Add peroxide to bump up its efficientcy in dealing with numerous species. Also, you can use Lysol. Never bleach. Never.
Read More

Answers