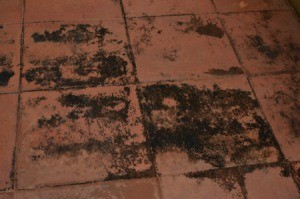 I have a mildew smell in the small garage apartment next to our house. It is overpowering after being closed up. This apartment was constructed inside a new metal barn/garage over concrete floor. It has laminate flooring, dry wall, a kitchenette, shower, and bathroom. Garage opening was closed up and large window placed in new wall with metal siding on exterior.
I have had the heating unit and plumbing checked. Now looking for leak between outside wall and siding. I had a water leak under ground at water line connection to apartment last year.
My question: Anyone ever heard of mold growing under a laminate floor or up through concrete floor? We are exasperated.
By Katherine from Jamestown, TN
Answers

Dena Roberts
Bronze Feedback Medal for All Time! 102 Feedbacks
November 20, 2009
2

found this helpful
Best Answer
We had laminate flooring in our basement bathroom. The floor underneath it is concrete. We had a leaky toilet and the smell was awful! We tore up the laminate to discover the whole underside was moldy. Bleached the concrete, replaced the laminate with ceramic tile, and put in a new toilet; no more smell. So yes, it can grow mold!

November 21, 2009
1

found this helpful
Best Answer
We had vinyl flooring over a concrete slab, a slab which cracked all the time because it wasn't poured as thick as code required; so moisture came up through the cracks in the slab and caused the vinyl flooring to mildew. So it does happen. (We replaced the vinyl with ceramic tile since tile is supposed to "breathe" so the moisture will evaporate and not cause problems; so far seems to be working.)

November 21, 2009
0

found this helpful
Best Answer
Concrete is porous by nature. If it isn't plasticrete, or sealed really well in some way, it will grow mold. Being porous it absorbs moisture and it has air, all you need is to add is mold spores and there you have it.

November 23, 2009
0

found this helpful
Best Answer
Mold will grow where ever there is moisture. We have a concrete slab with a vinyl floor. We decided to tear it up and go with ceramic tiles. We did find mold. The installer painted the floor with some red suff to prevent any mold.
The smell is gone and so is the mold. The only way to get rid of the mold and smell is to find it and clean it up otherwise it will grow and grow.

January 25, 2010
0

found this helpful
Best Answer
Yes, I just tore up flooring over a concrete slab. It was installed without a vapor barrier and had a musty smell. The joints on the laminate were starting to peak and buckle slightly. I was about 15 months old. There was white mold on the joints, which you could not see without removal.
November 10, 2015
0

found this helpful
Best Answer
Just pulled up a laminate floor in a basement bedroom because we suspected mold under the laminate floor cause the edges were a bit curled. The mold was there and seems it had been there from some time ago from the previous owner. Since the mold was dried, we wiped up the powdery black residue and my contractor sealed the floor with quick set.
We felt this was a good alternative to any wet products to clean up the powdery black residue since wetting mold can reactivity it. We are now glueing down another new laminate floor.

February 10, 2017
0

found this helpful
Best Answer
Yes, I am dealing with this as I type. I have a concrete floor that had vinyl on it. Two years ago I took up the vinyl and scraped most of the glue. I let it dry well and then put down 6 ml plastic, then padding, then new laminate. I just this week took up the laminate to replace a damaged portion and what did I find? Several large patches of black mold. It was only on the patches where there had been glue. So apparently the moisture got under the plastic and fed on the glue.
Answer

this Question

What can I do to prevent damage to concrete under vinyl and vinyl?
Answers

Ana
Bronze Post Medal for All Time! 140 Posts
February 22, 2021
0

found this helpful
Best Answer
It is a must to find out where this water is coming , in order to fix, repair, dry. You may have to remove flooring to examine. Moisture and water can only add more problems if not fixed. You could end up with water damage, mold, and mildew, which can cause health issues.
You can try to investigate this yourself or a professional- Here is a link that may help with this issue -
www.accutechrestoration.com/.../

February 22, 2021
0

found this helpful
Best Answer
Is this water doing this in one room? Is the area located on the outside perimeter of the house or is this a room inside/middle of the house like an inside bathroom or laundry area?
How long has this been happening? Have you had heavy rains or flooding near your house or in the area?
Have you had freezing weather that could have busted some of your water pipes?
Somehow you are going to have to find out where the water is coming from.
Do you know how to turn off your main water supply going into your house? It will be outside near your house usually but you may have an inside cut-off. If you do not know where the main cut-off valve is located you will have to find someone that can help you find it.
This has to be the first step because you may have a busted pipe that may be located inside or underneath the concrete floor.
If you are renting/leasing you need to call your landlord/manager and tell them about this problem ASAP.
If it is your home then you'll have to find the water source first before you can make a decision about what to do next.
You should probably talk to someone that can help you locate the source of the problems; maybe a friend or family member but do not wait because water will not stop on its on and every minute counts with stopping the flow.
Answer

this Question