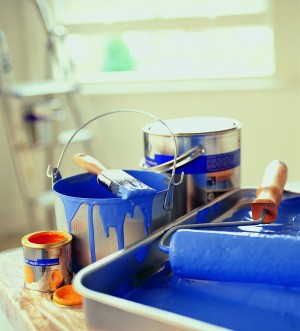 Has anyone painted old laminate flooring? The previous owner placed ugly old style fake wood laminate flooring in the kitchen, which abuts real wood flooring in the dining room in this kitchen dining combo. It looks terrible and I can't afford to replace it. I am thinking of painting and sealing it. Any suggestions? I've also thought of tearing it up with the hope that there is badly stained wood flooring that I could paint, but this might reveal a worse nightmare.
Claire from Harrisonburg, VA
Answers
By Nancy (Guest Post)
August 31, 2006
0

found this helpful
HI..I would check hgtv.com or diy.com...they have several ideas on refinishing floors....seems the latest craze is using plywood squares cut in even sizes from a full sheet of plywood and nailed to the floor, then stain or paint whatever color you want...follow up with a polyurathane sealer. Check there first though...I might have over-simplified things...lol. Hope this helps.
By Lynda (Guest Post)
September 4, 2006
0

found this helpful
Try sanding it with coarse steel wool, then painting
with white Epoxy paint with plenty of fresh air during the LONG drying time.
This is shown in a number of magazines lately, I've noticed, and it's quite nice but makes a floor seem like in an old house, if you like that. I don't since I have a Contemporary home, but I might try the cheap laminated wood flooring I found by the boxloads, not permanently attaching to the floor.
I'll try it in a bathroom first.
I was VERY surprised that after leaving some big samples of that sort of flooring out in the rain and sun for six months, it didn't warp or buckle. God bless you.
By BETh (Guest Post)
June 5, 2008
0

found this helpful
Do not paint it. You will have nothing but trouble. The best case is to sand and refinish it with oil base polyurethane. You can also screen it and coat it if there are no heavy scratches into the wood. My husband lays, sands, and refinishes wood flooring. E-mail me if u have any question. elizabeth_t_hayes AT Yahoo,com
By sarah (Guest Post)
June 19, 2008
0

found this helpful
Hey Claire. Did anyone ever actually answer the question of how to paint a laminate floor? Or did you find the info elsewhere? I would love to hear if you did!
Read More

Answers