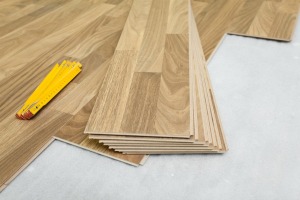 I have a ceramic floor in my kitchen which is installed under the cabinets also. I have been thinking about putting a laminate floor down since I hate the ceramic tiles. Can the laminate floor be installed over the tiles? It would not be possible to remove the tiles under the cabinets. Thanks for your advice.
Andrea from New York
Answers
Best Answer
We're installing laminate wood in different rooms of the house. The manufacturer said it would not be good for kitchens or bathrooms. There is too much moisture.
Answer

this Question

We purchased a mobile 2 years ago, and decided to put different flooring in the living room. We started to take up the rug that is there, and noticed there are bricks down. We haven't pulled the whole rug up yet, just because we're not sure what to do next. We wanted a laminate floor put in.
The floor does feel uneven in some spots. There doesn't appear to be any particle board or wood of any type down, but we haven't pulled up the whole rug. What would you suggest our next move should be?
Answers

Judy
Gold Post Medal for All Time! 677 Posts
July 19, 2017
0

found this helpful
I would put a wood subfloor underneath to even it out, and then put the laminate

July 20, 2017
0

found this helpful
I have never heard of a mobile home having brick flooring so this is a mystery to me but perhaps the mobile home is stationary and the previous owner did something like this(?)..
If there is a brick floor then it would stand to reason that it must have a sub-floor underneath the brick.
If you feel the floor is stable and still want to put laminate you may have to add a subfloor if the bricks are uneven. There is also some types of laminate foor covering that has a foam backing that might could be used.
I think you should take some pictures and pay a visit to a couple of floor covering companies and ask their advice.

August 13, 2017
0

found this helpful
Is it real brick, or a brick tile? If you get to much weight, the floor will buckle. If you remove it, you need to consider the thickness as you may end up with doors to short.
Do you have a picture of it?
Answer

this Question
Can you share your thoughts about what to consider when installing the laminate flooring into the home?
By Ben

Answers

Stephanie
Bronze Post Medal for All Time! 162 Posts
July 7, 2014
0

found this helpful
We have had "Pergo" type laminate flooring in our house for several years. My recommendation would be to buy an extra box for "repairs" and avoid using it in areas that may get wet. While technically you can replace a section of damaged laminate, the "colors" change frequently so when you do need to make a repair, chances are they won't have the exact type that you used.
The laminate looks great in the dining area and entry but has buckled around the toilet in the bathrooms due to a couple little boys with poor aim (gross) and we've had to be very careful around the showers. In the kitchen, we had a hose go out in our fridge that created a small leak and damaged the floor beyond repair (the top layer of the laminate buckled).
Since we used laminate in the entire level of the house and couldn't find a match we ended up tiling our kitchen rather than having a different type of laminate in the middle (A friend that had a similar problem due to a dog accident smack in the middle of their living room and is stuck keeping it covered with a rug).
If I were to do it again, I'd have saved up and used real tile instead in the kitchen and bathrooms.

R Barbara
Bronze Post Medal for All Time! 190 Posts
July 7, 2014
0

found this helpful
If you do the job yourself, make sure to follow the installation instructions and leave the recommended space near the walls for expansion and contraction. We bought a small, second house and the contractor that did the updating on it left no space along either the sides of the boards or the ends and we had a lot of buckling. Portions of the flooring had to be taken up and reinstalled.
We also put down the "T" strips in doorways to resolve this problem.
Additionally, I also agree with Stephanie, do not use laminate flooring in any room that can get wet. Some manufacturers say it is okay to install this type of flooring in kitchens, but the salesperson at a local big box store strongly recommended against using it there.
July 10, 2014
0

found this helpful
I have this type flooring in my home; it was here when I bought it. Only thing I can tell you is I'd rather have carpet. The floor is beautiful but shows everything. I could get by with vacuuming once a week when I had carpet but every day I've having to sweep.
Seems every time a door is opened or someone walks in there is something else to get up. I'm a senior living with a short haired dog that always goes outside to do his thing.
Answer

this Question
Can you install a click and lock laminate wood flooring over ceramic tile?
By DW

Answers

(Guest)
Gold Post Medal for All Time! 846 Posts
October 8, 2012
0

found this helpful
This is something you should ask the company who manufactures the flooring. You should be able to find their customer service 800 number at their online site contact link.
I would think the grooves between the tiles underneath would cause problems with the flooring over time. They most likely will tell you that you need a smooth flooring under the laminate/wood.
Answer

this Question