December 27, 2010
0

found this helpful
First of all, "How did you get an oxygen concentration machine that smells of cigarette smoke when the oxygen those machines make can be highly explosive from heat/flames like what happens when regular oxygen tanks (or gasoline for that matter) explode?" Whomever smoked near it is Blessed they didn't have an explosion! And even if the machine was turned off at the time of smoking going on "Get rid of it by recycling it and not give it to someone else to use!" If someone uses an oxygen machine that means they have a serious illness!
I have an oxygen concentration machine for times when my oxygen concentration drops too low due to having Emphysema and I certainly wouldn't want nasty stuff from cigarettes in the machine hastening further damage to my lungs than they already are from this progressive terminal disease because of nicotine or smoke residue that might be in or outside of the machine!
And there's no way you're going to safely and completely be able to get cleaning chemicals out of the inside of these machines 100% and cleaning chemicals can also cause more internal damage! Be kind and humane to yourself and/or others by simply sending the machine (disassembled) to your local recycling center and lease or purchase a brand new machine!
December 9, 2015
0

found this helpful
Oxygen is NOT explosive. It will help a fire burn hotter and faster, but not explode. It fuels the fire. The example I use to my patients who are on oxygen therapy is if I hold a match in my hand and say it takes 10 seconds to burn my finger.
If I were to hold the same match in a highly enriched oxygen environment, it may only take three seconds to burn my finger. It will not explode.

Elaine
Bronze Post Medal for All Time! 172 Posts
December 28, 2010
0

found this helpful
I am agreeing with Deeli and shaking my head in disbelief!

December 28, 2010
0

found this helpful
Although you are asking a valid question, you need to inform our wonderful family of concerned people that this is a battery or electric machine. Most of them are not tanks anymore.
I suggest you stop letting people who smoke around you, as your need to have a breathing machine is due to depressed lung capacity, but also a little bit of trisodium phosphate or TSP will do the trick.
Breathe well.

December 28, 2010
0

found this helpful
No offence intended Poor But Proud but if trisodium phosphate cannot be removed from wastewater during water treatment why in the world would you use it to clean a breathing machine where those phosphates are going to enter directly in to your lungs? And a breathing machine is something I know very well and how it works! Thank you but no thank you for more chemical lung pollution!
Yes, an oxygen concentrator is electric or battery operated but it is indeed producing 'oxygen' which is highly volatile when 'concentrated'! A patient is not even supposed to set the oxygen levels higher than is doctor prescribed because you can even overdose with too much concentration!
Anything that goes in to that machine, including chemicals in the air of your home and if portable any chemicals in the air outside, will go in to your lungs in concentrated form when breathing this oxygen! Everyone with lung or heart conditions that need to use these machines need to be extra, extra careful because it's a matter of quality of life and/or a hastened death!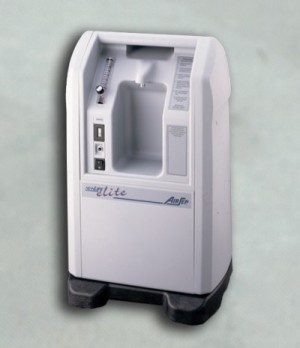 Julia
Bronze Post Medal for All Time! 146 Posts
December 28, 2010
0

found this helpful
I'm thinking maybe you purchased this machine "used", and if you did that, it really wasn't the smartest thing you ever did. I'm sure you're well aware of that at this point, so we won't dwell on it.
May I suggest that you do exactly as Deeli says, disassemble that machine and haul it to the recycling plant. Be your own best friend then, and go out and buy yourself a brand new one. You deserve it, so don't hesitate any longer.
We all do crazy things sometimes, so just chalk it up to experience and start over.
Wishing you the best.
Pookarina

December 28, 2010
0

found this helpful
Hold yer horses everyone. Boy is my face red! I assumed she meant the outside of the machine ladies. I would never advise anyone to put such a chemical on the inside of an oxygen machine. I guess I am not the only one who assumed...
I was born at night but not last night. Sheeese!

December 29, 2010
0

found this helpful
It's okay Poor But Proud, you simply didn't realize that if the smoke is on the outside of the machine that it would definitely also be on the inside because of the way the machine works to produce the oxygen. :-)
December 9, 2015
0

found this helpful
The concentrator does NOT produce oxygen. It takes in regular air which consists of approximately 20% oxygen, separates the oxygen from the non-oxygen through two sieve beds inside the machine, and out puts it at a % of typically 94-96%, (most valid companies who rent these machines CANNOT put it out on a patient if the % is less than 90) It doesn't "produce" oxygen, it concentrates it. Hence the name Oxygen Concentrator

January 24, 2018
1

found this helpful
you are assigned to mr Cy Hendricks to provide assistance with ADLs. This client has emphysema and there is oxygen equipment in home .While preparing t oassist him with his morning bath ,you notice that he smells of cigarette smoke,although you dont notice any cigarettes or astrays nearby.How would you proceed with this situation?

February 6, 2018
0

found this helpful
As I read through these comments, all I read was people telling this poor person about how their machine was garbage and basically scolding them. Maybe, instead of trying to scold someone and trying to act like you know what you're talking about, try to answer their questions. My Lord, how old are we people??

May 16, 2019
0

found this helpful
Just light a match, that ought to do it! Just kidding! Did you buy it like that? I can't imagine anyone smoking in an environment where someone is sick enough to be on oxygen!