April 6, 2006
0

found this helpful
In the chilly weather I take my pups to Petsmart for their baths and let them deal with it. lol
During the hot summer months, I do the same, put the leashes on, take them outside, tether them like a horse and wash. Mine don't try to sit down even though they are afraid of water!
Jennifer
Northern Virginia
I have a 140 lb. male German Shepherd who hates to be bathed but will play in the sprinklers for hours if I let him. For some reason unknown to me, he is terrified of a bath tub so I don't attempt to force him into it. (I tried it ONCE).
I tether him to a large eye hook I screwed into a landscape timber that frames a raised flower bed along my back porch steps. He can use the steps to steady himself and I can sit on the flower box and bathe him although I usually stand because he is so large. The tether is only three feet long so there is little struggle from him. He tolerates the bath but I can tell he would rather not get one. He only gets bathed a few times a year because during the warm weather he plays in the sprinkler and it's too chilly even here in Florida to bathe him outdoors in the winter.
It's funny how many dogs love to play in the water, swim in a pool or lake or even in a child's wading pool but HATE to take a bath!!!
Oh, the little one doesn't mind a bath in the tub. She will sit nicely on the rubber mat in the cool water and let me wash her. Since she's half Golden Retriever and half Poodle, she likes the water.
This photo was taken about an hour after I bathed her, dried her and let her out to potty. I was watering my flowers and she found a little puddle in the dirt. When I saw her I told my husband to grab the camera. Who could be mad at a cute face like this?

May 10, 2010
0

found this helpful
We've got the opposite problem--a ninety pound dog that will knock over anything in her way to the bathroom whenever she hears the shower running.
We have to make sure the bathroom door's closed or she'll barrel past us and jump on in--the girl loves her showers.
The running joke around here is that she heads for the water with less aggravation than some of our kids gave us about getting into the tub when they were kids, LOL!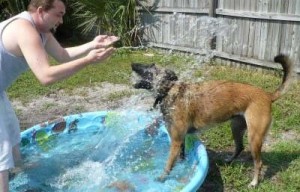 May 11, 2010
0

found this helpful
We have a yellow lab that loves the water, will jump in our water troughs on our farm even! But, he doesn't like to have a bath in the inside tub! Strange huh?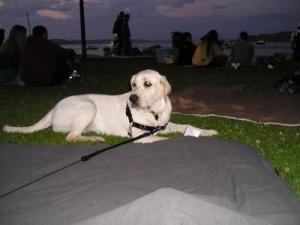 May 11, 2010
0

found this helpful
Many people make the mistake of bathing the dog outdoors with the cold water from the hose. It's too cold, and of course, they don't like it. It's better to bath them with warm water, perhaps in the shower.
Some don't mind playing in the sprinkler or the pool, but a cold bath is too much. I know I wouldn't like it.