April 6, 2010
0

found this helpful
Best Answer
Looks like a dwarf or miniature azalea. Good luck.

April 6, 2010
0

found this helpful
Best Answer
It's botanical genus name is Chaenomeles, it's common name in Australia is Japonica or flowering quince. It is one of the first to flower and the flowers are often followed by fruit which can be made into 'japonica jelly', (like quince jelly but a clear red colour).
They are easily grown by separating a sucker and can also be budded onto a quince rootstock which will stop the suckering habit. The plant is extremely hardy. Trust this helps, John

April 6, 2010
0

found this helpful
Best Answer
Thanks to you both! This is very helpful. I am inclined to agree with John because it is definitely hardy. I just don't want to mess it up if I try to prune it (HELP! - how do I prune it?).
I doubt it is in any way related to the azalea because the azaleas haven't even hinted at beginning their blossoms. In my area (Wash., DC - USA) azaleas appear faithfully in time for Mother's Day (the 2nd Sunday in May) and these flowers appeared more than a month earlier.
Here is a picture of the bush from a bit of a distance. I know it can look better. Can anyone point me to some care and pruning advice? Should I prune it now or wait until the flowers fade but before summer? Thanks.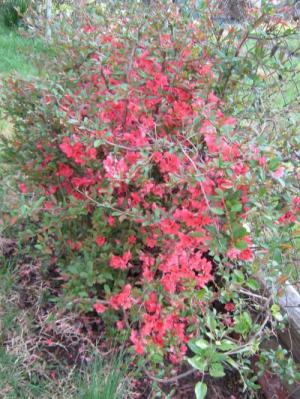 April 7, 2010
0

found this helpful
It doesn't look like an azalea to me, but we are 20 miles north of Washington, DC, and have had some azaleas blooming for the last few days due to the exceptionally warm weather!

April 8, 2010
0

found this helpful
Yes! I too expect early azaleas this year. Just this morning, in my NW DC neighborhood, I noticed the azalea buds pushing forth the tiniest bit of color (since yesterday). This as the flowers on my fully bloomed non-azalea bush have begun to fade.

vicki hood
Bronze Feedback Medal for All Time! 102 Feedbacks
April 8, 2010
0

found this helpful
Sure does look like my flowering quince. I love it. Has numerous babies.Mine might be a little more orangey than what is shown. Has thorns. Never noticed any fruit on mine, but then the animals could have gotten the fruit.
I swear it comes into bud and bloom when it is still freezing weather.

April 9, 2010
0

found this helpful
Definitely a quince; you are lucky to have this very old fashioned, beautiful bush. Be careful of the thorns, it will bite back!

April 29, 2010
0

found this helpful
I took another picture of my bush today now that the flowers have faded and the new leafy growth is underway. What a hearty plant?! I am thinking of taking cuttings to propagate new bushes to fill up the yard. It makes sense to expand upon what is already thriving in the yard and/or neighborhood.
Cuttings are free, green and therefore very wise and economical. Now that's thrifty fun. Instead of looking for new plants at a nursery, I can make the most of what is already around me. Thanks everyone for your feedback.