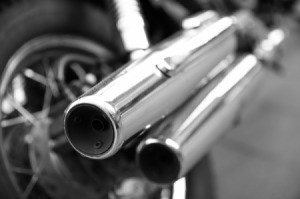 Trying to remove a melted stain off my wife's chrome plated exhaust pipes on her motorcycle. She touched her hot exhaust pipes with her nylon motorcycle rain pants and it melted right to the exhaust pipes. I have tried everything I know to clean this up with no luck at all. Don't want to use anything abrasive that will damage the chrome exhaust pipes. Any ideas or suggest would be helpful.
Thanks,
Don
Answers
By Steve (Guest Post)
February 15, 2006
3

found this helpful
Best Answer
I used Easy Off as told from the above post. It worked great! The nail polish remover didn't work with my situation.
By Plissken (Guest Post)
September 25, 2006
0

found this helpful
Best Answer
I had the same type of problem with an entire plastic bag melted onto one of my Mustang's exhaust pipes. The easy cure: Easy-off oven cleaner! Let the pipe heat up by idling the engine. Shut the engine off and spray the EZ-off on the stain. Wait a minute or so. It should wipe right off with a damp cloth. Warning!: This stuff is very caustic. Make sure you cover any painted surfaces or coated metal. Also, do not try this in windy weather and protect your eyes. It worked for me.
By Michelle (Guest Post)
July 23, 2007
0

found this helpful
Best Answer
My dad did the same thing to my bike. He melted his nylon jogging pants to my pipe. I had this big brown burnt spot on my pipe. While the bike was really hot we used a towel and tried to wipe the burnt stuff off. A lot came off but what was left turned into a dull smeared mark across my whole pipe.
I bought something called Road Rub. You can get it online too. It looks like a travel size deoderant. You just rub it on the marks and it takes it right off. It took some elbow grease and 2 sticks to get it off my bike but it was worth it. Hope this helps!
By Stu (Guest Post)
August 25, 2007
0

found this helpful
Best Answer
Use a product put out by Homax called OOPS it's available in hardware stores. Just used it and it took five minutes to get my rain gear cleaned off the pipes.
By Gus (Guest Post)
January 29, 2008
0

found this helpful
Best Answer
The Acetone nail polish didn't do anything. I used Easy OFF. I turned on the motorcycle and after about 5-10 minutes it was really rubbing off. My motorcycle PVC cover melted on it. It was so thick i couldn't even scratch it off with a key just to even test.
I had to keep re-heating up the bike and use Easy Off constantly scrubbing for about 45 minutes. I got about 98% of it off. Easy off is super useful. Thanks for your advice guys!
By (Guest Post)
July 25, 2008
0

found this helpful
Best Answer
Ok, I love sites like this. I had use a microfiber towel a little too soon and melted some of it on my pipes. I followed the advice of using oven off because my wife is not here and I don't know where her nail polish remover is but did find the oven off. I did not spray it directly onto the pipes. I sprayed it first onto a damp rag to prevent over spray from getting on the other parts of my bike. I used the rag to wipe the oven off onto the pipes and waited a couple of minutes. I had to use a little rubbing but the pipes came clean after a couple of minutes of rubbing.

July 6, 2010
0

found this helpful
Best Answer
I have a new Honda VTX1800 Bike and yesterday one of my saddle bags touched my chromed pipe after riding (hot pipe). Well, needless to say, it left a long black/brown mark, I tried cleaning it with a microfiber towel while still the pipe was smoking hot and it made it worse (it melted the towel). So after reading this blog I used easy-off, the blue top and to my surprise the white residue that the towel put on my pipe came off, however, the brown stain from the saddle bags did not.
I tried all different products and finally remember that my wife uses a lot of those Mr. clean magic erasers (sponge) so went to the kitchen got one of those, wet it and started on the motorcycle pipes (cold). Amazing, within 2 minutes it had removed the brown stain. Hope this helps
June 14, 2016
1

found this helpful
Best Answer
Steel wool get grit 0000 works perfectly and will not scratch chrome
Read More

Answers