June 24, 2011
0

found this helpful
Homemade picture frames
Homemade cutting boards (you can glue pieces together, sand them really well, then polyurethane them).
Birdfeeders, Squirrel feeders
Decorative wooden boxes for storing odds and ends

June 27, 2011
0

found this helpful
Pencil holders, book ends, door stops, hot pads, remote boxes, look around and see what would make life easier and better, what is always getting misplaced and make a place for it. Have fun.

July 7, 2011
1

found this helpful
I suggest doing some wood burning/pyrogrpahy to whatever wood crafts you choose to create. Without actually seeing your wood pile its hard for me to suggest a craft any different then the others posted minus hot pads, not sure what they mean by that. You could search in Google: wood crafts. Some that I found are rather wood consuming projects or really basic and even generic for me.
I love wood and hey if you still want more creative ideas, please feel free to contact me. If you can take pictures of your wood pieces & send them to me, I'd be very happy to look them over and share with you any further creative ideas. But, let me just say: wood burning is an amazing embellishment to any and all wood projects. That's what I typically play with when working with wood. I always add some type of burning free hand design to my pieces. I am serious about helping you further so please feel free to drop me a line.
sparklejunkfewz@gmail.com
Hugs, Mista
PS: Wood burning is not hard. It's actually fun and I'm not some hot shot free hand artist. No, I am more free hand with things like the picture listed, cartoons, things with mostly simple lines, plus I create more abstract stuff as well, blending things you don't often see together. I could also help with suggestions for adding to your creation, helping it "POP" more :) and just remember: "There are no mistakes", so you really cannot go wrong. Enjoy! & Have fun!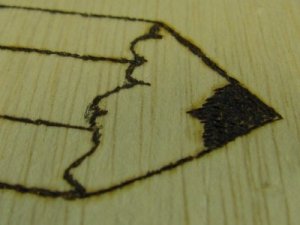 January 11, 2020
0

found this helpful
I have a bunch of scrap wood so I painted some pieces and attached old clock hands to let the kids learn how to tell time. That way they couldnt hurt my real clocks and they were fun snails, whales, etc.
I also painted Waldo on a piece of wood that looked like the shape of his face. My kids and I have a continuous game of wheres Waldo? going. Its fun to see him pop up occasionally and rehide him. Lol

August 12, 2020
0

found this helpful
Hotpad=Wood square with handle that you use as a trivet to set your hot pans on to prevent heat damage to other things around you. May have little feet made of wood or other material.