I am looking for some inexpensive birthday gift ideas for an 80 yr. old aunt.

TerBear from Buffalo, NY
November 11, 2008
0

found this helpful
My sister just had her 80th birthday. My family each gave her a $10 bill. I gave her a $10 gift card for CVS drug store. Maybe you would consider giving a gift card for his favorite grocery store?
When you are 80 yrs old, you want to be able to shop for yourself and pick out what you want. But most of the time, we don't have the money to do that. I used to take my mom to K mart so she could shop. Maybe a gift of time is an idea you can use. Sometimes elderly people cannot drive the car.
November 11, 2008
0

found this helpful
Pictures, pictures & more pictures. Archives from her church, school, wedding, families. You can fabricate
her image with the presidents past, favorite holidays, etc.
Enlarge them, make posters, placemats, seating cards..
January 21, 2009
0

found this helpful
Hi - we are the Australian maufacturers of the Over Bloody Eighty - Over Bloomin Eighty gift sets and certificates. We deliver nationally and internationally. Our web site is www.obedirect.com.au. Hope this is helpful.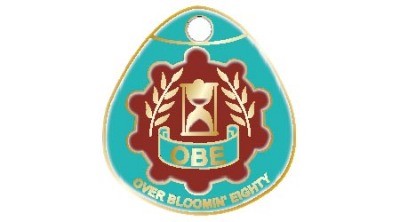 March 13, 2009
0

found this helpful
This would work for 80, but my brother, sister, and I did it for my dad's 75th. Each of us wrote 25 things we remembered about him, mostly from childhood. We printed them out and put them on a book we made of handmade paper, and my sister illustrated it. He's almost 80 now, and the book still sits on the coffee table. He was very touched, especially by those things he'd forgotten but that had stuck in our memories for one reason or another.
I need help with a birthday gift for my 80 year old mom. She's out of state so the item would have to be shipped. She has everything and not much room.

Thanks,
Sara from Phoenix
January 24, 2006
0

found this helpful
Sara - A great gift for your mom would be a soft fleece tie blanket. Everyone needs blankets, right? You can even have a custom blanket made for her. Go to this site:
www.mysoftblanket.com
They're very affordable & the quality is great. Good luck!
January 25, 2006
0

found this helpful
My Mom will be 84 next mo. I put a lot of pictures on my yahoo page..A friend printed some for me when I sent her the album....I think I will look for a clock to fit the picture.....Glue it on the clock face.(you can use decorative paper behind the picture if you would like...search the net for old time pictures or other back ground use your printer)
With this idea She will have a kitchen clock with a rememberance of a good day with her grand and great Grand Kids.....
I'm really really lovin'g digging through thrift shops.....but I think in this instance a nice cheap one from Walmart or one of those stores is in order...It depends upon the quality and price....
For those of you with Mom's or Dads who are older and still at home.....dollar store has recieving blankets made of outing flannel.....they are great for "draw" sheets To place on the sheet where Grandma sits....or settles in....a lot of times they are not as "able" with their personel hygiene as they used to be...as we age our hands get stiff...cleaning ourselves after a bathroom break is not as easy as it used to be...with these little nifty stay in place blankets,a mess is so easy to clean up..just pick up the blanket and drop it into the washer.....no more embarrassed Grandma...and they won't cause bed sores for those who are in bed a lot...They don't shift around on the bed and wrinkle and they are sooo soft....They come in many colors...get several..cause after we age our bladders are not as good as they used to be.....
December 19, 2006
0

found this helpful
For my grandmother we just purchased pre-made meals. You can find local businesses that make them just about everywhere, now. They both enjoy a full course meal but have a hard time cookiing. These meals are sort of like TV dinners - only they are great!
December 19, 2008
0

found this helpful
We like to give gift certificates for her to get heating oil because it's so expensive to heat the house. Depending on type of heat, prepay electric or gas bill.
February 5, 2009
0

found this helpful
My mom is turning 80 next month, we are having a party for her. All the kids are going to Idaho to see her, this is all a surprise. I am making her a dvd, using pictures of all the kids, grand kids and great grand kids. I am starting with pictures of when we were all little and living at home. This is from the family, now for me, I don't know what I am getting her.
I need to get a gift for my 80 year old Mother. She's almost blind. What suggestions? Within reason.

Joe from South Africa
September 14, 2007
0

found this helpful
The best gift she could receive would be a black & white tuxedo cat kitten.
November 3, 2007
0

found this helpful
For our elderly relatives, we got talking picture frames which are widely available now. You just push the button to record a message, and the person can push the button to play it.
December 14, 2008
0

found this helpful
These are all great ideas. I would love to hear from an 80 year old to hear what she/he thinks. Perhaps someone could ask their loved one and let the rest of us know. I love my Mom and Aunt but they don't want to tell me what they would want.
February 13, 2009
0

found this helpful
I agree with Joann R Dorner. Time spent with them is the most important gift of all. Especially if you manage to clean something that they can't manage to do themselves (sometimes they look at something and wish they could do it but can't).
May 13, 2009
0

found this helpful
Ask her beauty operator how much would she charge you IF you were to pay for a years worth of shampoo/sets, hair cuts or possibly a perm every 6 months.
Do you have a suggestion for a really nice birthday gift for a man turning 80?
By Susan from Tampa, FL
July 13, 2010
0

found this helpful
My father recently turned 80. He's had a full and adventurous life and has talked about writing his "memoirs" for years. To help him get started we gave him a digital recorder and a flip camcorder to add a visual component. Not terribly expensive (especially digital recorder) and will keep him busy when weather's bad. Tip: you can even create a folder to help organize his thoughts!
July 13, 2010
0

found this helpful
Hello,
We bought our 80 year old uncle a beautiful walking stick. He loved it! He uses it daily on his walks and it also provides some support/balance for him. We also gave him a pair of slippers from LL Bean. Good luck and Happy Birthday to him.
July 13, 2010
0

found this helpful
Fix a basket of things he likes to eat for example candy, crackers, chips,cookies or if he likes to go out to eat give him a gift certificate to his favorite restaurant. They live on a budget so these things would be good for him. Just find out what he likes to eat or do.
July 13, 2010
0

found this helpful
My hubby isn't 80 yet, "only" turning 76 this week. I don't know about your birthday boy, but hubby adores movies. Perhaps you could take him to a good movie, or buy him one?
A second idea, considering how many of us are on fixed incomes: pay a bill for him, or provide a transportation gift card. If he still drives, a gift card for his favorite gas station. (Hubby's Father's Day gift from his oldest son was a Shell gas card, he loved it!)If he uses public transportation a lot, a monthly (or even weekly) pass would no doubt be welcome. In short, anything that takes a bit of the financial load off would be good.
July 15, 2010
0

found this helpful
A magazine subcription or subscription to a newspaper such as USA Today would be a good gift. Also a Blockbuster Card if he enjoys movies or a Gift card to a bookstore would be nice.