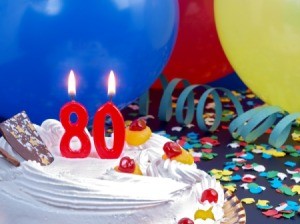 I am having an 80th birthday party for my mom. I need an idea for party favors that the guests could have as a remembrance of the event. I need to have around 100 and need to keep the cost reasonable. Also any decorating ideas would be appreciated.
Brenda from Coshocton, OH
Answers

February 19, 2009
0

found this helpful
Best Answer
How about little potted plants? Sounds strange I know, but you could grow them from seed if you have time, and you can decorate cheap plastic pots with colour coordinated paper and ribbon.
It's something they will keep for a long time, depending on the type of plant, plus it will give the table lots of colour!

February 19, 2009
1

found this helpful
Best Answer
When my Mum celebrated her 80th, I baked gingerbreadmen and gingerbreadladies using commercial metal cookie cutters and decorated them in suits with ties or overalls and skirts and tops or dresses using various colours and styles. Each cookie I individually placed in a cellophane bag, heat sealed closed and labeled with the relative's name on the top.
They were a huge hit, as Mum had 10 children there were lots of decendants, and everyone got to take themselves home, plus the guests were delighted to see our family tree phyisically placed on a table for viewing. They didn't have to ask who belonged to whom. If your 80th recipient doesn't have many decendants just become repetitious.

February 20, 2009
0

found this helpful
Best Answer
When my parents had their big birthdays, we created candy-bar wrappers with photos of the birthday-person and a thank you sentiment printed. There are companies that will do it for you, www.customcandybars.com/
and
www.sweet-reflections.com/.../index.php?main_page=index&cPath=3...
and some computer programs you can find that will help you create your own labels. It's not too hard to do.

February 20, 2009
1

found this helpful
Best Answer
How about taking a photo of your mom, making some business cards with her photo, some little message on them, maybe the date, and a thank you for celebrating with us type thing. You can print them on the computer, I do my boss's business cards all the time! You could do them for less than $10. You could even have a variety of different pics of your mom! You could "fancy" them up by using a paper punch and tying a piece of ribbon or curling ribbon on each.
Hope you have a great celebration!
Pam
Read More

Answers