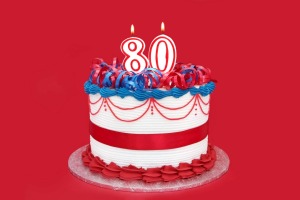 I am looking for some inexpensive birthday gift ideas for an 80 yr. old aunt.

TerBear from Buffalo, NY

Answers

December 15, 2000
1

found this helpful
Best Answer
What about a lap blanket or throw, decorated with the names/nicknames of members of the family: his grandkids, great-grands, siblings, and hand- or foot-outlines of the little ones. Could sew-on the names made with stencils, or write-on with fabric paint.
By Susan (Guest Post)
January 11, 2005
0

found this helpful
Best Answer
We are having a card shower for my grandmother's 80th birthday. We're sending notices to friends and family to send her a birthday card during that week. She repeatedly said she didn't want a party but we had to do something!
By Carol (Guest Post)
June 8, 2006
0

found this helpful
Best Answer
For a 80 year old - the best gift is to show and speak to them of your love and appreciation. Why wait until they past away to hear how everyone feels? Get together people who have fond memories to share, especially about the goodness of that 80 year old. Not only speak of these things but video tape it also.
I bet you will see tears in their eyes - and they will have a wonderful video to rewatch, remember, and cherish their 80th birthday.
By Joie Debold (Guest Post)
July 31, 2007
0

found this helpful
Best Answer
I manage an Assisted Living and it just so happens my mom & dad are celebrating their 80th birthday this Saturday, (we combined both). I have purchased a massaging bedpillow (my mom sits and wathces tv in bed), some anti aging cremes for my mom, etc. Dad is a different story. He likes books (but many of the elderly have visual problems). A magnifying glass might be helpful. Lotions are always good as their skin becomes very dry. A pedicure/manicure is always good as well. Just a few quick ideas. Hope this helps!

November 10, 2008
0

found this helpful
Best Answer
If you are in the same general vacinity, give the gift of time. Create a food of the month (when we did this for my Grandmother it was chocolate chip cookies, her favorite, for my Mom it's a different dish each month) then enjoy a meal or an afternoon or even Sunday brunch at least once every month together. Now I live several states away from Mom and can't spend a day a month with her, so my Husband and I (and my daughter and her husband too) write little notes and sometimes record conversations over a meal throughout the month, Kinda like a journal and then send them to Mom with either a recipe to try or a non-perishable food item.
Then on the scheduled day we each enjoy the same meal at the same time and spend our "day" together even though we are 1200 miles apart.
For important dates, like a siblings b'day or anniversary we sometimes send a restaurant gift certificate so that everyone can be together. It's a long distance family reunion. My sister is even putting together a family web page so Mom can share pictures with all of us too.
By Carol in PA (Guest Post)
November 11, 2008
0

found this helpful
Best Answer
My sister just had her 80th birthday. My family each gave her a $10 bill. I gave her a $10 gift card for CVS drug store. Maybe you would consider giving a gift card for his favorite grocery store?
When you are 80 yrs old, you want to be able to shop for yourself and pick out what you want. But most of the time, we don't have the money to do that. I used to take my mom to K mart so she could shop. Maybe a gift of time is an idea you can use. Sometimes elderly people cannot drive the car.

March 13, 2009
0

found this helpful
Best Answer
This would work for 80, but my brother, sister, and I did it for my dad's 75th. Each of us wrote 25 things we remembered about him, mostly from childhood. We printed them out and put them on a book we made of handmade paper, and my sister illustrated it.
He's almost 80 now, and the book still sits on the coffee table. He was very touched, especially by those things he'd forgotten but that had stuck in our memories for one reason or another.
Answer

this Question
I need help with a birthday gift for my 80 year old mom. She's out of state so the item would have to be shipped. She has everything and not much room.
Thanks,
Sara from Phoenix
Answers
By Tedebear (Guest Post)
January 19, 2006
0

found this helpful
Best Answer
Hi Sara! You are blessed to have an 80 year young Mom. (Mine is 85). How about some stamps and postcards. She can write a few lines and send to friends and family. Cough drops are good because when she gets a "tickle" in her throat she can't always get to the store.
A large print book is so welcome, if her eyes are still good. The best thing you can send is a nice, long visit on the telephone. Nothing perks us up more than family.
By Linda J. Barnes (Guest Post)
January 19, 2006
0

found this helpful
Best Answer
How about a monthly gift so that your Mom enjoys her birthday gift all year long? You can have fresh fruits or flowers sent for a whole year on a monthly basis and she will not have to worry about it taking up too much room.
You can give her a phone card so that she can call family and friends whenever she wants without worrying about the cost. It will help keep her in touch with others and make her feel happier.
Another idea is a family history video. Take photos in chronological order and video them with a narrative of who, what, when and where. It will no doubt bring many back happy memories and let her know how much you care. Actually whatever you choose to do make sure that you are telling her how much you care. I had my Mom until she was just a few months past her 91st birthday. What she really needed the most could not be bought in a store, she needed the love and attention of her family. God Bless all the Moms. They are God's angels!
By Kelly (Guest Post)
January 19, 2006
0

found this helpful
Best Answer
A Blessings jar. Cut 365 strips of paper and put them in a canning jar. Cut fabric to cover the lid and include a pen. Make a gift tag explaining that she should write a blessing everyday for the next year and put it in the jar. Read them whenever she needs a pick me up.
Alternative idea. I did 4 jars for my mom's 50th... I wrote stuff on paper for 3 of the jars and left one blank for blessings. The other three were 50 reasons I am blessed to have you as a mom, 50 inspirational scriptures, and 50 inspirational quotes. I put all 4 jars in a nice basket and she enjoyed them thouroughly.
By Marlene (Guest Post)
January 19, 2006
0

found this helpful
Best Answer
What I used to do with my mom and my father in law when they were both still living was to go to the grocery store and look for "new" items - different varieties of jams and jellies, they both liked sardines, etc. and crackers went well with that, the snack pack puddings are always a favorite, maybe different kids of pickles, old time candies, small packages of elder kinds of cookies, etc. Also different versions of soups and stews - these boxes became favorites and they'd report to me what they liked and whether or not they'd buy more, etc.
By Becki in Indiana (Guest Post)
January 20, 2006
0

found this helpful
Best Answer
For the person who already "has everything", if they have a particular "cause" that is near and dear to their heart, make a donation to a charity in their name. For example, if Mom loves animals, donate to a local animal shleter, or to the national Humane Society. If she loves theater, donate to a local community theater group. If she lost a loved one to a particular disease, donate to an organization that fights it -- such as the American Cancer Society, American Lung Association, etc. When you make your donation, tell the organization you are making the donation in honor of your mother for her birthday, and give them your mom's name & address. They will send her a note (with no dollar amount mentioned) and let her know the donation was made.
By Nancy (Guest Post)
February 5, 2009
0

found this helpful
Best Answer
My mom is turning 80 next month, we are having a party for her. All the kids are going to Idaho to see her, this is all a surprise. I am making her a dvd, using pictures of all the kids, grand kids and great grand kids. I am starting with pictures of when we were all little and living at home. This is from the family, now for me, I don't know what I am getting her.
Answer

this Question

I need to get a gift for my 80 year old Mother. She's almost blind. What suggestions? Within reason.

Joe from South Africa

Answers
By Joann R Dorner (Guest Post)
September 11, 2007
0

found this helpful
Best Answer
Your time! Take her to a nice restaurant! Or give her some nice smelling perfume or flowers. Usually by that age, they have everything. Take her somewhere special.

September 13, 2007
0

found this helpful
Best Answer
I agree that food items are a good idea, but I think shelf stable items might be a better idea, so that she can enjoy your thoughtfulness without having to worry whether or not it will spoil or turn bad.
Then again, maybe you could buy her a simple mp3 player and download some free books or music for her? Some of the mp3 players only have a few buttons and can be worked without looking at it. There are lots of sites with free classic radio shows, big band era music, etc, and I think there's even some free audio book sites as well.
Please extend my wishes to your mother for a very happy birthday and tell her hello from Arizona for me please.
Answer

this Question

Do you have a suggestion for a really nice birthday gift for a man turning 80?
By Susan from Tampa, FL

Answers

Marjorie
Silver Feedback Medal for All Time! 290 Feedbacks
July 10, 2010
0

found this helpful
Best Answer
By the time a man or woman reaches the age of 80, they have most everything they need in life.
Find out if he can eat any sweets. What does he like cookies, pies, cakes, brownies. A gift which can be eaten is much more appreciated than a gift which will eventually end up in the trash.
My great aunt just turned 96 on July 4th and I ordered her a beautiful plant of small yellow roses through FTD and had them sent to her in AZ. I received a nice card from her thanking me for the roses.

July 11, 2010
0

found this helpful
Best Answer
Most older people are on fixed incomes. We had a "money tree" at our 80th party for my dad. We did also let people know gifts were optional (because after all, many people we invited were also older like him and our dad is an especially un-materialistic person). He probably got $800 in cash and gift cards in spite of our optional gift giving stance.

Sherri
Bronze Feedback Medal for All Time! 180 Feedbacks
July 13, 2010
0

found this helpful
Best Answer
Hello,
We bought our 80 year old uncle a beautiful walking stick. He loved it! He uses it daily on his walks and it also provides some support/balance for him. We also gave him a pair of slippers from LL Bean. Good luck and Happy Birthday to him.

July 13, 2010
0

found this helpful
Best Answer
My hubby isn't 80 yet, "only" turning 76 this week. I don't know about your birthday boy, but hubby adores movies. Perhaps you could take him to a good movie, or buy him one?
A second idea, considering how many of us are on fixed incomes: pay a bill for him, or provide a transportation gift card. If he still drives, a gift card for his favorite gas station. (Hubby's Father's Day gift from his oldest son was a Shell gas card, he loved it!)If he uses public transportation a lot, a monthly (or even weekly) pass would no doubt be welcome. In short, anything that takes a bit of the financial load off would be good.
Answer

this Question