Solutions: Adjusting Waistbands
Read and rate the best solutions below by giving them a "thumbs up".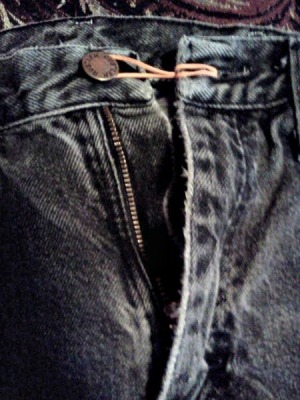 This comes in handy for those times when you just ate and need a little more room in your pants. All you have to have is a small rubber band loop it through the opening and then it makes a loop for you to put on your button of your pants. So easy to do.
By Teresa L S. from Greensburg, KY
To extend the waist a little bit on a pair of pants, take a rubber band and attach it to a button hole. Bring the rubber band through the hole and bring it back through its own "loop" to secure it. The button you your pants will now go through the loop on the rubber band.
By duckie-do from Cortez, CO
Share Your Feedback:
Once you try any of the above solutions, be sure to come back and give a "thumbs up" to the solution that worked the best for you. Do you have a better solution? Click "Share a Solution" above!
Questions
Here are questions related to
Adjusting Waistbands
.
Adjusting the Waist Size of Pants for a Toddler
Any suggestions for easy quick ways to fix toddler's pants from being too big in the waist? My 3 yr. old daughter has a small waist. Pants or shorts that otherwise are the right fit are too large at the waist. Many pants slide down or fall right off. Belts are not really an option since most pants for small children don't have belt loops. I've thought about making those elastic bands with alligator clips that women wore in the 90's to sinch in dresses from the back but I'm not sure how to go about making them. Any ideas?

Clara from Littleton, CO
---
Most Recent Answer

By Mara
05/11/2007
On the back seam of the pants, at the waistband, measure the distance from back side seam to back side seam,subtract 1/2-3/4". Cut a 1/2 to 1" width piece of elastic that measures this distance. Then, at about 1/2" to 1" on both ends of the elastic,sew a botton hole or two set 1/2" a part, if needed. Pull the piece of elastic through the back waistband. Sew a button,the size of the button holes. One at each seam, on the inside of the pants.
As your child grows, you can adjust the size of the waist, by simply pulling the elastic taut or loosening it, and fix the elastic buttonhole over the button. This way, your child should be able to wear these pants, until s/he grows too tall or outgrows the pants. No re-cutting or re-sewing involved! Hope this helps!
Related Guides
Related Posts