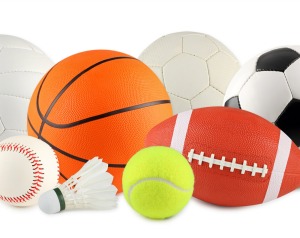 Questions
Here are questions related to Athletic Banquet Centerpiece Ideas.
I'm responsible for doing the table centerpieces for a high school crew (rowing) team banquet. (The colors are red/white/blue.) Any ideas? I'm stumped at the moment.
By RM
---
Most Recent Answer

By jean leiner [14]05/05/2014
Could you get paddles (oars), one per table, and use as centerpieces, with vases of red, white and blue flowers (either mixed or one vase of each color at the ends and center of the paddle? If you can't get real ones, perhaps you could make replicas from poster board. If you make replicas, make two per table, cross them and put a vase of the 3 colors of flowers on the center where they cross. Hope this helps.
I need centerpiece ideas for an athletic banquet. The sports we're celebrating are basketball, baseball/softball, track, and cheerleading.
By Lisa L.
---
Most Recent Answer

By Mary Lou [14]04/18/2012
I would look for small toy-sized balls made for kids. Put them on skewers and arrange in floral foam in the centre, surround with small versions of pompoms and paper megaphones. I have also see birthday candles in the shape of sports balls which might work if you floated them in water when they were lit.
I am helping to organize our university sports club and societies ball. We are trying to come up with ideas for centerpieces. The university colours are navy gold and white so we would like to stick to them if we can. We need a main theme that can be adapted for each centerpiece for each club/society.
In recent years we have had wooden figures with something to do with the club/society and discs with the personalized part in the middle and the name written on the outside. So far this year we have thought of using molds with plaster of paris, with the name of each club/society and wire writing on a stand. However we have a limited budget. Any ideas you can come up with would be great. :) Thanks.
By Chloe from UK
---
Most Recent Answer

By dede smith [17]04/06/2010
How about a floral foam base covered in fish tank pebble type rock that could then be painted white and then use some hot glue to make a rope type design on it and cover this in navy glitter.

Then use copper, or any type of cheap wiring, to sculpt out the lettering of each club, like cursive writing. Fix this to a painted wooden scewer and insert it into the base.

I would use a large, half moon shape, on the floral foam to be sure it takes the weight of the wire sculpture, and prepaint the foam to hide the green color of the foam.

You could also, instead of glitter, use a blue navy paint to deco the base with the school initials.
I am looking for Lacrosse themed table centerpiece ideas for a HS banquet. Any ideas?
By lacrossemom from NY
---
Most Recent Answer

By Stacy 09/29/2009
This idea went over huge! Ordered clear plastic display boxes from ebay. They come flat and you just fold to assemble into a box. I cut the top flaps off to make an open box. I did these for our mens basketball banquet (8x8x10) and for my son's (5x5x7) high school hockey banquet. I printed out 8x10 pictures of the team (one head and shoulder shot, one action, and the other two sides team logo and number), layed them face down next to each other, taped the sides, flipped them over, and I had a cube of pictures to put in the box.

It also served as a table number system. We stuffed the box with tissue paper and placed them in the middle of the table. For the Hockey banquet, The hockey moms filled with candy and then put tissue sticking out on top. The players had a photo keepsake to take home. Everybody went nuts over this!
Any ideas for inexpensive favors for a boys' track banquet? We expect around 30 boys to attend. Also, any ideas for "thank you" gifts for the banquet committee?
By Ellen B. from Germantown, TN
---
Most Recent Answer

By susan winship [4]05/18/2009
Shoestrings for banquet favors
I am looking for simple but creative decoration ideas for a girl's high school tennis banquet?
By gfast from Denver, CO
---
Most Recent Answer

By Lee Taylor [10]05/16/2009
I'd look online, maybe google images of vintage tennis photos or get tennis memorabilia on ebay; magazines, photos, etc. or xerox pics from library books on the history of tennis. It would be fun for the girls to see how women used to wear long dresses to play tennis. You could also find "fun fact" info about women's tennis history and type it up and print the fun facts to place on the tables at each place setting. You could get old tennis balls and cut them in half and use them to hold candy or a small flower floating in it (make sure to keep the tennis ball stable by sitting it on a cut up cardboard tube.) You could get copies of the logos of all the Major tournaments: US Open, Wimbledon, etc. and use those for centerpieces. I'd use empty tennis ball cans for vases. Hope this gives you some help.
-Lee in FL
We are having an end of season soccer banquet. I am looking for ideas for centerpieces. Our colors are blue and white. Any suggestions would be greatly appreciated.

Michelle from PA
---
Most Recent Answer

By Liz Haller03/04/2009
We just had our Girls H2O Polo banquet. We used small fish tanks (Big Lots' $1.00 each), black small rocks and gold fish (orange and black are our school colors). My husband painted sports easter eggs (the "eggs" were basketball) to make them look like h20 polo balls, put small rocks inside to keep them at the bottom of the tanks, and hot glued a piece of wire with a laminated picture of each player holding a ball ready to shoot. It was a success and each girl took their fish tank home. I also baked cookies and cupcakes decorated as h20 polo balls. The cup cakes also had a picture of each player. Hope that helps.
Polo Mom
I am planning a youth wrestling banquet and I was wondering if anyone had any ideas on what type of centerpieces to use. The kids are 5-15 years old. Last year they had flower pots with lollipops in them. Any ideas?

Jen from Downingtown, PA
---
Most Recent Answer

By wright501/25/2014
We used head gears with 4 latex balloons tied to them. We kept it in school colors. They were cheap & looked great!
I need ideas for table centerpieces for a high school hockey kick off dinner.

Thanks,
Connie from Eagan, MN
---
Most Recent Answer

By Joyce Gonda02/25/2007
One idea for hockey centerpieces is to make hockey motif weights to anchor balloons (team's color) in the center of each table. Purchase fishnet that mimics the net of the hockey goal (craft store or on line). Cut this material into about about 20" squares. Place hockey pucks in the "fabric" and "tie" them up with hockey tape or festive colored ribbon. Then attach balloons to the weight. It would add to the look to have a "mini" stick coming out the top of each one as well! We did this for a Lacrosse banquet (with lacrosse balls!) and it was a real hit. In fact, we gave the balls away to the boys and kept the net for the next year's banquet. To add color to the tables we placed them on squares of colored fabric. A Hockey sock might be cute coiled up with the "pucks in the net" set upon it. Good Luck!
I am in charge of planning a JV soccer banquet for both boys and girls. Our colors are black and yellow gold and our mascot is a tiger. We don't have a theme, just basically any soccer decoration ideas are needed. Thank you so much for any help.

Melodee from Alamogordo, NM
---
Most Recent Answer

By Christina (Guest Post)09/17/2008
I am in need of some ideas on how to make some inexpensive soccer center pieces for my sons 13th Bday party. He is having a dance at a local hotel & most of the guests play club soccer. Helppp!!!
We are having our high school football banquet in March 2005 and I would like to get some inexpensive ideas for centerpieces. Please help! Our colors are red, black and white. Thanks!

Vanessa
---
Most Recent Answer

By Lisa Doss09/10/2010
Here's what I did. You could use any type ball!
Our church is having a fall festival and we would like to use a sports theme. We make table decorations that can be auctioned at the end of the night. I need ideas for these decorations. Something that someone would want to purchase and use in there home, etc.

Allen from TX
---
Most Recent Answer

By (Guest Post)01/11/2006
Here's the link for the Jimmy Buffet party:

http://www.thriftyfun.com/tf787461.tip.html
Solutions: Athletic Banquet Centerpiece Ideas
Do you have knowledge about this guide topic? Feel free to share a solution!
Archives
Thrifty Fun has been around so long that many of our pages have been reset several times. Archives are older versions of the page and the feedback that was provided then.
I am planning an Athletic Banquet at a University and need some ideas for decorations or centerpieces. I will have around 50 tables. I want to make it as nice as possible without spending a lot of money.

Molly from Charleston, SC
---
RE: Athletic Banquet Centerpieces
This will sound strange, but I just went to a banquet and didn't realize what it was until I picked it up and checked it out. The school colors are purple and gold so they had ribbon and some type of tissue or wrapping paper in those 2 colors. Going down the middle of the tables every 10 feet or so they would have a thing they had wrapped in gold paper with the paper bunched at the top and tied with purple ribbon or vice versa. What they had wrapped was a roll of toilet paper from the school supply closet - which they later returned. It was small but colorful, and they had done allot of them!
(small)Scarlet (Guest Post)(/font) (
RE: Athletic Banquet Centerpieces
Try to use some of the team's equipment as centerpieces and then use balloons in school colors with the equipment. For my son's football banquet, we used a helmet in the center of each table - the more banged up and marred the better. We tied ribbons in school colors to the facemask and they floated in the air a few feet above each table. Many, many compliments and very, very inexpensive. (05/23/2005)
By ThriftyFun
RE: Athletic Banquet Centerpieces
The football helmets are a good idea, but remember there are other athletic programs to represent. Use catcher's helmets from Softball & Baseball. Depending on the number of tables, batting helmets, crossed batons from track. Also other track equipment; shot, discus vaulting helmets. And don't forget the coaches equipment; dry eraser playboard, whistles on lanyards, etc. Look around your school lockers and add baloons in school colors. Pom Poms and megaphones. There's no end of items and all available at no cost. Add inexpensive tissue paper for table runners, helium baloons and you have money left from your budget. (02/24/2006)
By jesij
RE: Athletic Banquet Centerpieces
You might try using some trophys - not too tall, though because you don't want to block the view. That plus athletic equipment. Also, I have heard of people contacting local popular athletes (professional) and asking them for an autographed photo. Put them in inexpensive frames and there you go. (02/25/2006)
By Laura
RE: Athletic Banquet Centerpieces
How about triangles cut out of school-color felt, glued onto sticks, like the banners you wave, or did. Put school-color paper through a shredder for pompoms, on sticks, too. The toilet paper roll idea for a base is good. (02/26/2006)
By the Oracle
RE: Athletic Banquet Centerpieces
I did this some years ago for a college football banquet. Cut old footballs that are no longer used in half and fill with fruit, flowers, and candy. Inbetween, we used pom-poms with greenery. Everyone thought it went over well.(quote)(/quote) (08/24/2006)
By Frances
RE: Athletic Banquet Centerpieces
We held a soccer banquet and asked a local soccer store to allow us to borrow new cletes and soccer balls as our center piece and we added a few ballons of school colors.It was cute and publicity for the store (11/01/2006)
By
RE: Athletic Banquet Centerpieces
We are going to use old tennis shoes - which we will spray paint - use with greenery & flowers... Last year we used cartons to make lockers - covered with paper - door cut - vented....with pom poms and confetti - ballons.... (01/25/2007)
By Debbie P
RE: Athletic Banquet Centerpieces
With regards to the football helmets with ribbons & balloons - approx how many balloons did you tie to teach helmet? (02/26/2008)
By tschnet1
I am in charge of our annual Year End Sports Banquet. I am looking for centerpiece ideas for about 45 tables with various sport themes.
Joan S. from Lula, GA
---
RE: Athletic Banquet Centerpieces
Fill large ice cream glasses with colored shredded paper and the different small or medium stuffed sports balls. Add the same color shredded paper around the center of the table. (05/15/2009)
By 100299