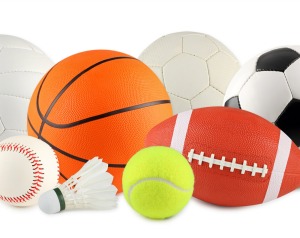 One of the considerations when planning an athletic banquet is the table centerpieces. This is a guide about athletic banquet centerpiece ideas.
Solutions
Share a solution for this guide today!
Questions
Here are questions related to Athletic Banquet Centerpiece Ideas.
I am looking for Lacrosse themed table centerpiece ideas for a HS banquet. Any ideas?
By lacrossemom from NY
---
Most Recent Answer

By Stacy 09/29/2009
This idea went over huge! Ordered clear plastic display boxes from ebay. They come flat and you just fold to assemble into a box. I cut the top flaps off to make an open box. I did these for our mens basketball banquet (8x8x10) and for my son's (5x5x7) high school hockey banquet. I printed out 8x10 pictures of the team (one head and shoulder shot, one action, and the other two sides team logo and number), layed them face down next to each other, taped the sides, flipped them over, and I had a cube of pictures to put in the box.

It also served as a table number system. We stuffed the box with tissue paper and placed them in the middle of the table. For the Hockey banquet, The hockey moms filled with candy and then put tissue sticking out on top. The players had a photo keepsake to take home. Everybody went nuts over this!
I need centerpiece ideas for an athletic banquet. The sports we're celebrating are basketball, baseball/softball, track, and cheerleading.
By Lisa L.
---
Most Recent Answer

By Mary Lou04/18/2012
I would look for small toy-sized balls made for kids. Put them on skewers and arrange in floral foam in the centre, surround with small versions of pompoms and paper megaphones. I have also see birthday candles in the shape of sports balls which might work if you floated them in water when they were lit.
I am helping to organize our university sports club and societies ball. We are trying to come up with ideas for centerpieces. The university colours are navy gold and white so we would like to stick to them if we can. We need a main theme that can be adapted for each centerpiece for each club/society.
In recent years we have had wooden figures with something to do with the club/society and discs with the personalized part in the middle and the name written on the outside. So far this year we have thought of using molds with plaster of paris, with the name of each club/society and wire writing on a stand. However we have a limited budget. Any ideas you can come up with would be great. :) Thanks.
By Chloe from UK
---
Most Recent Answer

By dede smith04/06/2010
How about a floral foam base covered in fish tank pebble type rock that could then be painted white and then use some hot glue to make a rope type design on it and cover this in navy glitter.

Then use copper, or any type of cheap wiring, to sculpt out the lettering of each club, like cursive writing. Fix this to a painted wooden scewer and insert it into the base.

I would use a large, half moon shape, on the floral foam to be sure it takes the weight of the wire sculpture, and prepaint the foam to hide the green color of the foam.

You could also, instead of glitter, use a blue navy paint to deco the base with the school initials.
Our church is having a fall festival and we would like to use a sports theme. We make table decorations that can be auctioned at the end of the night. I need ideas for these decorations. Something that someone would want to purchase and use in there home, etc.

Allen from TX
---
Most Recent Answer

By (Guest Post)01/11/2006
Here's the link for the Jimmy Buffet party:

http://www.thriftyfun.com/tf787461.tip.html
Archives
Thrifty Fun has been around so long that many of our pages have been reset several times. Archives are older versions of the page and the feedback that was provided then.
I am planning an Athletic Banquet at a University and need some ideas for decorations or centerpieces. I will have around 50 tables. I want to make it as nice as possible without spending a lot of money.

Molly from Charleston, SC
---
RE: Athletic Banquet Centerpieces
This will sound strange, but I just went to a banquet and didn't realize what it was until I picked it up and checked it out. The school colors are purple and gold so they had ribbon and some type of tissue or wrapping paper in those 2 colors. Going down the middle of the tables every 10 feet or so they would have a thing they had wrapped in gold paper with the paper bunched at the top and tied with purple ribbon or vice versa. What they had wrapped was a roll of toilet paper from the school supply closet - which they later returned. It was small but colorful, and they had done allot of them!
(small)Scarlet (Guest Post)(/font) (
RE: Athletic Banquet Centerpieces
Try to use some of the team's equipment as centerpieces and then use balloons in school colors with the equipment. For my son's football banquet, we used a helmet in the center of each table - the more banged up and marred the better. We tied ribbons in school colors to the facemask and they floated in the air a few feet above each table. Many, many compliments and very, very inexpensive. (05/23/2005)
By ThriftyFun
RE: Athletic Banquet Centerpieces
The football helmets are a good idea, but remember there are other athletic programs to represent. Use catcher's helmets from Softball & Baseball. Depending on the number of tables, batting helmets, crossed batons from track. Also other track equipment; shot, discus vaulting helmets. And don't forget the coaches equipment; dry eraser playboard, whistles on lanyards, etc. Look around your school lockers and add baloons in school colors. Pom Poms and megaphones. There's no end of items and all available at no cost. Add inexpensive tissue paper for table runners, helium baloons and you have money left from your budget. (02/24/2006)
By jesij
RE: Athletic Banquet Centerpieces
You might try using some trophys - not too tall, though because you don't want to block the view. That plus athletic equipment. Also, I have heard of people contacting local popular athletes (professional) and asking them for an autographed photo. Put them in inexpensive frames and there you go. (02/25/2006)
By Laura
RE: Athletic Banquet Centerpieces
How about triangles cut out of school-color felt, glued onto sticks, like the banners you wave, or did. Put school-color paper through a shredder for pompoms, on sticks, too. The toilet paper roll idea for a base is good. (02/26/2006)
By the Oracle
RE: Athletic Banquet Centerpieces
I did this some years ago for a college football banquet. Cut old footballs that are no longer used in half and fill with fruit, flowers, and candy. Inbetween, we used pom-poms with greenery. Everyone thought it went over well.(quote)(/quote) (08/24/2006)
By Frances
RE: Athletic Banquet Centerpieces
We held a soccer banquet and asked a local soccer store to allow us to borrow new cletes and soccer balls as our center piece and we added a few ballons of school colors.It was cute and publicity for the store (11/01/2006)
By
RE: Athletic Banquet Centerpieces
We are going to use old tennis shoes - which we will spray paint - use with greenery & flowers... Last year we used cartons to make lockers - covered with paper - door cut - vented....with pom poms and confetti - ballons.... (01/25/2007)
By Debbie P
RE: Athletic Banquet Centerpieces
With regards to the football helmets with ribbons & balloons - approx how many balloons did you tie to teach helmet? (02/26/2008)
By tschnet1
I am in charge of our annual Year End Sports Banquet. I am looking for centerpiece ideas for about 45 tables with various sport themes.
Joan S. from Lula, GA
---
RE: Athletic Banquet Centerpieces
Fill large ice cream glasses with colored shredded paper and the different small or medium stuffed sports balls. Add the same color shredded paper around the center of the table. (05/15/2009)
By 100299