Baked apples are a simple delectable dessert treat that everyone will love. This page contains baked apples recipes.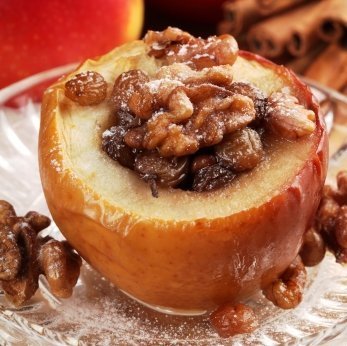 It's a great desert in the winter months. To be honest, I do have a sweet tooth.
Ingredients:
6 apples, peeled, cored, and sliced
1/2 cup sugar, or less
3 Tbsp. all purpose flour
1/2 tsp. ground cinnamon
1/2 tsp. ground nutmeg
1/4 tsp. ground cloves
1/2 cup raisins
1/2 cup chopped walnuts
1/2 cup of whole milk
Directions:
Preheat oven to 350 degrees F. Coat a 2 qt. casserole dish with nonstick cooking spray.
Put apples in a large bowl. Mix together sugar, flour, cinnamon, nutmeg, and cloves. Stir spices into apples until well mixed. Fold in raisins and walnuts. Spoon into prepared dish. Pour milk evenly over apple mixture.
Bake for 45 to 60 minutes, or until soft and bubbly. Let cool slightly before serving.
Cooking Time:
45 - 60 Minutes
Source: allrecipes.com
By Sherry from Valdosta, GA
By Irishwitch 390 18
Ingredients:
12 medium apples
1/2 cup sugar
1 tsp. cinnamon
1/3 cup raisins
1 Tbsp. butter
1/2 cup water
Directions:
Core apples and peel skin down 1 inch from top. Mix sugar, cinnamon, and raisins. Stuff apples with mixture; dot apples with butter. Pour water into removable liner, add apples. Place Apples in base. Cover and cook on low 7-8 hours, high 3-4 hours, or auto 6 hours.
By Jodi from Aurora, CO
By Robin 5,893 29
Ingredients
5 cups peeled and sliced apples
3/4 cup sugar
1/2 cup flour
1 Tbsp. cinnamon
1/2 cup milk or cream
1/2 cup brown sugar
1/3 cup butter or margarine
1/4 tsp. baking powder
1/4 tsp. soda
Directions
Mix the apples and all dry ingredients together, including the butter. Place mixture into a buttered cake pan. Pour milk over mixture. Crumble a little bit of brown sugar and flour over top. Bake at 350 degrees F for about 40 minutes.
By Robin from Washington, IA
By Robin 5,893 29
Ingredients
5 crisp tart apples
5 tsp. raisins
5 tsp. brown sugar or lite pancake syrup
5 tsp. low-fat margarine
Apple Pie spice
dash salt
Directions
Wash and core apples. Sprinkle with just a dash of salt. Place in microwave-safe dish. Spoon raisins, brown sugar (or syrup), and margarine into apple centers. Sprinkle with apple pie spice. Add 1/4 inch of water to dish bottom. Cook and cover 10 minutes on high in microwave or until tender when fork tested. Let set 5 minutes. Conventional ovens are fine, but preheat to 350 degrees F and bake 25-30 minutes in muffin tins with 1/4 inch water added to each muffin cup. Low-fat, low-calorie frozen yogurt may be added on top.
By Robin from Washington, IA
By Robin 5,893 29
Ingredients
2/3 cup milk
1/2 tsp. salt
2 cup flour
2 Tbsp. sugar
4 tsp. baking powder
3 Tbsp. shortening
Directions
Mix dry ingredients. Crumble in shortening. Stir in milk to make a soft dough. Roll out, then spread with butter, 4 cup chopped apples and cinnamon. Roll up and cut 1 inch slices. Place in 9x13 inch cake pan and bake at 350 degrees F for 45 minutes. Remove and pour syrup over rolls. Return to oven for 15 minutes. Serve warm with milk.
Syrup Ingredients
1 1/2 cup sugar
1 Tbsp. flour
1 Tbsp. butter
1/2 tsp. salt
1 1/2 cup water
Syrup Directions
Stir all together and bring to a boil.
By Robin from Washington, IA
Baked apples are so delicious. This healthy version makes a great dessert or snack.
Ingredients:
4 small apples, washed and cored
1 Tbsp. + 1 tsp. raisins
1 tsp. cinnamon
1 Tbsp. + 1 tsp. brown sugar
1/2 cup apple juice
Directions:
Remove pieces of apple from the bottoms so they will stand straight. Peel a strip of apple skin one-third down around apple to keep apples from bursting. Place apples in 10 inch round pie dish. Mix together raisins, cinnamon, brown sugar and apple juice. Put 1/4 of mixture into each apple core. Cover with wax paper, tucking edges of paper under dish. Microwave on high power 6 to 10 minutes or until apples are tender. Let stand 2 to 3 minutes before serving. Serves 4.
By Robin from Washington, IA
Ingredients:
8 medium baking apples
1/2 cup apple or orange juice
1/4 cup firmly packed brown sugar
1/2 tsp ground cinnamon
1 cup grated sharp cheddar cheese
1/4 cup raisins
Directions:
Preheat oven to 350 degrees. Remover cores from apples to within 1/2 in. of bottoms of apples: pierce the skins with a sharp knife. Place apples in shallow baking dish.
Combine juice, sugar and cinnamon; pour over apples.
Bake 30-35 minutes or until apples are tender, basting occasionally with the juice mixture. Remove apples from oven. Combine cheese and raisins and spoon evenly into centers of apples. Let stand 1 minute.
By Robin
Preheat oven to 375 F

Using baking apples (I use Cortland) core them and peel a thin slice off of the top edge with a veggie peeler and discard it. Make about 4 indentations in the apple with a knife around the fat part of the apple. Inside each apple fill the hole with 1/4 teaspoon butter and 1 teaspoon sugar, a glob of raisins and pieces of walnuts. If you have any granola kicking around this adds a nice flavor. Also you can use maple syrup or honey instead of the regular sugar.

Place in a casserole dish and bake for 45 to 50 minutes. Then take 4 Tablespoons of flour with 1 Tablespoon of water and about 2 Tablespoons of brown sugar. Mix together well in a separate bowl and then in equal portions drizzle this mixture over the apples and bake for about 10 more minutes.

This is great for breakfast or you can make it for dessert and plop a glob of either whipped cream or vanilla ice cream on top.

Happy eating.

By joesgirl
Use any good baking apple. Cut in half and core, but do not peel. Place in deep baking pan or dish. Pour some water around apples. Put on each apple: 2 Tbsp. of brown sugar and 1 tsp. of butter. Bake at 350 degrees F until done and tender. Baste once in a while and watch closely!
By Robin from Washington, IA
Feedback:
RE: Baked Apples
Definitely not peel, the skins have more antioxidents than the flesh, think I will fix then this way today but will use brown sugar twin (10/08/2006)

By minymont
Ingredients:
1 cup sugar
1/2 cup flour
1 tsp. cinnamon
1 cup brown sugar
1 cup water
2 tsp. butter
8-10 apples, peeled, halved
Directions:
Boil everything except apples together until thickened. Pour mixture over apples in a 9x13 inch pan. Bake 30-45 minutes in 350 degrees F. oven or until apples are soft.

By Robin from Washington, IA
Ingredients
4-6 apples
3 cups water
1 cup sugar
1/3 cup orange juice
Directions
Peel, split, and core apples. Place in frying pan and add water and sugar. Bring mixture to boil. Cook until apples begin to look clear. Lift apples from frying pan and place in ovenproof glass baking dish. To sugar and water mixture add orange juice. Cook mixture down until only 1 cup remains. Pour over apples. Bake in 350 degree F oven for 30 minutes. Serves 4-6.
By Robin from Washington, IA