Making doll clothes is often the first thing children learn to sew; it is also a popular craft activity for adults. This is a guide about Barbie doll clothing crafts.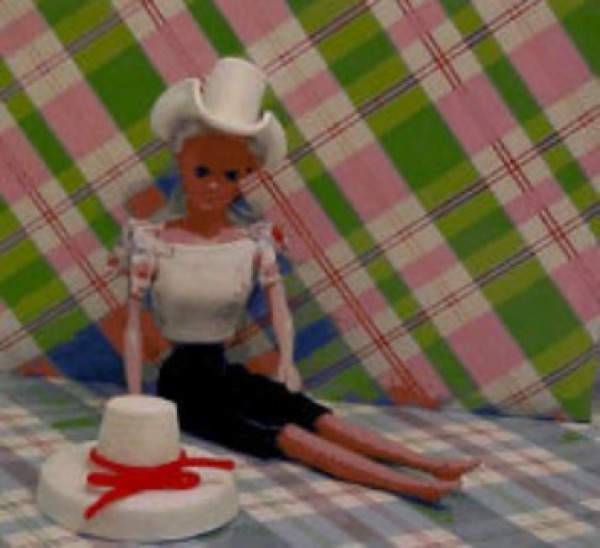 Filter

: All Articles
Sort

: Relevance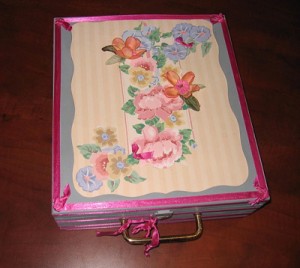 I made these decorated "Barbie Doll Clothes Trunks" for my great-granddaughter who loved her Barbie dolls and wanted to take them everywhere she went along with every shoe, purse, and dress those dolls owned.
I am surprised at how well they held up over the years. The wine boxes are amazingly sturdy.
The trunks are very easy to make. Just a matter of cutting and pasting for the most part. You may (as I did) choose to paint the box first, then just embellish it anyway that you like.
I spent almost nothing to make the trunks, just using up materials and supplies that I already had left over from other projects.
It took me about 4 hours total of actual working time to complete the 2 trunks.
Approximate Time: 1 hour for painting, then overnight to dry. The next day, allow 1 to 2 hours to cut out and paste whatever you choose to decorate the "trunk" with. Again, you'll need to allow drying time for the glue now. I let it sit overnight again and it was enough.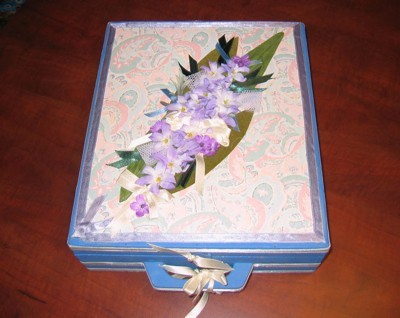 Supplies:
small wooden wine box "trunk" or "suitcase"
scissors
Elmer's Glue-All
acrylic paint
water and paint brush
bits and pieces of ribbon, silk flowers, lace, wallpaper, or other decorative items
Instructions:
Look for, (beg for, if necessary), the wooden wine boxes that often include 3 bottles of wine, or maybe they have 2 bottles of wine and 2 wine-glasses sometimes. They are ideal for one Barbie doll and her clothing.
Begin by cleaning the box of anything that's not needed, like dividers or labels.
Sand lightly, and dust.
Paint with the acrylic paint of your chosen color, giving the box time to dry between several coats of paint, then allow it to dry thoroughly overnight.
The following day, use all of your imagination to decorate the box however you like. I used small satin ribbon and velvet ribbons all around edges in various areas, and tied ribbon knots here and there.
Using wallpaper sample books, I just cut to size and glued in place (inside and out) until I was happy with what I'd done.
I love adding silk flowers anywhere I can fit them in, and this is a good way to use up ones you've bought at a yard or tag sale.
If you are really patient, you might enjoy filling the finished trunk up with handmade doll clothes for Barbie. They are so tiny that it takes patience to make nice ones.
Barbie fits in the "trunk" along with her clothes so that she's always ready to spend the night at Grandma's with your little granddaughter. Lucky you!
Having 2 Barbie dolls meant they each had to have their own trunk...so I made 2.
By Julia from Boca Raton, FL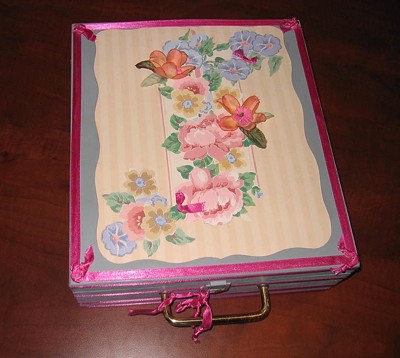 Yes, Barbie is all ready to hit the slopes with her new puffy hat! In no time flat, you can make a dozen of these cute hats for your little munchkin. My daughter squeals with delight whenever I hand her a new one. Have fun!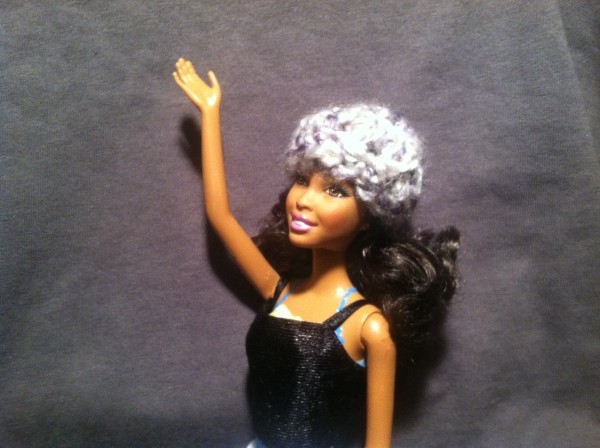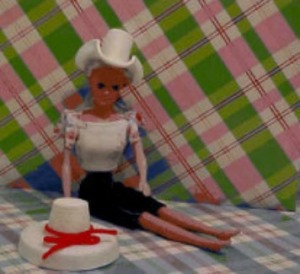 This is a project that requires supervision for the first step. Decorating will keep the little girl's occupied without much help.
Materials
6-8 oz. styrofoam coffee cups
A cookie sheet or pizza pan
Bead Head Pins (to serve as hatpins)
Thick white glue (to attach trims)
Trims*
*Mom can furnish embellishments such as: nylon net, feathers, sequins, small buttons, small silk flowers, ribbons, etc.
The hats may be painted with acrylic paints. These are available at Wal-Mart in 4 oz. jars.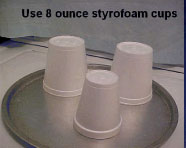 Instructions
Preheat the oven at 400 degrees F. Set cups on baking sheet, leaving plenty of room for the shaping. Watch them closely as it only takes about 30 seconds to shape them as shown. Remove immediately when they are the desired size and shape. Use the ones that result in a nice hat and discard any that don't suit you.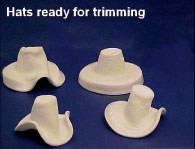 From this point, you can let the girls take over with help from you (if needed), depending on their ages.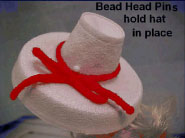 By Harlean from Arkansas from Hot Springs, Arkansas
Editor's Note: Harlean has also provided a PDF of this craft Click here to download it.

I would like to know where to find doll clothes for Skipper, Stacie, Chelsea, or Kelly Barbie dolls? Or simple ways to make them.
Thank you!
By Aleah Y. from Herriman, UT
Answer
Was this helpful?
Helpful?
Yes
You can find some on Etsy and EBay for Kelly/Chelsea - kind of spendy though - $4-10 per dress plus a couple bucks shipping. For Skipper and Stacie, try some of the tighter-fitting Barbie items. A little ribbon as a "belt" to hold them on helps and they look really cute. If you have the time/ability, a bit of elastic or elastic thread will alter these items nicely.
Also, some of the other "fashion" doll clothes will fit. Some Monster High clothes will fit Stacie and Chelsea, Liv clothes will fit Skipper and Stacie, some Lalaloopsy will fit Chelsea, and I've had luck with some of the Winx doll items (their shoes are huge, but fit the Barbie Star Dolls, as will Liv shoes). Some of these dolls have deceptively tiny bodies (with oddly enormous heads), but again a bit of elastic helps, and the non-Mattel makers seem to put a lot more detail into their items.
Good luck!
Reply
Was this helpful?
Helpful?
Yes
Read More Answers...
I have a little sister, age 5. She is in love with Barbies. I know how to sew, but I am scared that if I try I won't have enough time to finish in time for Christmas. Can I make no sew Barbie clothes?
By Savanna
Answer
Was this helpful?
Helpful?
Yes
You can buy something in fabric departments that replaces sewing, but I don't know who durable it is and I also don't know what it is called. That being said you should be able to get two or three items made before Christmas, that is providing you will be using a sewing machine, and don't make the items real fancy. There was two-three years when my sisters were in middle school that they made and sold Barbie clothes to earn a little spending money.
One year they had so many orders that when our Dad had time he would sit and sew the snaps on the back openings to help out. I made Barbie clothes when my girls were little and I really hated making those little things, it isn't that they were hard to make, they were annoying. Stick to making items like a cotton A-line type dress, a pair of cotton pants, and a sleeveless shirt. They will be the easiest to make. Also sew little pieces of velcro to close the backs of the items.
Reply
Was this helpful?
Helpful?
Yes
I am trying to make a new set of clothes for my grandaughter's barbie dolls, but am finding it difficult because they are so small. Has anyone any good tips on how to do this? Many thanks.
By h.arnott from U.K
Answer
Was this helpful?
Helpful?
Yes
Ha! Ha!! I escaped from having to sew Barbie's teeny fashions. We had a son!
:0) :0)
Happy Hanukkah! Merry Christmas & Happy New Year!
Reply
Was this helpful?
Helpful?
Yes
Read More Answers...
I have a set of tweezers in my sewing stash. When I make doll clothes I turn the sleeves with my trusty tweezers. My hands are very large for a woman and I discovered years ago when making Barbie clothes for my friends, who had girls, that my hands were not made for turning out Barbie sleeves and pant legs. So I used my tweezers.
Comment
Was this helpful?
Helpful?
Yes
As I create and sew Barbie doll-size fashions, I came up with a way to keep my patterns organized. For each outfit of the pattern set, I use a 6 1/2-in x 3 5/8-in regular envelope.
I dress Goodfellow dolls every year. They are 13 inch dolls. It is hard to find patterns to sew or crochet. I would like to know if any one has any ideas for patterns they could share?

By oesforme from St. Clair Shores, MI
Answers:
Clothes Patterns for 13 Inch Dolls
I just looked on the Simplicty web site and they have a pattern for doll clothes that comes in sizes 12 inches - 22 inches. It includes styles from christening gown to play clothes. I thought they were really cute styles. (09/23/2009)

By redhatterb
Clothes Patterns for 13 Inch Dolls
McCalls also has doll clothes patterns that have sizes 11 inches - 16 inches in one envelope. (09/23/2009)

By redhatterb
Clothes Patterns for 13 Inch Dolls
Have you looked on eBay? They have doll patterns there. (09/24/2009)

By drmeidl
Comment
Was this helpful?
Helpful?
Yes