This is a project that requires supervision for the first step. Decorating will keep the little girl's occupied without much help.
Materials
6-8 oz. styrofoam coffee cups
A cookie sheet or pizza pan
Bead Head Pins (to serve as hatpins)
Thick white glue (to attach trims)
Trims*
*Mom can furnish embellishments such as: nylon net, feathers, sequins, small buttons, small silk flowers, ribbons, etc.
The hats may be painted with acrylic paints. These are available at Wal-Mart in 4 oz. jars.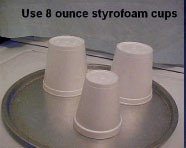 Instructions
Preheat the oven at 400 degrees F. Set cups on baking sheet, leaving plenty of room for the shaping. Watch them closely as it only takes about 30 seconds to shape them as shown. Remove immediately when they are the desired size and shape. Use the ones that result in a nice hat and discard any that don't suit you.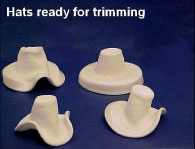 From this point, you can let the girls take over with help from you (if needed), depending on their ages.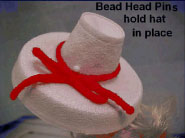 By Harlean from Arkansas from Hot Springs, Arkansas
Editor's Note: Harlean has also provided a PDF of this craft Click here to download it.