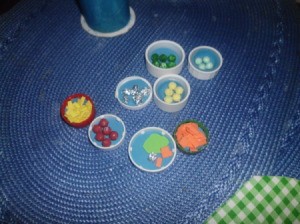 Let kids use old pill lids and pop lids as Barbie dishes. They can cut out foam to put in the bottoms of the lids.Then use old beads and paint them to look like fruit and other foods. They can also cut foods out of foam. My girls loved to do this. They also rolled up tin foil for baked potatoes.
By coville123 from Brockville, Ontario
Read More

Comments
I'm wanting to make a Barbie size toilet (that looks real) with every day items.

Susan from Lower Nicola, BC

Answers
January 16, 2009
0

found this helpful
Seems to me the bottom (rounded) end of a plastic Easter egg might make a good bowl. I would glue it to the plastic core from a roll of scotch tape for the base, then find a small box that would make a good proportional "tank" for the back. The seat I would probably cut from the plastic lid from a margarine container. Once the basic assembly was done, I would spray paint the entire thing the desired color, then add details (like the flush handle--for which I would probably use a piece of toothpick or wooden matchstick that I had painted silver).
If I wanted it to look really "realistic", I would probably get some polymer clay and make it from that.
Post photos when you're done, whatever you decide to do! It would be fun to see!
January 19, 2009
0

found this helpful
I would go to the candy store, I bought my kids some candy that came in a small plastic toilet bowl with lid. It was the perfect size for her barbies
January 19, 2009
0

found this helpful
Dental floss containers work well for the tank, J & J brand, classic type. If you use other methods to clean plaquey scum from between teeth, remember that floss makes handy string anyway.
January 20, 2009
0

found this helpful
Shape styrofoam to resemble a toilet with tank complete. Add a small piece of foil for the handle, and shape a piece specifically for the toilet seat so it sit on top.
I did this years ago when I built a house for a class. Had to furnish it so... imagination goes a long way.
Karyn
By Marie (Guest Post)
January 24, 2009
0

found this helpful
Are you kidding? Barbie is PERFECT - she doesn't need a toilet! (unless she needs to put the lid down to put her makeup bag down somewhere.)
Answer

this Question
I have been trying to find Barbie doll shoes of different colors. I need all the colors I can get because I crocheted 62 barbie and display doll outfits with slips and accessories but can't find shoes. I want to display them but they just don't look right without shoes to me. Any help welcome. Thank you.
By gbk from Folkston, GA
Answers
February 12, 2010
0

found this helpful
There is a site called Doll Clothes Super Store which has lots of Barbie shoes at 75 cents a pair. I googled where to buy Barbie shoes and found a lot of sites.
February 13, 2010
0

found this helpful
You probably could get a whole bag full on Ebay for little money.
February 13, 2010
0

found this helpful
Ditto with Omanana. Here's the link and they have over 100 different shoes to choose from including Cinderella shoes ;-)
www.dollclothessuperstore.com/barbieshoes1.html
I checked out ebay and they are basically the same price or more and you're at the mercy of the seller of when you'll receive them. One of the sales was 'assorted' so you wouldn't even know what you're going to get.
Answer

this Question
How do you make Barbie camping stuff?
By tammy carroll from TN

Answers
September 15, 2009
0

found this helpful
Twigs for the campfire with real but tiny rocks. Cooking & eating utensils made of lids of vitamin jars & toothpaste lids for cups. Tents from a piece of fabric healed up with wooden skewers or dollar store straws... Food made from fimo. Couches made from cardboard boxes or Styrofoam covered with fabric from old clothes. A hammock made from macrame'd rope or crocheted yarn. A sleeping bag out of an old shirt of jeans sewen together like a tiny pillow case. A tiny pillow stuffed with Kleenex or TP. Just use your imagination!
* If you don't sew buy "Fabri-Tac" fabric glue for under $6 at Walmart or any fabric store. It works wonders!
September 17, 2009
0

found this helpful
Learn how to make things with plastic canvas. Several books sold on subject - check ebay.
Answer

this Question