I made these decorated "Barbie Doll Clothes Trunks" for my great-granddaughter who loved her Barbie dolls and wanted to take them everywhere she went along with every shoe, purse, and dress those dolls owned.
I am surprised at how well they held up over the years. The wine boxes are amazingly sturdy.
The trunks are very easy to make. Just a matter of cutting and pasting for the most part. You may (as I did) choose to paint the box first, then just embellish it anyway that you like.
I spent almost nothing to make the trunks, just using up materials and supplies that I already had left over from other projects.
It took me about 4 hours total of actual working time to complete the 2 trunks.
Approximate Time: 1 hour for painting, then overnight to dry. The next day, allow 1 to 2 hours to cut out and paste whatever you choose to decorate the "trunk" with. Again, you'll need to allow drying time for the glue now. I let it sit overnight again and it was enough.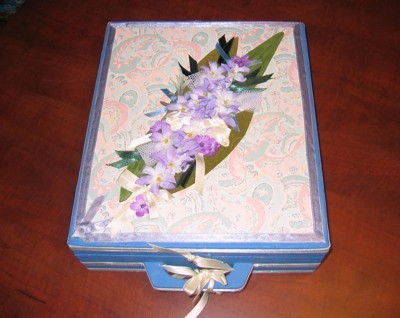 Supplies:
small wooden wine box "trunk" or "suitcase"
scissors
Elmer's Glue-All
acrylic paint
water and paint brush
bits and pieces of ribbon, silk flowers, lace, wallpaper, or other decorative items
Instructions:
Look for, (beg for, if necessary), the wooden wine boxes that often include 3 bottles of wine, or maybe they have 2 bottles of wine and 2 wine-glasses sometimes. They are ideal for one Barbie doll and her clothing.
Begin by cleaning the box of anything that's not needed, like dividers or labels.
Sand lightly, and dust.
Paint with the acrylic paint of your chosen color, giving the box time to dry between several coats of paint, then allow it to dry thoroughly overnight.
The following day, use all of your imagination to decorate the box however you like. I used small satin ribbon and velvet ribbons all around edges in various areas, and tied ribbon knots here and there.
Using wallpaper sample books, I just cut to size and glued in place (inside and out) until I was happy with what I'd done.
I love adding silk flowers anywhere I can fit them in, and this is a good way to use up ones you've bought at a yard or tag sale.
If you are really patient, you might enjoy filling the finished trunk up with handmade doll clothes for Barbie. They are so tiny that it takes patience to make nice ones.
Barbie fits in the "trunk" along with her clothes so that she's always ready to spend the night at Grandma's with your little granddaughter. Lucky you!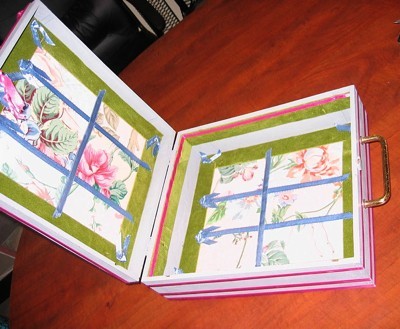 Having 2 Barbie dolls meant they each had to have their own trunk...so I made 2.
By Julia from Boca Raton, FL