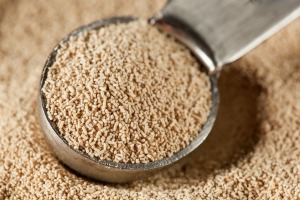 Active dry baking yeast comes in a variety of sizes. You want to be sure the amount you buy, retains its freshness and remains active. This guide is about buying and using yeast for baking.
Ad
---
Solutions: Buying and Using Yeast for Baking
Read and rate the best solutions below by giving them a "thumbs up".
For many years I have been making my own bread, mainly because I like to know that I am eating healthy bread with no preservatives, etc. I used to purchase the yeast in a glass jar that had to be refrigerated once it was opened. It recently increased to $7.29 for a 4 oz. jar. Outrageous.

I decided to go to the health store where I purchase loose herbs & spices. The yeast is sold in 8 ounce containers (refrigerated) for $2.99. Very decently priced. Also purchase your herbs & spices loose in the health store as you are not paying for the containers as you do in the supermarkets plus they are fresh, fresh, fresh. Happy day to you.

By joesgirl
Give a "thumbs up" to the solution that worked the best! Do you have a better solution? Click here to share it!
Questions
Here are questions related to Buying and Using Yeast for Baking.
How many ounces of yeast do I need for 5 lb of flour?
By Mark from Hamltion, NJ
AnswerWas this interesting? Yes No
Ad
---
---
Most Recent Answer
By Julia [147] 04/28/20100 people found this helpful
Hi Mark,

The ratio of yeast to flour is also dependent on what else is in the bread dough. How much salt, how much sugar, how much shortening or butter etc.

I recently made 5 huge loaves of bread, and a dozen cinnamon rolls using a dough that had a half pound of butter, 3 eggs, 1 1/2 cups sugar, 4 tsps salt, 4 medium boiled potatoes along with the 4 cups of water they were boiled in, and
I added 1/2 cup milk. I used 3 pkgs of dry yeast and about 6 pounds of all-purpose-unbleached flour.

It took nearly 3 times as long for it to rise as it normally does when I'm making just plain white bread, but oh my, what a nice flavor it has. The potatoes are a great addition to almost any bread, but not everyone, of course. Remember, the less yeast you use, the longer it's going to take the dough to rise, but it develops a better flavor
in that process.

Hope this helps, and good luck with your bread making. Just realize that it's very addictive. Contrary to what I'd often heard about taking out your frustrations or anger when kneading bread dough, I knead all the love I feel for those who will be eating the bread into mine. :-)

Julia in Boca Raton, FL
---
Hi,
Does anyone know how much yeast is in a packet? I have bulk yeast but forget how many teaspoons or tablespoons are in a packet. So many recipes call for packets.
Thanks,
Susan
AnswerWas this interesting? Yes No
Ad
---
---
Most Recent Answer
09/21/20120 people found this helpful
www.foodsubs.com/LeavenYeast.html
2 1/4 t.
---
Does it matter if you use rapid rise yeast or regular active yeast in your bread maker? The manual doesn't specify. One recipe site recommended to add water to your active yeast before adding to your machine.
I'm trying to become a "professional" before the holidays. I'm trying to make some thrifty gifts so any tips would be greatly appreciated. Thanks.
By Crystal from VA
AnswerWas this interesting? Yes No
---
Most Recent Answer
By Linda [3] 11/18/20090 people found this helpful
I recently broke my dough hooks so had to use my bread machine for a recipe using quick rise yeast. I put all the liquids in first and then everything else as if the recipe were for a bread machine, with the yeast going in last. I put it on the dough selection for half an hour and then removed it and proceeded according to the recipe. It turned out great and I did not have to do anything different to the yeast. Most of my recipes also use a little sugar and that also helps the yeast. Good Luck.
---
My new bread machine cook book calls for either instant yeast or bread yeast. Can anyone tell me where to find it?
By Kathy C
AnswerWas this interesting? Yes No
---
Most Recent Answer
By Lilac [20] 06/20/20110 people found this helpful
I think almost anywhere. I bought mine at BJ's.
---
I can buy outdated yeast for real cheap, but will it be as good? Can I use 2 packets in place of one?

Patricia
AnswerWas this interesting? Yes No
---
Most Recent Answer
By ralphed (Guest Post) 05/04/20040 people found this helpful
You can buy fresh yeast CHEAP at Sam's Club, B J's and like stores. It comes in big bags and is less than 1/10 the cost of the triple packs. Buy it there, open and put some in small airtight package in fridge for immediate use and put rest in ziplock in freezer until needed.
Measure what you need, when you need it and put rest back. You will have yeast for MANY bakings.
---
What is dry yeast and where can I buy it?
By Noemi
AnswerWas this interesting? Yes No
---
Most Recent Answer
By Sheilah Link [5] 06/11/20120 people found this helpful
It is a dried form of cake yeast and can be found in the baking section of most grocery stores with flour and baking powder.
---
Can I make fresh yeast at home?
By Sharan
AnswerWas this interesting? Yes No
---
Most Recent Answer
By Free2B 217 350 02/24/20150 people found this helpful
Look up sourdough starter on line. It's kind of like harvesting yeast from the air. Make some, and when you want to bake, you need recipes using the starter. You take part of the starter for your recipe, and replenish what's left with more of the ingredients you used to make it. You can make bread, pancakes, muffins, etc. Take a little care with your starter, and it will develop it's own flavor, and will last for years. The bread is a little sour, but delicious.
Can you use rapid or regular yeast or or cake?
By Chris
How many teaspoons would be the equivalent of 10 grams of yeast?
By JoAnn P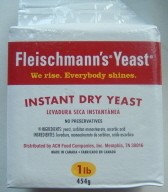 How many packets of yeast are in a case? These are the small packets of about 2 1/4 tsp.