Once a month, pick a night and call it "Candlelight Night". No electric anything. Saves money and great way to communicate with your family.
By Carol from Massachusetts
Answers:
Candlelight Night
I love the idea, but how to convince the man who has the television on even when he's out mowing the lawn! (06/08/2007)

By Lynn Beth
Candlelight Night
thats a good idea - we used to do that at dinnertime when we first got my stepkids -- they opened up more to dinner discussion in the dim lit room vs. being looked at by everyone listening which made them more withdrawn ...
(06/08/2007)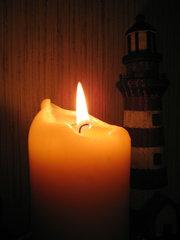 Candlelight Night
My family and I will have to try this, sounds like a fun money-saving idea! (06/08/2007)

By frugalmomma
Candlelight Night
If I could spare my emergency candles, I'd LOVE to do this. Yet, it reminds me of when we are HAVING to do it for lack of electricity for a time. We do have a glass candle/jar which I allow my grandson to light when he thinks of it, and we turn off the light to enjoy it. He begins to sing Christian songs every time. It's a sweet memory since he's without his parents a lot. : ( (06/25/2007)

By Lynda