Getting a Good Night's Sleep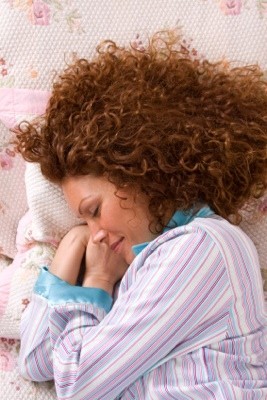 Counting sheep just isn't cutting it anymore! I know tons of people who envy their dog's deep, dreamy sleep. Cats may be good at napping, but when it comes to a full night's shuteye, there is no beating man's best friend. And because quitting your day job to become your beagle's protege in all things canine probably isn't an option, I have made a list of all you need to start slumbering like a sheepdog.
Get yourself tuckered out. If your body is tired, you will be tired. So instead of cracking open the back door when you get home so your beagle can get some fresh air, grab a leash for your pooch and get out for a walk. Getting your blood flowing will jump-start your energy when you are feeling sleepy and prep you to be dog-tired when nighttime rolls around.
Keep your bedroom dark and quiet. If your windows look out onto street lights or let morning sunlight stream in, find blackout curtains or wear an eye-mask to block out sleep-disturbing rays. Same goes for sound: living on a busy street might mean wearing earplugs or playing a white-noise emitter while going to sleep is a must. There are all sorts of science and biology that go into keeping your sleep patterns regular, and light and noise play huge roles in disrupting your rest.
Make sure you are comfortable. Is your bed the best it can be? If your bed is too hard or too soft, or you constantly wake up with neck aches from over-stuffed pillows, consider investing in new bedding. Feather pillows will mold to your neck no matter what position you are in, and a down feather bed keeps you floating above a firm mattress on a layer of fluffy down. Is your dog hogging the whole bed and leaving your cramped in a corner? Train him to stay on his own side, or it's a doggy-bed in the kitchen for him!
Get that bright and beeping alarm clocks out of there! The glowing light of an alarm clock is just one more source of disruption as you try to fall asleep. And since when has staring at a clock as the minuets slip by ever helped anyone, man or mutt, fall asleep? Also, any abrasive beeping or ringing sounds in the morning jolt your system out of sleep, rather than allowing you to resurface to the land of the living gracefully. Any chance you can have your four-legged friend to wake you up with a few loving licks? Or
Get into a habit. Eat dinner. Go for a walk with the dog. Watch the news. Take a shower. Read one chapter. Go to sleep. As you develop a nightly routine, your body will begin to predict when sleep is near. There is no need to become as antisocial as a cat and forget about going out on the town or seeing your pals, but consistency works. Going to bed at around the same time every night means your body will start behaving like clock-work.
Make an effort to relax. You know reading the last three chapters of a suspense novel or watching an adventure flick is not going to nudge you into slumber. You and the pup will be on high alert making sure there are no intruders in your house! Instead, read something soothing,or snuggle up to the little bugger. If your mind is racing from a long day at work, jot everything down in a journal,and put your distractions to bed as well. You can sleep the care-free sleep of puppies everywhere with clear and organized thoughts.
Keep your late-night kibble sugar and caffeine free! Your mom was right. Eating sugary or caffeinated treats before you go to sleep only means that your energy will be boosted, not subdued. Lay off the coffee and chocolate as the afternoon rolls around, and stick to the liver-treats for your evening cravings.
Make sure everything is taken care of before going to sleep. Getting up over and over again after you have gotten into bed prevents your body from starting its sleep cycle. Go to the bathroom before getting into bed, and don't let Bailey start lapping up the liquids half-an-hour before bedtime or you will be getting a rude awakening in a couple of hours.
Transform your bedroom into a sleeping sanctuary. Create a place you want to nestle into. A beautiful bed with luxurious bed linens and decorative pillows is inviting and cozy. Keeping your room at a nice cool temperature means easy sleeping - just make sure all paws stay toasty warm with a delicious down comforter.
Here to dreams full of squirrel chasing and driving with the windows down.
By Amanda from Seattle, WA
Comments
Read More

Comments
Categories
Pages
More
Categories
Published by ThriftyFun.
© 1997-2022 by Cumuli, Inc. All Rights Reserved.
https://www.thriftyfun.com/Getting-a-Good-Nights-Sleep.html