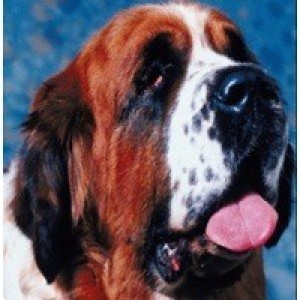 My problem is big dogs and big messes. I have an old St. Bernard who is the dirtiest dog ever. He likes rolling in mud and jumping on the bed, gobbling up dog food and drooling it all over my nice clean comforter. I can't keep buying new bed linens to replace the ruined ones! Any advice on sure-fire ways to keep my bed fresh and clean?
By Doug A. from Seattle, WA
Answers

Myrna
Bronze Feedback Medal for All Time! 168 Feedbacks
June 25, 2010
0

found this helpful
Best Answer
A St.Bernard's lifespan is about seven years; that's short when compared to other breeds of dogs. Our neighbor owned one and she was really messy too and kept outdoors all the time. If I owned a St. Bernard and it was to live indoors, I would groom its fur to short, so it's easier to shampoo and maintain during the warm months.
Hose the dog down and towel dry before coming indoors. Drooling is another issue that's not fixable, all St. Bernard's drool. Close the bedroom door/block it off at all times, so the dog cannot enter that room. I wouldn't let the dog in certain rooms of the house where drooling can ruin furnishings.

June 26, 2010
0

found this helpful
Best Answer
I don't have a St Bernard, but I still don't want our two dogs on my bed, so I have a baby gate in the hallway just outside my bedroom.

June 26, 2010
0

found this helpful
Best Answer
I was also thinking that you just need to shut your bedroom door. If you don't already have one, maybe get a duvet cover, so that you can take that off and wash it when it gets soiled (easier than trying to clean the comforter!).
I have one cat that sometimes hacks up fur balls on my bed, and another who sheds like crazy, the duvet cover has made it easier to clean up after them.

Lee Taylor
Bronze Feedback Medal for All Time! 171 Feedbacks
June 29, 2010
0

found this helpful
Best Answer
Keep those old, ruined bed linens and use them to cover your new clean linens. Then just take the old dirty linens off when you want to use the bed. Shake off the filth and put it back on your clean bed for the dog to use later.
Answer

this Question

My dog chewed a hole in my favorite fleece blanket. I wondered why. He has a nice bed on the floor, he took over a queen size pillow with a quilted sham to put on his bed. Mostly he thinks my bed is his and licks the soft sheets.
He's part Great Dane and goodness knows what else. I rescued him from a shelter. Riley is the best at snuggles. What do I do when my fiance comes home? Where's Dave gonna sleep, lol?
Answers

Pghgirl40
Bronze Feedback Medal for All Time! 196 Feedbacks
June 11, 2018
0

found this helpful
Best Answer
Our vet suggested this method....Our Clarence was trained to sleep on his blankie on the floor by us putting a tee shirt of ours on top of the blanket and giving him a cookie when he climbed on to it and giving lots of praise. It took a week or so, but eventually he got it and no longer needs the cookies or tee shirt to go right into his blanket bed for sleep.
For licking things, we tried bitter apple spray that our vet recommended. It worked for his late sister, Carmel, but Clarence wasn't deterred by it...it is worth a try. That said, I would not use the spray on bedding that you sleep on. If he licks other things like a hard surface, try it on that. I say that because with Carmel, after a few times of floor licking, all we had to do was bring out the bottle and she would stop licking pretty much anything.

June 15, 2018
0

found this helpful
Best Answer
Well - it sounds like maybe you have been lonesome with your boyfriend "away" and slipped up and let Riley sleep on your nice soft sheets??
How has this situation been handled in the past? Has there been problems with "where" who sleeps?
Of course it really does not matter how it got started it is probably not going to be an easy or fast job of "retraining" him.
The biggest problem may be yet to come as he most likely will not welcome Dave into "his" bed or even bedroom so I think you should be prepared for a battle.
You will have to insist that Riley stay on his bed and you may eventually have to move his bed to another room. You should praise him for staying there but it will still have to be a strong command or you will have to use a crate (which most vets highly recommend for sleeping purposes).
This has to be a large lovable dog so it will take some strong will power to not give in "for just one night".
Answer

this Question