Preparing for School the Night Before
Solutions
Share on ThriftyFunThis page contains the following solutions. Have something to add? Please share your solution!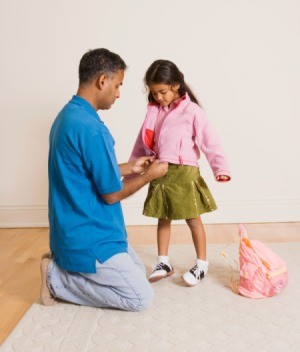 The first thing you need to do is eliminate the mad scramble of the morning rush. You need to be organized and be prepared ahead of time. I will give you some great tips to avoid the morning chaos, where tempers flare and tears flow. I have been there over and over again! I know what the mad dash is like. I also know how to make it run smoothly.
Once you implement these great tips, your mornings will run as smooth as a new BMW. Okay most mornings will, not all. Being prepared will help when you are running late. Sometimes we just can't avoid it. We're all human and it happens, just deal with it. Don't beat yourself up over it. This is where being prepared will come in handy.
Make snack bags that are easily accessible for the mornings. Put cut up fruit in them, dry cereal, cheese, crackers, etc. Fill sippy cups or containers with juice or milk to keep in the fridge for on the go. That way everyone can grab breakfast when running late.
Keep a cubby at the door or a designated spot where each child can keep shoes, coats, mitts, hats, etc., so you can find them easy. There's nothing like searching for a lost shoe when you're late.
Keep backpacks by the door. Be sure homework is done and in the pack the night before. Keep a schedule for each child for gym days, trips, pizza days whatever it may be. Look at the schedules the night before and put the appropriate stuff in their packs.
Pack lunches after dinner so they're ready in the morning. Make breakfast the night before. Set the table, pour cereal in the bowls or cook bacon, pancakes or muffins the night before and just reheat. This stuff could be done on weekends and put in the freezer for weekdays. Always have yogurt and fruit in the fridge as well.
Lay out clothes the night before. If possible, take baths and showers at night. Keep girls hair accessories, along with a brush, in a handy location so everyone gets their hair done before going out the door. Girls with long hair could sleep with braids. It makes it easier to brush out in the morning.
For moms who work, all these tips work for yourself as well, like making your lunch, laying out your clothes, etc. Another thing is to only have out the make-up, jewelry and hair accessories you plan to use. That way, you're not looking through a bunch of other stuff you aren't even going to use. Just lay out the basics. Don't forget to set your coffee maker the night before.
Turn on some music to inspire everyone to get moving. Have fun and enjoy your time together, it won't last forever!
By coville123 from Brockville, Ontario
No matter the age, girl or boy, every student needs an emergency set of clothes to keep in their locker. As an educator, I have seen every type of clothing emergency, from smelly spilled milk to rips, and everything in between - all resulting in a parent having to make an unexpected trip to bring a new set of clothes!
If your school does not have lockers, then ask a favorite teacher to find a spot for your child's "emergency kit" in their classroom. It may save you gas money or missed time at work.
By onesoutherngal from MS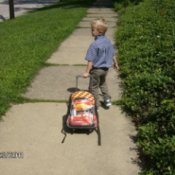 In the mornings, when getting your kids off to school, it can be hectic! I do some simple things to make it easier and more efficient, and I thought maybe the tips I use would help others.
The night before, help your child pick out an outfit. Watch the weather report to make sure the choice is appropriate!
Lay your breakfast dishes out on the table and plan breakfast. I always keep quick options like Carnation Instant Breakfast on hand just in case my son doesn't really want to eat or we are pressed on time.
Make sure everything needed for school the next day is in or by the backpacks - homework, permission slips, medical forms, that science project that is due, It's much easier if you don't have to run around in the morning looking for it.
Have lunch packed and ready or lunch money tucked in a little change bag. You don't want your kid getting to school and not having lunch!>
These 4 things make mornings run much smoother. If your child or children oversleep, you can mix up instant breakfasts while they get dressed (or you can do it after you HELP them get dressed, depending on age). They can drink it down, grab their gear, and go! On days everything is running on time, you can make a more substantial breakfast and your kids will have more time to eat and catch up with you!
By Shannon from Lakewood, OH
The best back to school tips are to have your child pick out his or her clothes the night before and either lay them out on a desk or hang them on the front of the closet doors so that they are ready first thing in the morning.
Read More...
My grandchildren live with me, and mornings were chaotic getting them ready for school. Now at night each child has to get their clothes ready for the next day, put their shoes by the door, and have their backpacks next to them.
Read More...
I have my children make their own lunches every evening, before supper. The lunch boxes then go in the fridge, and it's a breeze getting them out the door the next morning.
Read More...
Pick clothes out the night before. This helps save time in the mornings when you are rushing to get ready. Try to prepare anything that you can for the next day.
My son just started kindergarten, I work part-time and my husband works second shift. So at night, preparing for school the next day is all up to me! To help myself stay organized, I do the following:
Read More...
Archives
ThriftyFun is one of the longest running frugal living communities on the Internet. These are archives of older discussions.
Have your kids take a shower or a bath at night and have them pick their clothes out at night, this will make a smoother morning.

By Wendy from Enid, OK

Answers:
Prepare For School The Night Before
That is exactly what we do and it works out fantastically! Our mornings are so much more calmer now that we are doing this! (09/19/2007)

By Dana
Prepare For School The Night Before
We have a boy and a girl and they are still young enough to take a bath together. We've always done night-time bath and yes it makes for smoother mornings. It would be just too rushed to try and do baths before school. I think it helps them get to sleep better too. We do dinner, bath, story-time and then bed-time. Kids need a schedule.

They don't choose their clothes, I do that in the morning while they are eating breakfast or having some free time. I lay the clothes out on their beds. (09/19/2007)

Prepare For School The Night Before
Hello all, I am a granny to 18 kids now---but when I was raising my 4, I did exactly this---all of us were cranky in the morn, including me, so baths/showers the nite before and they got to pick out their own clothes and each had their own pile on the couch before they went to bed. Was sooo much less stress in those days---and it sounds like it still works very well today!!! Annie (09/19/2007)

By Annie Davis
Prepare For School The Night Before
You mean there are people that get up and do this in the morning? (11/14/2008)

By e-Crave.com