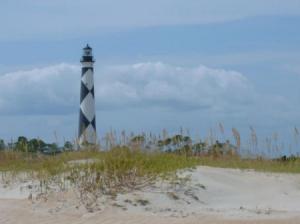 To get to the island, we took a passenger ferry from Harkers Island. The day we went, there were just a few people on the beach and it was like we had the island to ourselves. This was several years ago, but I can still remember it as if it were yesterday. We had a great time.
It was very breezy on the beach and I took about 20 pictures from this view and this is the only one that the lighthouse was not leaning. Don't you just love digital cameras.
By Betty from NC
Post Feedback
Add your voice to the conversation. Click here to share feedback.