As we all age our hair begins to gray. Eventually it moves on to white. Keeping your white hair looking its best is easy to do. This is a guide about caring for white hair.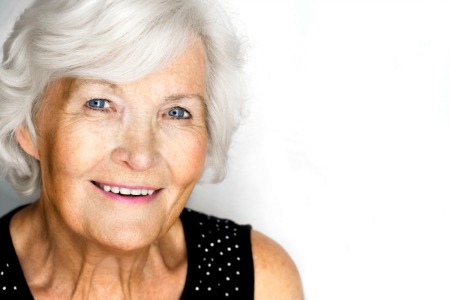 My hair is nearly 100% white in front with streaks of dirty blonde throughout the crown and back. I don't mind grey, but the white around the front makes me look tired and washed out.
I've been dying blonde for years and I want to stop. What would you do about the white in front? My hairdresser suggested lowlights, but I also cannot afford the cost. What are the other senior ladies doing with their hair?
By Betty from Lubbock, TX
---
Most Recent Answer
October 6, 2010
"Accept what you cannot change; white hair, natural curls. Acceptance is the key."
Are you kidding me ? I love having naturally curly hair and would not trade it! Regarding the white, I like to sparkle mine up with unnatural color streaks, mostly ruby-colored.
---
By Murph 1
I have all white hair and would really like to get it back to salt and pepper. I am 49 years old and it ages me. Has anybody ever done this? Thanks.
By Murph from Hanover, MA
---
Most Recent Answer
thr522587 Flag
May 19, 2010
It's called a reverse frosting/highlight. Have a professional do it and choose a warm dark brown which would look more natural than a black pepper.
---
I am 69 and was dyeing my hair since I was 27. My hair is pure white and it is loosing the pigment and getting invisible. It makes me look like I am going bald. I haven't been able to locate any white dye. Is there any?
By Claire A
---
Most Recent Answer
By Louise B. 6 2,509 Flag
December 21, 2014
I have never heard of white hair losing its colour. Do you mean it is becoming clear? I have just googled some info regarding hair, and there is no mention of this anywhere. I would suggest that your hair is, in fact, getting thinner. My mom, who is in her 80's, does have much thinner hair now than she did when she was younger. If you don't think this is the problem, why don't you try dying your hair blond. I have many friends in their 70's who go blond, no matter what their natural colour was, as blond goes well with older skin tones.
---
By gloria 1
Does the chlorine in pools turn white hair yellow?
By Gloria from Sarasota, FL
---
Most Recent Answer
By Louise B. 6 2,509 Flag
August 7, 2010
On another note, my own son, when he had blond hair, got the most beautiful streaks in his hair from the pool and the sun! Bleached blond, no green at all. Since Chlorine removes the color from things (i.e. faded suits from use in the pool!) I wouldn't think it was the chlorine that was making hair yellow.
---
By Linda from Bloomington, IL 76 172
My hair is the salt and pepper, gray color. Is there a way to make it all white?
By Linda from Bloomington, IL
---
Most Recent Answer
By Sandesignsusa 1 Flag
June 1, 2011
The hydrogen peroxide technique works! I was born with very dark brown hair and when it started to gray I didn't like the salt and pepper look so I would use dark brown hair coloring which many times was too dark and made me look dead so I moved to Santa Monica and went totally blonde for about ten years (had it done at a salon for a high price). Recently I decided to try this technique with HP after finding out about it at BeyondJane.com. a full forum on this. Using a 6 percent developer recommended by Sally Beauty Supply and applying it two different times it has lightened the pepper in my salt and pepper hair (which is what I don't like) and brought out the salt which made my hair look naturally platinum blonde (just what I have always loved and wanted). My hair is as silky and healthy as ever so the HP did not harm it like salon lightening with ammonia does. I will keep doing this as my S & P roots come in. The people who warn against doing this are salon workers who don't want it known that this can be done without paying high prices for hair coloring while harming your self as well.
---
By Heide 1
I read an old request for taking the yellow color from white hair and one person recommended using peroxide mixed into conditioner. Has anyone tried this and what amount should I use? Thanks.
By Heide
---
Most Recent Answer
July 7, 2011
The bluing shampoo and rinses turns hair green, remember the color chart? Blue and yellow makes green? I frosted my hair (bleach), then put on a roux toner in my color choice, sand beige. Great color, texture is great also. Hope this helps someone else. pk
---
By cori_lahn 1
Last October I started using Kenra shampoo, conditioner, and curl spray. In only six months my hair has become so yellow it blends right into my beige sweater. I haven't made any dietary or medication changes. What can I do to get my beautiful white hair back, short of having my head shaved?
By cori_lahn
---
Most Recent Answer
March 18, 2014
I rinse my hair daily with apple cider vinegar. It will strip everything off your hair and leaves it squeaky clean. We have very hard water and it used to give me orange colored hair. I have used the vinegar for years now and have hot had the orange hair since.
---