My 2 year old cat has been pooping in the bathtub for a year. I have used ammonia, vinegar, and orange scent to clean in the bathtub. All the products prevented her habits in the bathtub briefly. She used her litterbox for a week or 2, but the poo poo continues.
She's been checked at the vet, her litter box is kept clean, and I've tried different litters. It stains my tub, and I use a bleach solution to remove it, but then it continues. Any solutions or suggestions will be helpful. Thank you.
Brossi
June 2, 2010
0

found this helpful
I had a similar problem with a cat we rescued a year ago. He pooped on area rugs, laundry in laundry baskets and many other "soft" places. He had been declawed before we got him. I later read that declawed cats don't like litter. I read on the internet to put the kind of litter used by hamsters in the litter box. That worked for us.
June 3, 2010
0

found this helpful
Just keep the bathroom door closed.
June 3, 2010
0

found this helpful
There is a product called Comfort Zone with feliway. A cat will not potty where this pheremone has been sprayed (90% of the time). It is a fine mist that should not make your tub slippery. It worked perfectly for me when my cat had a bladder infection and abandoned the litter box. It is available most everywhere, but cheapest on the internet.
June 6, 2010
0

found this helpful
One of my cats did this too. You need to think like your cat to figure out why. I had four over-sized litter boxes in the basement, scooped clean every morning. They did not have too much litter (cats don't like to sink up to their ankles in litter, they just want enough to make a little hole and to cover up after), it wasn't scented, he would use it some of the time.
It was always before meal time that he did this. Although a kitten, he was the Alpha cat of the group. Eating was very important to him - he ate first and last. I finally figured out that he was "worried" about missing his meal if he went to the basement to use the litter box. I began feeding them in the basement. He stopped using the tub. Eventually I was able to resume feeding them in the kitchen.
My point is, think like your cat. Put together all the pieces, what else is happening when she does this, the timing, anything at all could be a clue. Good luck!
June 10, 2013
0

found this helpful
My adolescent male cat keeps on pooping in the bath, it is starting to get rather annoying. He was a stray and turned up on our doorstep about 5 weeks ago (you know the old saying "cats choose you not the other way around"). I have tried bleach cleaning the bath in hope that he has no smell to go back to, the garage door is always slightly ajar so he can come and go as he pleases morning or night. I would shut the bathroom door, but I'm scared he will just find a more disastrous place to do his nasty business. People have said rub his nose in it, but I won't because I believe it will just make him anxious, and I think I would not like my nose rubbed in the mistakes I have ever made. Does anyone have any helpful advise for me to use?
Jonty from New Zealand
April 28, 2007
0

found this helpful
You sound like a very wonderful, good-hearted person. No wonder the kitty chose you. If you fill the bathtub, I think you'd want to be home for the kitty bath, just to be on the safe side.
By guest (Guest Post)
Flag
June 12, 2007
0

found this helpful
Remembering that cats like to poop in one place, urinate in another, for some odd reason. Spraying is marking "new" territory, so the cleaner it is, the more it will mark it. I'd wash all but a tiny amt. of the spray off, hopefully it will satisfy the cat? Also,
cats don't like green bean juice, lemon ju., or orange scent. Try those fragrances as odors to discourage the cat? Make sure that the cat can get to the "private" cat box, that it is changed often, and
that the floor is clean around it as well. God bless and help you. : )
July 10, 2007
0

found this helpful
Cats will mark their territory with poop as well as peeing. Neutered or not. Only males in my opinion but I am not totally sure. Maybe something has happened to make your cat uneasy. You maynot have noticed but it might be a big deal for him.
I had high hopes for a product called Feliway which is supposed to make them feel safe and secure. I see they even sell a plug in diffuser now. I just have too many other male cats in my neighborhood.
I dont know if it will work for you. But it's a suggestion.
http://www.feliway.uk.com/feliway_u ... m&DocID=7&POS=5&Key=null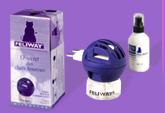 By guest (Guest Post)
Flag
March 25, 2008
0

found this helpful
I had the same problem with my male cat. He just one day started to pee in the bath tub. I tried everything from cleaning out the tub as best as I could, putting plastic in there to scare him away and finally I put the litter box in the tub. I let it stay in there a week or so and then moved it right outside the bathtub. That didn't work either. I finally put the litter box in the hallway and closed the bathroom door. When I started to open the bathroom door again he used it again. I finally put a piece of wood over most of the tub. There is still an opening he can get into the tub with but he doesn't try. Good luck!
June 20, 2012
0

found this helpful