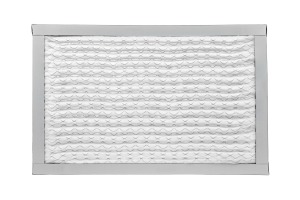 To keep your furnace running as efficiently as possible, it is important to regularly change the air filter. This guide is about changing a furnace filter.
Solutions: Changing a Furnace Filter
Read and rate the best solutions below by giving them a "thumbs up".
I could never remember for sure when I changed my A/C furnace filter, so now I write the date I need to replace it on the filter with a permanent marker. Works great! No more trying to remember!
By Barbara from Columbia, KY
Save on heating/cooling costs by maintaining your air filter. A heating system repairman told me to use the cheapest, blue filter, and to change it at least monthly or when soiled. He told me this would let the air conditioning motor work much more easily, saving electricity and extending the life of the air conditioner.
If you have a 14x20 inch opening, you can buy a 30x20 inch filter and make 2 from them. Get the wire-supported corrugated white filter. Cut the supporting cardboard at 15 inches. Cut the filter to size, and fold the cardboard supports back 1 inch to support the filter. Make sure the edge meets the opening. Now you have 2 filters.
By Nance from Statesboro, GA
To save on your electric bill and to make your air conditioner compressor last longer, keep your furnace filters clean. We put a post-it note on the furnace door with the date we last cleaned them.
By Terri H.
Give a "thumbs up" to the solution that worked the best! Do you have a better solution? Click here to share it!
Questions
Here are questions related to Changing a Furnace Filter.
My furnace filter is between the furnace and the humidifier. The filter is installed upright. Should the arrow point to the furnace or to the humidifier? I don't know where the furnace blower is.
By Jean H.
---
Most Recent Answer

By Beth [25]01/08/2014
The arrow goes in the direction of the air flow.
I don't know how to change my furnace filter. What do I do?
By Sharon from Cudahy, WI
---
Most Recent Answer

04/04/2011
There's a 'door' on one of the sides of the furnace itself. Open that and you'll easily be able to figure out how to slide the filter out. Check the measurement written on the filter edges so you'll know exactly what size to buy to replace the old one.
I'm hoping someone can settle a dispute between my husband and I. I really just want him to see it in print, then maybe it'll sink in. How often does everyone change their furnace filter during the winter months? He changes ours twice a year and really honestly believes that it is often enough. I say it should be every month during November to April. What do you think? I'll show him all responses.

Thank you.
Sandy from Pittsburgh, PA
---
Most Recent Answer

By Jeff Swanson04/18/2013
It really depends on the type of filter you are using. Some should be changed once a month while others should be changed once every three months. There are also a variety of air filters out there including: HEPA, Ionic, Carbon and UV Light. For more information, check out this article:

http://www.allstate.com/tools-and-r ... nsurance/change-home-air-filter.aspx