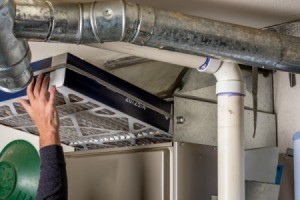 I'm hoping someone can settle a dispute between my husband and I. I really just want him to see it in print, then maybe it'll sink in. How often does everyone change their furnace filter during the winter months? He changes ours twice a year and really honestly believes that it is often enough. I say it should be every month during November to April. What do you think? I'll show him all responses.
Thank you.
Sandy from Pittsburgh, PA
Answers
By (Guest Post)
October 12, 2005
0

found this helpful
Best Answer
Get the cleanable, reusable kind and hose them off thoroughly once a month. Reuse & recycle whenever possible.

January 28, 2008
0

found this helpful
Best Answer
I know this "question" is fairly old but, I subscribe to Consumer Reports and there was a small article in the Dec/07 addition that had ratings for furnace filters. In "their" ratings, they listed the cheapy filters, do next to nothing for filtering. The reusuable filters, (pricey) clean even less than the cheapies. In their tests, the best cleaning filter is made by 3M. It filters extremely well and doesn't restrict airflow (In their words) I loaned my Dad that magazine, so I'm sorry that I don't know the exact name of that 3M filter.
I do remember it was around $12 dollars though and they recommend changing the filter once a month. So it could get quite expensive for that particular filter. I still use the Ace Hardware cheepies though and DO change them monthly! Hope this helps!! Steve, Blair, Nebr
By Jeffrey P (Guest Post)
February 13, 2008
0

found this helpful
Best Answer
Did a bunch of research online and monthly is the consensus. I have a HVAC system and I use the Flanders PrecisionAire 14x30x1 filters. A case of 12 covers you for the year and it's $20.00 at Ace Hardware online. Delivered to your door!! That's a small price to pay for cleaner & healthier air in your home, especially if you have kids like me.

April 18, 2013
0

found this helpful
Best Answer
It really depends on the type of filter you are using. Some should be changed once a month while others should be changed once every three months. There are also a variety of air filters out there including: HEPA, Ionic, Carbon and UV Light. For more information, check out this article:

January 12, 2015
0

found this helpful
Best Answer
Keep in mind: It is a complete myth that when a partially clogged filter begins to slow down the airflow, the fan will "work harder to try to maintain airflow". Fans don't try to maintain airflow. They have no will. In the real world, squirrel cage fans actually work harder when they are moving air freely. If you completely block the airflow, the fan will spin faster because it's easier to just spin the air around in its chamber than to move large quantities of air. It doesn't spin faster because it's "trying harder". There are good reasons to change filters, but saving electrical energy from fan use is simply not one of them.
Read More

Answers