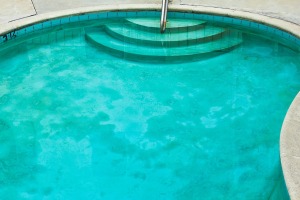 Keeping your pool crystal clear requires that you remove existing algae and prevent its regrowth. This is a guide about cleaning algae from a pool.
Ad
---
Questions
Here are questions related to Cleaning Algae From a Pool.
I have an above ground pool. Can I use household bleach to kill algae? My pool is overrun with green algae. Thanks.
By leveman3 from Lebanon, TN
AnswerWas this interesting? Yes No
Ad
---
---
Best Answers
09/18/20100 people found this helpful
No on chlorine bleach! It's not healthy for humans or the environment! Go to your local pool supply company and ask them what products you need to get rid of the algae and what products for maintenance thereafter. They also carry long poles with special pads on them that you run along the bottom and side pool surfaces that help loosen the algae and should also be used for regular maintenance.
---
By Sandi [7] 09/18/20100 people found this helpful
Never mess around with chemicals, unless your pool dealer has them in stock. The first step is to bring a sample of your water to determine the right course to clean up the algae, or other problem you may have. Otherwise you are making a possible toxic soup which may harm humans, or destroy the pool. Trying to save a few dollars may cost bigger bucks in the end. I have a friend whose well meaning, but clueless husband "dumped" every product they had bough for the pool, all at once! He figured this would keep the pool clean while they went on vacation. Upon returning home the pool was like a bubble bath, and not usable for several weeks after. Then an algae problem developed and that was the end of the pool season. I check my water every other day, and if something needs to be added I do it then. Always read the instructions as to the amount and how to use it etc. Good luck to you!
---
I am looking for home remedies for removing algae from swimming pools. Also, what is blue stone?
By rose bud from Findlay, OH
AnswerWas this interesting? Yes No
Ad
---
---
Most Recent Answer
By Johan Stoop 07/07/20110 people found this helpful
Green Algae, amongst the other forms of algae is mostly stimulated by the acid water state of your swimming pool. However, there are solutions which do not require you putting chemicals in the water, hence also reducing the impact those have on your health. you can do this by changing the constitution of the water, from acidic to alkaline, using a water ionizer such as the one at: http://www.swimmingpoolhealth.com for example. This will result in less costs, less maintenance, and a healthier swimming environment you can actually enjoy!
---
How do you get green algae out of a above ground pool without using a chlorine system? Please help.

Navi from Long Island, NY
AnswerWas this interesting? Yes No
---
Most Recent Answer
By Louise B. [6] 08/26/20080 people found this helpful
I had red algae grow in my fish tank when the light was not sufficient. Just covering the pool may not work.
I have no experience with algae in a pool, but I think you can get some sort of oxygenating system.
---
What do I need to do to clear up my pool? It has algae sitting at the bottom of my pool and I don't know how to clear out?
Solutions: Cleaning Algae From a Pool
Do you have knowledge about this guide topic? Feel free to share a solution!