Cleaning a Featherbed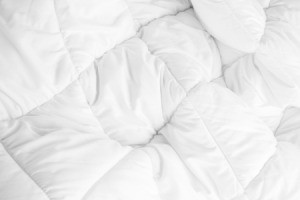 It is important to clean a featherbed properly to avoid damaging it and to prevent odors. This page has advice about how to clean a featherbed.
Quick Answer
It is generally recommended that you take featherbeds to a dry cleaner for professional cleaning, however, many people do clean them themselves.
Make sure there are no holes in your featherbed for feathers to escape.
Wash your featherbed in cold water with gentle detergent in a large front loading washing machine or a top loading washing machine without an agitator. Use a gentle cycle.
If your home washing machine isn't large enough, your local laundromat should have one of sufficient size.
Put your featherbed along with several tennis balls (4 to 6) into a dryer.
Dry on low heat for about 1 1/2 hours or until the featherbed is completely dry.
Feathers beds that aren't dried completely may develop bad odors and could result mold growth.
Keep reading for more advice below and let us know what solution worked for you.
Questions
Ask a QuestionHere are the questions asked by community members. Read on to see the answers provided by the ThriftyFun community or ask a new question.
I have a down comfortor and a feather bed. The direction says dry clean. I have washed down jackets and vests has anyone had any luck washing comfortors or feather beds.

Jo Anne from NY
By guest (Guest Post)
June 10, 2007
0

found this helpful
I sleep on an air bed which is on the floor i also have a feather bed topper on it that i sleep on top of. i went to clean my sheets an i moved the feather bed and found mold or mildew........what should i do to clean it or prevent it from happening again? thank you so much.
April 15, 2013
0

found this helpful
You can wash all of them. Make sure there are no holes or you will be sorry. Wash in cold water with light detergent on a very gental cycle. Dry on low heat for about 1.5 hours. It says to dryclean only because you bought a cheaper comforter with a water soluable sizing to keep the feathers from popping out. I'm in management for a drycleaner. Trust me.
October 16, 2016
0

found this helpful
Yes. I did a pillow and a comforter last night (duvet) and they came out fine again. The important thing is: BE GENTLE and dry them thoroughly! It takes AT LEAST 1.5 hours of drying or more, for a Queen size pillow. Same for the duvet. In between the drying cycle (every 15 minutes or so) take them out and FLUFF them. Adding a clean pair of tennis balls helps to facilitate this process. Above all , MAKE SURE you completely dry them! Otherwise they will MOLT and MOLD can also set in. This is why the average detergent on OLD STYLE feather down (there are many kinds of FEATHERS USED...hence the differences in prices for these products). A speciffic DOWN wash will help the feathers retain their natural oils. New and modern products have new sealing treatments to make it easier to wash these products. A feather bed/topper is a whole new ballgame! Find a laundromat with EXTRA LARGE MACHINES. Start by using an enzyme spray and letting them soak in the tub. Ring out what you can and then hang them in the sun for a few hours. This will remove sweat stains and bacterial odors. (Any pet enzyme should be OK I think there is a FABREEZE for this too, now). Then take it to the laundromat. Be prepaired with TONS of coin, it's going to take AT LEAST 3 hours! Wash it in COLD and don't use BLEACH! Some staining will remain, it's inevitable, but it will be clean. When drying, use the LARGEST MACHINES, as this will help with the speed of drying and LOFTING. Don't forget to add SEVERAL large clean items, to help with the FLUFFING. Best of luck. Dry cleaners, by the way, do not use a DRY CLEAN on these products, all the time. Most have REALLY LARGE industrial machines, to put things in!
Read More Answers
May 12, 2004
0

found this helpful
How do you clean featherbeds? Can you wash them in the washing machine like you can a down comforter?

Cindy
By guest client (Guest Post)
May 12, 2004
0

found this helpful
If you take them to a laundromat and use the extra large extracting machine it will do the job. I find that clean tennis shoes (4) thrown in as well will fluff up the feathers and it dries in no time.
By guest client (Guest Post)
May 12, 2004
0

found this helpful
I recently bought a non-allergenic feather bed from Target on sale. Love it!
It said not to wash it. If you have a stain on the feather bed, dab the spot to clean. I forgot all the details ... just don't wash it!
By guest client (Guest Post)
May 13, 2004
0

found this helpful
I had to wash my featherbed recently. While the tag said "dry clean only," I took a risk and "hand" washed it in my bathtub. (That was a sight, let me tell you. Think "Lucy in the grape vat making wine.") If it didn't work, I would've had to buy another anyway. It washed fine, but was very heavy when wet. It was helpful having another person to move it initially. Took forEVER to dry, though. I used the low setting on 35 minutes and took it out and fluffed it between drying sessions (probably about 8 or 9) to evenly distribute the feathers. Worked, though. It's back on my bed, good as new.
September 26, 2004
0

found this helpful
In an effort to remove urine stains from my featherbed I soaked it in my tub. I hung it outside to dry, then replaced it on the bed. It has a horrible smell. Is there something I can do to remove the smell?

Sharon from PA
September 26, 2004
0

found this helpful
Hi,
Get some enzyme pet stain remover like Nature's Miracle or PetZyme and soak it again. You can get it at any pet store. Let it sit in there for at least an hour. No need to rinse it out. Hang the feather bed on the line until it is dry. Hopefully, this should get rid of the smell. If you are unable to go through the whole process again, spray it down with the enzyme mixture. The enzymes eat the bacteria that cause the smell.
- Susan
January 1, 2007
0

found this helpful
Where can I take my down featherbed to be professionally cleaned? My child had the flu and vomited on the featherbed and also had a diarrhea accident on it.

Syl from Hayward, CA
By guest (Guest Post)
January 3, 2007
0

found this helpful
Most dry cleaners will clean a down comforter, I'm sure it the same for a featherbed. These can be washed too, in a large machine, prferable a front-load without a center agitator. Whenh you dry it, throw a few tennis balls into the dryer with it to fluff the down. I always wash my comforter.
July 22, 2004
0

found this helpful
Is it possible to remove mildew from a featherbed or duvet?

- Karla
July 23, 2004
0

found this helpful
Hang them on the clothesline in bright sunlight for several hours and it will disappear.
Related Content
In This Guide
Categories
Guides
More
Categories