Cleaning a Hummingbird Feeder
Solutions
Share on ThriftyFunThis guide contains the following solutions. Have something to add? Please share your solution!
To clean your hummingbird feeder, place some loose screws in the container with some hot soapy water and swirl them around. The screws will break away the grime buildup. Rinse well. Swirl it gently. Don't shake it because the screws might break the glass.
Source: I read this tip in "Country" magazine years ago and use it for cleaning my feeder.
By Betty from NC
May 27, 2009
0

found this helpful
Great idea! I use dry long grained rice the same way, but the screws probably are better since they are heavier than the rice and will pour out easier. Make sure the screws are washed and rinsed before using. I clean the port holes with a pipe cleaner. I would use white vinegar to clean the parts and then rinse well. Thanks for the advice.
Read More Comments
The hummingbirds have gone south so I took my feeders down, gave them a good cleaning and put them away until next spring. Although I have a feeder that is smaller and easy to clean, the birds seem to like this old bottle feeder the best. I have had it for several years. It took me a long time to figure out an easy way to clean this bottle.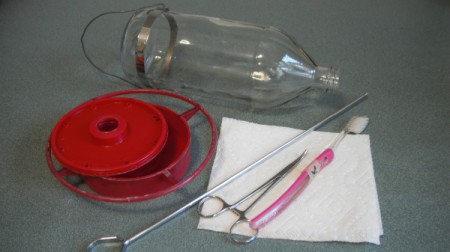 To clean inside, I used a rod, small paper towel and a tooth brush. I folded the paper towel and put it inside the bottle, then put hot soapy water in the bottle. Using the rod, I was able to move the paper towel around the bottom and sides of the bottle. Then using the tooth brush I moved the paper towel around the curved neck. Using tweezers, I pulled the paper towel out of the bottle.

October 16, 2014
0

found this helpful
I leave my hummingbird feeders out all year. We always have little hummers coming for a drink. Sometime they are frozen, but I just bring them in until they are thawed out and hang right back out. I never use soap when I clean them as that can make the little ones sick. Just hot water and q-tips
To clean the tiny holes in the bug and bee guards on my feeder, I use an old mascara wand that has been thoroughly cleaned. It works great for getting into small places!
July 3, 2016
0

found this helpful
If you can find them, use pipe cleaners. The ones with stiff bristles work best.
I found a simple and thrifty way to clean the feeding holes in the hummingbird feeder. When the holes get clogged up, run a twist tie through them a couple of times and then run hot water through them. It works every time.
By Jabsgram from MA
September 21, 2009
0

found this helpful
Thanks for sharing, good idea, good luck.
I have experimented with making hummingbird feeders and have decided that purchasing an inexpensive feeder is not much higher in cost. One of the things to consider when buying or making a feeder is the ease in cleaning.
Read More...
To remove mildew from the hummingbird feeder bottle, place a bunch of small nails inside the bottle. Add a little hot, soapy water and gently shake the nails back and forth across the inside edges of the bottle. The nails will loosen all the mildew buildup.
May 24, 2005
0

found this helpful
To clean the test-tube style hummingbird feeder, get a cotton bore mop from a gun store cleaning section. It fits perfect in the tube to get out gunk and is reusable, costs about $1.00
Read More...
Related Content