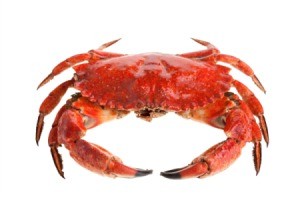 Serve a delicious crab casserole for your next special occasion or family dinner. This page contains crab casserole recipes.
Ad
---
Solutions: Crab Casserole Recipes
Read and rate the best solutions below by giving them a "thumbs up".
Ingredients:
1 (12 oz.) can crab meat, drained and flaked
16 oz. cottage cheese
2 eggs, beaten
1/2 tsp. onion salt
1/4 cup minced onion
10 oz. pkg. frozen spinach, thawed
2 cups shredded cheddar cheese
6 Tbsp. flour
salt and pepper, to taste
Directions:
Beat eggs and flour until smooth. Drain the thawed spinach. Mix remaining ingredients into spinach. Pour into a well greased 2 quart casserole; bake at 350 degrees F for 1 hour. Serves 4.
By Robin from Washington, IA
Ingredients
1/4 cup butter
1/4 cup flour
1/4 cup water
1 cup evaporated milk
1 cup chopped green pepper
2 hard boiled eggs, chopped
1/4 cup blanched almonds, slivered
1 lb. frozen or canned crabmeat
1 jar pimento, chopped
1 tsp. salt
1/2 cup chopped celery
buttered bread crumbs
1/2 cup grated cheese
Directions
Melt butter in saucepan and blend in flour. Stir in water and milk. Cook, stirring until thick. Add remaining ingredients except crumbs and cheese. Pour into buttered 1 1/2 qt. casserole and top with crumbs and cheese. Bake at 350 degrees F for 30-45 minutes, uncovered.
By Robin from Washington, IA
Ingredients
1 package (6oz.) long grain and wild rice
2 1/2 cups canned crab meat, drained
1 lb. cooked medium shrimp, peeled, deveined and cut into 1/12 inch pieces
2 celery ribs, chopped
1 medium onion, finely chopped
1/2 cup finely chopped green pepper
1 can mushroom stems and pieces, drained
1 jar diced pimientos, drained
1 cup mayonnaise
1 cup milk
1/2 tsp. pepper
A dash of Worcestershire sauce
1/4 cup dry bread crumbs
Directions
Cook rice according to package directions. Meanwhile, in a large bowl, combine the crab, shrimp, celery, onion, green pepper, mushrooms and pimientos. In a small bowl, whisk the mayonnaise, milk, pepper and Worcestershire sauce; stir into the seafood mixture. Stir in rice. Transfer to a greased 9x13 inch baking dish. Sprinkle with bread crumbs. Bake, uncovered at 375 degrees F for 40-50 minutes or until bubbly.
By Robin from Washington, IA
Give a "thumbs up" to the solution that worked the best! Do you have a better solution? Click here to share it!
Questions
Here are questions related to Crab Casserole Recipes.
I am looking for a recipe for crab casserole like you find at a Chinese buffet.
By shorty from Encinitas, CA
AnswerWas this interesting? Yes No
Ad
---
---
Most Recent Answer
By Emily 1 01/12/20110 people found this helpful
I'm not sure how other restaurants make this dish, but I have only one to compare it too. :)

I tried on recipe in a post here with the following ingredients: * 1/2 lb. crab meat * 1/2 c. sour cream * 1 tbsp. lemon juice * Pinch of garlic salt * 1 1/4 c. Cheddar cheese * 1 (8 oz.) pkg. cream cheese * 2 tbsp. mayonnaise * 1 1/4 tsp. Worcestershire sauce * 1 tbsp. milk

I found this recipe tasted nice but ended up like crab dip.

I searched and found several other recipes but none seemed like the one the now closed local restaurant served. Last night I combined some recipes and added tweaks and came up with a close version to the creamy crab bake thingie I had locally. It needs further tweaking but I thought I'd share what I did.

Creamy Chinese Crab Bake Casserole/Thingie
About 1.5 lbs imitation lump crab meat (broken up into chunks)
¼ lb (one stick) butter or margarine
1c milk
1c half and half
2tbsp parmesan cheese (1tbsp for sauce and 1tbsp for top)
3 tbsp flour
1 egg (lightly beaten if desired)
2 tbsp mayonnaise
2 tbsp sour cream
3 green onions, chopped
½ tbsp garlic salt (didn't measure, could be more or less. I put enough to give a hint of garlic, but not overpowering)
1 cup sharp cheddar cheese
Heat oven to 300.

Melt butter in saucepan over med-low heat. Add flour to butter and stir until smooth. Add milk and half and half and stir. Add garlic salt and whisk in an egg before the sauce gets too warm. Add 1tbs parmesan cheese and green onions. Heat sauce until it thickens but does not boil. Toss crab chunks into sauce and stir to coat.

Pour mixture into a 2 quart baking dish (could use a more shallow dish), sprinkle with other tbs of parmesan and sharp cheddar. Bake at 300 for approx 45 or until everything is bubbly.

Lemme know if this is anything close to what you've had.
---
Archives
Thrifty Fun has been around so long that many of our pages have been reset several times. Archives are older versions of the page and the comments that were provided then.
I have gone to several Chinese Buffets that have all served a cheesy lump crab casserole (with some type of white sauce ) and also a delicious spinach with cheese casserole. I am almost positive that they both contain mayonnaise. Would anyone have a recipe for these recipes. My mouth is watering in anticipation.
Thanks.

Nolasandy from Kenner, LA
Feedback:
RE: Crab Casserole Recipe From Chinese Buffet
CRAB CASSEROLE
1/2 lb. crab meat
1/2 c. sour cream
1 tbsp. lemon juice
Pinch of garlic salt
1 1/4 c. Cheddar cheese
1 (8 oz.) pkg. cream cheese
2 tbsp. mayonnaise
1 1/4 tsp. Worcestershire sauce
1 tbsp. milk
Mix together in casserole dish. Save half of Cheddar cheese to sprinkle on top. Bake at 325 degrees for 30 minutes.
(08/14/2007)

By Gayle
RE: Crab Casserole Recipe From Chinese Buffet
I think that the crab in the buffets are the imitation crab meat, so I am pretty sure it could be used. Does anyone have a good spinach recipe as noted in the main question? (08/16/2007)

By Nolasandy
RE: Crab Casserole Recipe From Chinese Buffet
I am also looking for both these recipes and am grateful for the Crab Casserole recipe sounds like the one I want.
I have not tried the following recipes, but they sound like they could be close to what we are looking for.

SPINACH AU GRATIN
1 Tbsp. butter
10 oz. spinach, chopped, frozen, defrosted and drained
1 Tbsp. flour
1 cup Swiss cheese, grated
1 cup half and half
Melt the butter in a saucepan. Whisk in the flour and cook for 5 minutes, stirring frequently. Stir in the half and half. Simmer for 15 minutes. Stir in the spinach.
Place in a small casserole dish. Top with the cheese and place under the broiler until lightly browned. Serve immediately. Serves 4.

SPINACH MARIE
2 1/2 cups milk
3 Tbsp. all-purpose flour
1/2 tsp. dry mustard
3/4 pound Cheddar cheese, cubed
1/2 tsp. garlic salt
(3) 10 oz. pkgs. frozen chopped spinach, thawed and drained
1 Tbsp. butter
1/2 cup chopped onion
1 cup shredded Monterey Jack cheese
3 Tbsp. melted butter
Preheat oven to 350 degrees.

In a medium saucepan over low heat, combine milk, dry mustard, and garlic salt. Bring to a slow boil and simmer for 2 minutes. In a small skillet or saucepan heat 1 Tbsp. butter over medium heat. Saute onion until browned; stir into milk. In a small skillet or saucepan combine 3 Tbsp. melted butter with flour. Cook over medium-low heat until thickened; stir into milk.

To the milk mixture add the Cheddar cheese, mixing well to melt. Stir in spinach. Pour mixture into a 9x13 inch casserole dish and sprinkle with Monterey Jack cheese. Bake in preheated oven for 10 minutes, or until thoroughly heated. Yields 8 servings.
(08/21/2007)

By Mike
RE: Crab Casserole Recipe From Chinese Buffet
I asked what was in it at the Chinese buffet. They said only imitation crab meat, celery, and mayo. I think the cheese, sour cream and cream cheese would give the flavor more depth. Thanks for the post. (10/04/2008)

By lstraw
RE: Crab Casserole Recipe From Chinese Buffet
My daughter in law figured this one out. She mixes imitation crab, pineapple tidbits and mayo together and bakes until hot. Sounds wierd, but works. Do not over bake. (11/06/2008)

By Chris B.
Could someone email me with the recipe for the Crab and Cheese bake that is at the Chinese Restaurants? What is the white (looks like pasta) in the bake?
By Pollypoo57 from PA
Feedback:
RE: Crab Casserole Recipe from Chinese Buffet
Not sure what it is like at your local restaurant, but I tried to replicate the cheesy crab casserole at Great Wall Buffet. There are no noodles in the one I've had, just imitation crab, some veggies, a rich white sauce, and cheese on top. See if this recipe sounds like what you are looking for:
1 or 2 carrots, diced
1/2 onion, diced
2 (8 ounce) packs imitation crab meat
big handful of frozen green peas
1 (8 ounce) bag shredded Italian cheese blend
1 cup heavy whipping cream
1 cup shredded cheddar cheese
Saute the onions and carrots in butter or olive oil until tender. Break up some of the crab meat into smaller pieces if desired, depending on the size flakes or chunks in your packages. Put crab, onions and carrots, frozen peas, and shredded Italian cheese (not the cheddar) in baking dish, about 9x9, but doesn't matter too much. Add a little salt and pepper to taste if desired. Mix until well combined, but don't tear the crab meat up too small. Pour heavy whipping cream evenly over all. Top with shredded cheddar. Bake at 350 degrees F until hot and bubbly, about 20 minutes or so.

This tastes very much like the crab casserole I've had. Maybe better, it ends up being sort of Alfredo-ish, but without pasta. I can throw this dish together in less than 30 minutes, and everyone who has tried it enjoys it. I buy imitation crab on sale and keep it on hand in the freezer. Hope this helps. (09/16/2009)

By Yodergoat
I have been to King Wok Buffet and I love their Cheesy Crab bake. But I don't know what the sauce is. I know it is imitation crab meat, red onions, red and green peppers, with mozzarella cheese on top. But what is the creamy sauce?
By Jackie from North Bangor, NY
Feedback:
RE: Crab Casserole Recipe from Chinese Buffet
You have to add Philadelphia cream cheese, crabmeat, red onions, and sharp Cheddar cheese. The Philadelphia cream cheese is the white sauce that you see. I make it all the time for me and my husband. (09/06/2010)