Crafts Using Frozen Juice Concentrate Lids
Before tossing these sturdy lids in the recycle bin, consider using them for craft projects. This guide contains crafts using frozen juice concentrate lids.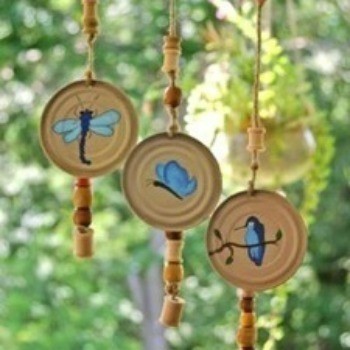 Filter

: All Articles
Sort

: Relevance
Another use for those smooth can lids from the Pampered Chef Can Opener or from frozen juice concentrate. You can paint on a design of your own or use stamps. Just make sure the stamps are small enough to fit in the center of the lid where there are no ridges.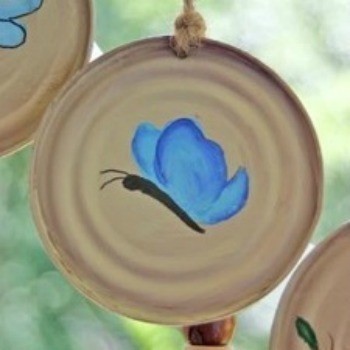 Approximate Time: 30 minutes - 1 hour
Supplies:
smooth can lids
paint primer
acrylic paints: white, bright pink, warm yellow
twine
wooden beads and spools
stamps, optional
stick or bamboo garden stake
hot or tacky glue
Instructions:
With large nail and hammer, make a hole in the top of each can lid.
Prime 3-5 lids and dry.
Paint desired background color.
Draw on a design and paint or use desired stamp (We used a simple star).
Seal with varnish.
Cut several lengths of twine, about 18 inches each.
Tie twine to bamboo. Add a touch of glue to hold in place.
String on some beads and spools, knotting afterward.
Tie on can lids at different points on each string.
Finish with more beads and knots.
Attach another piece of twine to edges of bamboo for hanging. Secure with glue.
Add large bead to each end of bamboo and secure with glue.
This would be a cheap craft for kids. Stamps may be best for them.
Prepare lids with holes and primer ahead of time so the kids can go right to it!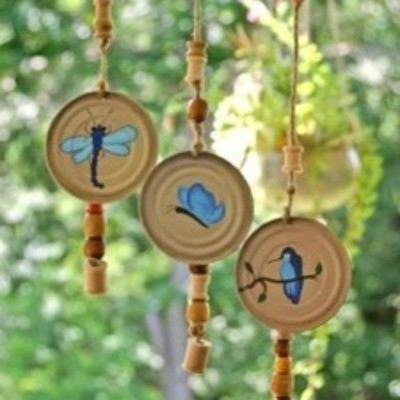 By CinDy from Waynesburg, PA
Thrifty, easy, and lovely to behold! Let your kids or students help decorate the tree and house this year. :)
Approximate Time: 10 minutes plus drying time
Supplies:
Elmer's Glue
embellishments (sequins, beads, etc.)
hot glue gun
hot glue
stringing material (5 inches per ornament)
2 juice can lids per ornament
Instructions:
1. Spread Elmer's glue on both juice can lids, ridge-side up.
2. Place embellishments onto glue until desired design is achieved.
3. Let dry overnight.
4. Cut stringing material to 5 inches in length.
5. Double and hot-glue ends to back of one juice lid about halfway down.
6. Hot-glue other lid's back side to the first's so they match up.
7. Decorate Christmas tree or give to grandparents as lovely and thoughtful gifts!
By Brianna from Dutch Harbor, AK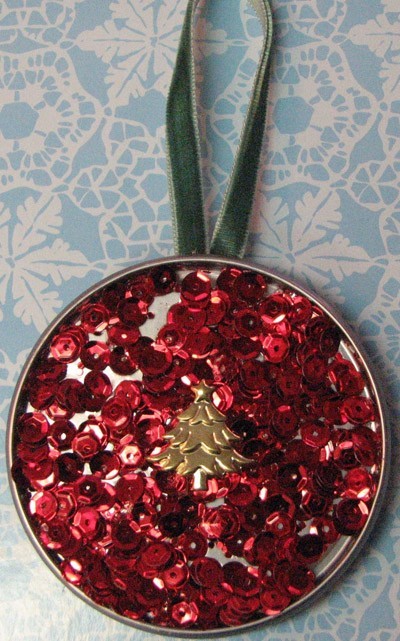 Transform a handful of beads and two frozen juice can lids into this grinning little guy just in time for Halloween!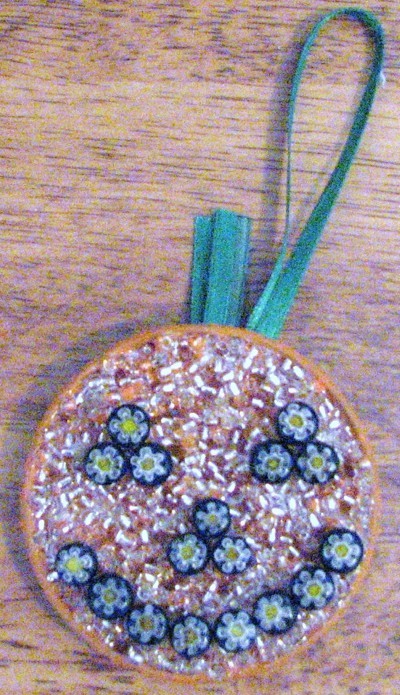 Read More...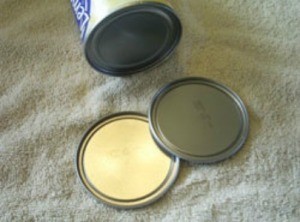 Hate to throw out the metal disks that come from the ends of frozen juice concentrate "tubes"? They're such a nice heavy-duty metal with no sharp edges. Here are some recycling ideas from our creative ThriftyFun community. Post your own ideas below.
Windchimes
You could make a windchime with those can tops. Let your imagination run wild.
By Toni K.
Candle Holders or Coasters
They would be good to place small pillar candles on to catch the wax, or you could have your children paint them and use them as coasters, wonderful as a gift to a family member.
By sammylew
Christmas Ornaments
I have taken small simple holiday designs, drawn on paper, and double-stick tape to front of the disk. Then with a hammer and awl, punch holes around the design, completing with large hole at top, and adding a decorative cord or fishline to hang. Or glue child's picture or old Christmas card design to center and hang for unique ornaments. Add trims: boas, feathers, stickers, etc.
By Kass1967
Educational Ideas
For a preschooler, buy two sets of identical stickers, put them on the metal disks and make a matching game. You can use these to play a form of the game of "concentration." Or put letters on one side and a sticker of something that starts with that letter on the other side. For younger children, put colored dots on them to teach colors. Cut a slit in the top of a coffee can that's been covered with pretty contact paper and all the rough edges filed and let your toddler put them in the can and then dump them out.
By Jewels955
Photo Magnet
A few years ago, one of my kids' teachers took pictures of each of her students individually and cut a circle around their face and attached them inside the rim of one side of the juice can lid. On the other side, she glued a magnet and these hung on her classroom door that was metal. As each kid came into class, they took their magnet picture and placed it on her magnetized chalk board as a form of roll call and gave them responsibility lesson as well.
You could do the same at home with a picture from each year for your child. Maybe each birthday, take a picture and do that and add to it each year. Use on refrigerator as magnet collection.
By Tawnda
Homemade Tap Dancing
Take a piece of wide elastic and attach it to the lids and let kids use them as taps on their shoes. What kid doesn't like to make noise, outdoors of course! LOL
By Owenmohrbucks
Makeshift Tub Stopper
I use one as a tub stopper. Leaks a little bit, but works just fine for taking a bath.
By Jayne
Knights Costume Material
If you had a lot of them you could make your own "chain mail" vest or tabard for a knight's costume. Drill holes in 2 or 4 sides (as needed) and use jump rings or fishing line to link them in a simple over-the-head pullover.
By Heather
Garden Row Markers
We used the ends of cans for row markers in the garden. We poked 2 holes in them and pushed a bent wire (cut from clothes hanger) through them so the lid sat at the top of the wire and was easily readable while walking through the garden.
By Sheryl
Giant Checkers
Make a giant checker board on canvas, floor, patio and paint these red and black. Or glue on a magnet and decorate them with a photo, seashell or dried flower arrangement or whatever you like. Ask your child for ideas, he might come up with very creative uses!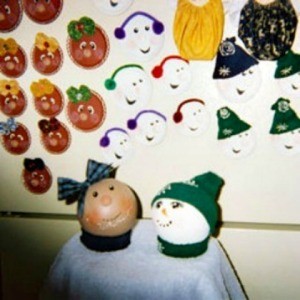 Cute, quick and frugal gifts or decorations!

The magnets are used canning jar lids and smaller ones are from frozen OJ concentrate can ends. Base coat white or brown and paint faces. I used blush for the cheeks and had some wood plugs I used for the noses. For the gingers, I used fabric yoyos or strips of fabric tied into bows, hot glued onto the heads. The snow men I used pipe cleaners and little pom poms for ear muffs and a sock cut into 2 inch sections, sewn across one end, to make little hats and hot glued on.

The ginger and snow balls are from old softballs, base coated and glued onto canning jar rings. The snowball hats are from socks, cut into about 4 inch pieces, sewn across the end. I then took white "scribble" dimensional paint and did the "frosting" lines on the ginger and snowflakes on the snowballs hats. Had everything on hand!

I've sold a bunch of the ginger and snow balls for $7.50 each and the magnets for $2.50. I've "gifted" many of them already this season! I get the softballs from my son and DIL, who play on a softball team :0) Sometimes I find them at thrift stores for about $.50 each. Have fun!

By Maggie from Bloomington, MN
Is there a way to buy frozen juice concentrate lids without buying a ton of juice? I want to use them for crafts. Thank you.
By Sherry from Portland, ME
December 8, 2010
0

found this helpful
I started using canning jar lids. You can buy just the lids and bands without the jar.
December 8, 2010
0

found this helpful
Ask at a day care, or a care home. Some place they use the juice concentrate.
December 8, 2010
0

found this helpful
Great ideas! Thanks.
December 8, 2010
0

found this helpful
Don't forget the tin ends from cans of biscuts too :0)
December 9, 2010
0

found this helpful
Perhaps try contacting your favorite concentrated juice manufacturer and ask, they may have reject lids they could sell u at a reduced cost.
I've collected at least 100 metal caps from the frozen juice cans. What can I do with them?
By Fila P.
July 22, 2012
0

found this helpful
I cut out pretty sections from Christmas cards, that I glued to center of lid, added fancy trim around the inside of rim and attached string. Really pretty ornys
July 22, 2012
0

found this helpful
Great Idea, Rustycrystal! I was thinking Magnets. The possibilities are endless! Beads, stamps, stickers, ribbons, lace, buttons, photos, pictures, sequins, anything! : D
July 25, 2012
0

found this helpful
We use to use the lids to make nail punch designs and decorate with trimming around the edge for Christmas tree ornaments. Just trace a small design on the lid and using hammer and nail, tap around the design evenly. Add a string for hanging. Designs could be a bell, Christmas tree, snowman, etc., the possibilities are endless.
July 1, 2013
0

found this helpful
Using pliers, bend the lids into bell shapes, and hang with pretty ribbon for a nice wind chime.
Uses for the metal lids that come off concentrated juice containers. Post your ideas.
Read More...
Where can I get templates for frozen juice tops made with a hammer and nails? You pound holes in the top.
By Debbie G
December 17, 2012
0

found this helpful
Google free printable clip art. You will just have to make sure the designs are small enough to fit on the lids. Also if you see a larger design that you like you could cut the part that you like off and just use that.
Related