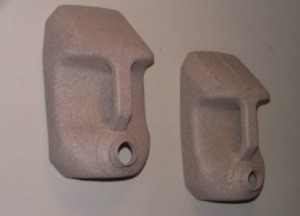 Wall masks made from plastic jugs.
Approximate Time: Depends on details added.
Supplies:
rectangular plastic jugs
textured spray paint
details of your choice for hair, eyes, mouth, etc.
string for hanging
Instructions:
Cut tops off jugs as shown in photo. Make a hole at top center and make a string loop for hanging. Protect surface with newspapers where you expect to spray and then spray using textured spray paint, available in paint departments of most stores. Let dry before hanging.
Kids will have fun adding plastic eyes, loop earrings, yarn hair etc. Another idea would be to hang a number of them vertically in a row to make a pretend totem pole.
By preserver from Winnipeg MB

I had my 5th grade students create African masks from milk jugs. It was a great way to show them how to recycle materials and help our planet. I do a lot of recycle projects with all my students.
I cut the jugs in half and we use kraft paper, which cuts the amount of layers in half from 7 with newspaper, to 3 with the brown kraft paper. They seem to be a lot sturdier. We use acrylic paint and I hand out images of African animals for students to refer to as they trace out the animal after the mache dries with a pencil and then felt tip marker. We attach yarn to display them later. For animals with horns or anything that protrudes, we use toilet paper rolls or cereal boxes and tape them on with masking tape. They are on display now at our administration building.
Source: Shared idea from fellow art teachers.