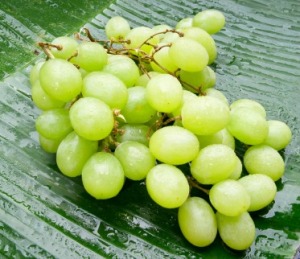 Make a sweet grape salad for your next meal. This page contains creamy grape salad recipes.
Ad
---
Recipes
Read and rate the best recipes below by giving them a "thumbs up".
So cool and refreshing on a hot summer evening
Ingredients:
1 package (8 oz.) cream cheese, softened
1 cup (8 oz.) sour cream
1/3 cup sugar
2 tsp. vanilla extract
2 pounds seedless red grapes
2 pounds seedless green grapes
3 Tbsp. brown sugar
3 Tbsp. chopped pecans
Directions:
In a large bowl, beat the cream cheese, sour cream, sugar, and vanilla until blended. Add grapes and toss to coat. Transfer to a serving bowl. Cover and refrigerate until serving. Sprinkle with brown sugar and pecans just before serving.
Nutrition Facts: 1 serving (3/4 cup) equals 131 calories, 6 g fat (3 g saturated fat), 17 mg cholesterol, 35 mg sodium, 19 g carbohydrate, 1 g fiber, 2 g protein.
Source: Taste of Home
By mamie11152 from Upstate, NY
Fast, easy and can be made the night before. Grapes with a crunch.
Ingredients:
1 cream cheese (8oz.)
2 Tbsp. mayonnaise
2 Tbsp. pineapple juice
1 can pineapple chunks (in unsweetened juice), 20oz.
2 cups mini. marshmallows
2 cups red grapes, halved and seeded
1/2 cup pecan halves
1 envelope Dream Whip
1/3 cup sugar
1/2 tsp. vanilla
1/2 cup milk
Directions:
Whip Dream Whip, sugar, vanilla and milk together and set aside. Soften cream cheese and whip slightly. Mix in mayonnaise and pineapple juice. Add drained pineapple chunks. Add marshmallows, grapes and pecans. Fold in prepared whip.
By Robin from Washington, IA
Ingredients
1 package cream cheese
1 cup powdered sugar
1 cup sour cream
2 tsp. vanilla
2 lb. grapes (red or green)
Directions
Mix cream cheese and powdered sugar. Mix with sour cream and vanilla. Pour over grapes.
Share Your Feedback: Have you tried this recipe? Do you have your own variation which you would like to share? Click "Share a Recipe" above!