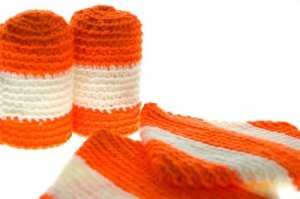 Crocheted potholders come in all shapes and sizes. This is a guide about crocheted potholders.
Ad
---
Solutions: Making Crocheted Potholders
Read and rate the best solutions below by giving them a "thumbs up".
These potholders are thick and safe, so long as you crochet tight stitches. If you use a larger hook, you may get air spaces where the hot pan can burn your fingers. If a size H hook is too loose, get an F or G hook. We all crochet at different tensions. I have made many for gifts as well as for our home, and they always see lots of use. They look nice in a Christmas basket along with kitchen utensils, specialty foods and/or a little cookbook. You can use up scraps of color-compatible yarns as I did here, and they make an interesting pattern. I like the mixed colors better than a solid color.
Instructions
Using one strand of 4-ply knitting worsted such as Red Heart, and a size H crochet hook, chain 35. SC in second stitch from hook working tightly and SC in each stitch (33 stitches). Turn work and SC along the other side of the chain. Continue working around the piece SC in each stitch. You are working in rounds. Do not increase! At first it looks as if you are making a pocket.
After a few rounds, you will have a canoe-shaped piece. Make a total of 24-25 rounds. Press the ends toward the center, and you will see a diagonal pattern develop. The two sides should meet in the middle. If they do, and the result makes a square shape, cut the yarn leaving a 24-inch tail. Whipstitch the two sides together using a darning needle or feed sack needle with a flat tip. Anchor the first stitch by going back through it once. If you enter the stitches on the right, and then pick up the right side of the other row, your seam will look like part of the crocheting.
Make the hanging loop: At the other end, anchor the stitching again by taking an extra stitch in the right side of the corner, and pull the yarn through. Tie the tail end of the yarn back onto the rest of the yarn. Push your hook through the hot pad at the corner and pull a stitch through. Chain 10 stitches. Push hook through the hot pad at the left of the same corner and SC. Move over one stitch to the left and SC again. Now SC over the CH10 loop to cover, using 18 SC. Cover the ends of the knot. Make another SC in the potholder next to the first one and end off. Work in the loose end using a darning needle or feed sack needle.
Source: I copied one from an example a friend made, then made it bigger.
By coreenhart from Rupert, ID
If you enjoy crocheting, having comfortable crochet hooks that don't cause hand fatigue are a must have. These Clover crochet hooks have comfortable ergonomic handles and an ideal hook shape.
If you can single crochet, you can make this heavy double thickness potholder.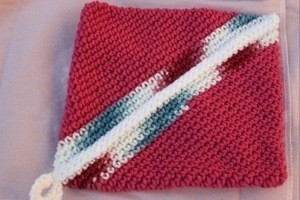 Approximate Time: Two hours.
Supplies:
Instructions:
Chain 40 or whatever size you want your potholder. (This will be the size.)
Single crochet on each side of the chain. Do not add stiches at the end of the row. You want it to start to "buckle" right away.
Continue single crocheting around until the yarn meets. This will take awhile, so sit back and enjoy, but make sure not to add stitches.
When the yarn meets you will be ready to close the potholder. I crochet it closed, but you can slip stitch and it will look exactly the same.
Chain six (or whatever you would like) to form the loop. Inside the chain single crochet to give the loop strength.

This is a great way to use up scrap yarn and the potholders are very sturdy when going through the washer.
Since first posting this project, I found that in the last three rows, If you use a contrasting yarn, the potholder looks so much better. See top photo.
By Tedebear from San Jose, CA
Give a "thumbs up" to the solution that worked the best! Do you have a better solution? Click here to share it!
Questions
Here are questions related to Making Crocheted Potholders.
I am looking for crocheted potholder patterns.

Judy from Traverse
AnswerWas this interesting? Yes No
Ad
---
---
Most Recent Answer
By Louise B. 6 2,531 11/27/20080 people found this helpful
Just don't crochet these out of polyester yarn that melts. I bought some at a craft sale, and they melted when in contact with hot pans from the oven. Sort of defeated the purpose of potholders.
---
I am looking for crocheted pot holder instructions.
By SPittam
AnswerWas this interesting? Yes No
Ad
---
---
Most Recent Answer
By Lee Taylor 15 426 04/19/20100 people found this helpful
www.lionbrand.com and then go to 'all free patterns' you'll see free crochet patterns for the home.
---
I am looking for a crochet pattern for a hot pad using the rings from the top of pop cans. I have made them before but it has been a long time ago and I have forgotten how to lay them out to interlock.

Beth from Fort Deposit, AL
AnswerWas this interesting? Yes No
---
Most Recent Answer
By beth (Guest Post) 01/06/20090 people found this helpful
Thanks trishaj, that is the one I was looking for. Jilson has also sent a great ideal. Love the purse made out of tabs. Ihave already started collecting the tabs.
---
Does any one have a crochet pattern of a dog and a pig Potholders and Hot Pads?

Judy
AnswerWas this interesting? Yes No
---
Most Recent Answer
Archives
Thrifty Fun has been around so long that many of our pages have been reset several times. Archives are older versions of the page and the comments that were provided then.
This is a super easy pattern for a potholder that is easy enough for a beginner. It works up into a nice thick potholder that can be made larger for a table heat mat. This potholder is worked in the round so there is no increases or turning. It works up fast and easy so that even a child learning to crochet can accomplish this pattern. It would make a great Christmas present for a grandmother, Aunt or Mommy or anyone who bakes. This project is also a great portable project so when you are at your doctors or any where you have to wait you can work on it, it can slide right into a purse.
Time: About 2-3 hours
Materials:
"I" crochet hook
Scrap yarn (I used worsted weight) Color of your choice
Instructions
Chain 40
Round 1 single crochet in each stitch across, now single crochet across the bottom of the row you just made. You now have an oval piece.
Round 2 until finished: Continue to single crochet in each stitch around. With each round that you do the ends will start to fold in. This is what you want. Continue until both ends meet in the center. Now on my last row I just pulled the two sides together and slip stitched the opening closed but you could cut the yarn at this point and whip stitch the potholder closed.
Loop for hanging: At one corner attach yarn and chain six. Attach to corner with a slipstitch. Turn and single crochet in each stitch across. Cut and weave in ends.
Final Note: I worked this up in a variegated blue yarn I had left over from another project and it worked up into a nice diagonal striped pattern.
By Debra Frick
Feedback:
RE: Craft Project: Single Crochet Potholder
Sorry, but I think it's important to note that it's a REALLY bad idea to use acrylic yarn for potholders. Plastic MELTS, and I learned that the hard way. It is not fun to sit in the ER while the doctor pulls melted yarn out of your skin. (09/17/2008)
By mamamoonie
RE: Craft Project: Single Crochet Potholder
I have been making these potholders for years. They are very simple. I have given a lot away for gifts. I usually change colors at different stages for the stipe effect. (09/18/2008)
By Arnie.
By daisylover
RE: Craft Project: Single Crochet Potholder
I have used worsted weight yarn for many many years for potholders and have never had one melt yet. Burn yes, when my kids left it on the stove on a lit burner but I guess it could be a concern, I am so sorry to hear that you got hurt. (10/01/2008)
By Debra Frick
RE: Craft Project: Single Crochet Potholder
I also have been making these for several years. I save all my scraps of yarn. Just wind your scraps into a big ball. I use any leftovers that are 6 inches or longer. Just tie the new piece onto the end on your ball, and continue to wind. I use mostly 4 ply, but in some cases I have scraps of sport yarn, and I just double it and tie it to my ball. I have made many "one of a kind colors" by this method. And as another reader mentioned, I have never had one actually melt, but if this is a worry to you, just use cotton yarn to make them. It comes in many pretty colors. (10/01/2008)
I am trying to locate instructions for crochet potholders.
By surfingranny from Madeira Beach, FL
---
RE: Instructions for Crocheted Potholders
Oh, I envy those that can crochet. I never got the hang of it. I don't know what type you are looking for exactly, but these links have several different kinds on each:
If you are looking for more of a basic potholder try one of these:
tamicraft.com (08/10/2009)
By Kaelle
RE: Instructions for Crocheted Potholders
I posted a crocheted potholder that is super simple on this site. It is just chain and single crochet. If you have trouble with the pattern, let me know.
thriftyfun.com
Tedebear (08/13/2009)
By Tedebear