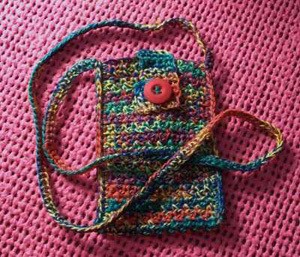 With your choice of double crochet thread and 3 hours or so, you can have a nice little purse for ID, Ipod, or cellphone!
Approximate Time: 3 hours
Supplies:
your choice of crochet thread, doubled
hook size E
one button, 3/4 inch
hot glue gun
Instructions:
With your crochet thread doubled, chain 20 on your hook.
Turn, making a single crochet in the next chain. Chain one, skip one of the chain, and make a single crochet in that next chain, and continue to the end.
If you have a chain at the end, go back and make sure you counted the original chain at 20, or that you didn't skip the first chain from hook. You should always have an even 20 across.
Chain 1, turn and make a single crochet in that first stitch, chain one and keep going.
You will continue this pattern until you have completed 54 rows, or longer if you want it for a custom sized phone.
Bind off the last row by making a slip stitch in each (don't skip any) stitch of the last row.
For the clasp, join the hook on the 7th stitch across the original row, and make 6 single crochets in the 6 stitches, chain one and turn, and repeat this till you have made 8 rows.
Here comes the tricky part. On the 9th row, you will only make 3 single crochets, making 4 rows and binding off. This is 1/2 of the button hole.
For the other half, join back at the base of the split, and make 3 single crochets for 4 rows, then on the last row, join with a slip stitch to the other half of the split. Bind off and work in all of your tails.
Note: With regular thread and needle, you may want to bind all the tails on the inside. This prevents anything from ever slipping out.
With your choice of button, sew it onto the purse, using the clasp to measure where the button is to go. Once the button is in place, tie the ends several times in the back, and I put a small circle of felt over the ties and hot glued them down.
Fold your work in half, and join with the hook on the right side and bottom fold, making sure you catch all the stitch on the back half.
Make single crochets to bind the front to the back all the way up.
Keep making a chain to the desired length of the shoulder strap you want, long for over your shoulder, or short for a clip on to a belt loop or key ring.
Keeping it straight, join with the chain to the second half of the purse and crochet down to the bottom just like you did on the first half.
Chain 1 and turn, going back up the side of the purse with a slip stitch, then a single crochet for the shoulder loop, then slip stitch back down to the end of the purse.
Bind off and work in any tails.
N-JOY!
By Sandi from Yorktown, VA
Does anyone know how to knit or crochet a purse with strips of fabric?

Linda
February 19, 2005
0

found this helpful
One time I bought some very pretty fabric on sale and after I decided to make a skirt with it, I still ended up with a ton of it left, so I knitted a sweater to match with the remaining fabric. Just lay it out flat on the floor and start at one side (side A), and cut a strip 1/2 inch wide, stopping 1/2 inch before you get to the edge (of side B). Then go 1/2 inch below where you stopped (on side B) and cut all the way across back to side A, stopping before you go all the way to the edge. Keep doing this until all your fabric is cut. You end up with one big long strand that you can crochet or knit with, just like you would a piece of yarn. It frays a little, but that just adds character, and it was very durable, I had it for years and ended up getting tired of it before it wore out. Also there are just tons of free patterns for purses on line if you need one. I hope this helps you out. Have fun.
February 24, 2005
0

found this helpful
I found kits at Joann.com and also at my local walmart store. The brand name is "Fabri Knit". They come with everything you need (except knitting needles). The fabric is already cut and it includes embelishments,handle and instructions.
I am sure you could croquet the fabric as well.
May 25, 2006
0

found this helpful
There's a pattern in the book Creative Crochet (leisure Arts Publicaton) for Quick Soft and Roomy Tote. It's made using 2" wide strips of cloth, size Q hook.
May 25, 2006
0

found this helpful
There's a pattern in the book Creative Crochet (leisure Arts Publicaton) for Quick Soft and Roomy Tote. It's made using 2" wide strips of cloth, size Q hook.