I have always had a hard time when I am cross-stitching when my hoop won't keep the material tight. I put a heavy rubber band around the bottom hoop and now I have nice and tight fabric.
By Patricia from La Pine, OR
January 9, 2012
0

found this helpful
Can you describe how you do this? Do you put the rubber band on before you put the top ring on, or after?
To keep from losing my cross-stitch needles all the time, I glued a magnetic strip to the inside lid of the box I keep my embroidery floss in. I no longer lose them, and I can easily find the needle I need.

By Camilla
December 30, 2004
0

found this helpful
I keep a small piece of aida cloth in my container and I use it to hold my needles.
My sewing kit has a small piece of fabric in it for the same reason.
December 30, 2004
0

found this helpful
I keep mine in an old plastic pill bottle. The magnet idea is great too!
I have done many cross stitch projects in the past, but I have never done a blanket before. I have just found out I am going to be a grandmother so I decided to do a baby blanket. It is quite a large project and I am running into some problems. I am concerned because as I work on it some of the stitches are starting to look kind of fussy and worn. I admit I am a bit of a perfectionist and I am also worried about it needing to be washed repeatedly. I assume that it probably should be for show rather than use. I am concerned that the stitching will come undone when washed. Also it is a kit and the blanket is quilted so I am wondering if I could sew fabric to the back once it is finished so the thread work doesn't show.
Also I am used to using hoops with smaller projects and I am not sure what frame to try. I looked for a scroll frame, but couldn't find one to fit. I bought a snap frame, but I have to keep moving it around because it doesn't fit either and is awkward because of the left over material hanging off. I have never had a problem sorting out the colors of thread, but this time they are not labeled and I am having a heck of a time figuring it out! Any advice would be greatly appreciated!
May 30, 2015
0

found this helpful
Might be much easier (!) to consider turning the blanket into a wall hanging or try another project entirely?
May 30, 2015
0

found this helpful
Addendum to first reply-may also be easier on the new parents instead of worrying about a beautiful baby blanket. No matter how careful the parents may be, the blanket stitches may be damaged, the blanket may need washing, etc.
June 1, 2015
0

found this helpful
My mother made several of these baby blankets (quilts) for the grandchildren. She tried her best to not have stitches showing on the backside. This method is more time-consuming than putting the needle all the way through the fabric each time, but it solves the problem of having to cover the back when finished. These are beautiful quilts, but were not used for the babies, just as wall hangings and heirlooms because so much time and effort went into making each one. She always put her initials on them, which I thought was a nice touch. Good luck with yours. I'm sure it will be beautiful and very much appreciated.
I have made a tiny snip on my fabric in a place on the cross stitch pattern where there are no stitches to cover it up. Help!
By Darlene from Red Lion, PA
July 11, 2015
1

found this helpful
Hi. Ive done this too. Dont panic. Cut a small square of cotton fabric and the same size squre of bondaweb and iron it on the back of the snipped bit. It will be tougher to push a needle theough but it will stop the snip showing and fraying. Hope that helps hon.
July 17, 2016
0

found this helpful
Thank you so much for this answer. I have a cross stitch blanket made for and used by my 4 grandchildren (the eldest now 21) which a mouse found very appetizing. Could not just toss it, so your answer is perfect. Thanks again. Bev
Frog Cross Stitch
Advice for cross stitch beginners from the ThriftyFun community.
Masking Tape For Edges
To protect the edges of your Aida cloth, I put narrow masking tape around the edges of my cloth, it keeps the cloth firm and is easy to remove when you get through.
By Tedsmom
Start With A Book Or A Kit
I would get a book at Hobby Lobby or somewhere that says for beginners. It is pretty simple to do and start with something small first. The squares on the cloth comes in several sizes. The smaller the number on the cloth, the larger the squares and the larger the picture. 11 count aidia is a good number. You could also get a small kit with thread and fabric included to start off.
By Donella
Beginner Tips From An Expert
I started cross-stitching in 1978 and loved designing pieces for folks as well as doing other people's patterns. A few tips: try not to use an embroidery hoop - it often leaves a dirty crease in the fabric and it will stretch the threads it covers. Start out with fabric that is medium in weight as well as in 'count' (number of stitches in an inch). ALWAYS separate each strand of floss from the skein THEN combine them as needed...for instance use only 1 thread for 22-count fabric, but use 4 strands for 11-count fabric. The most important thing to learn is NEVER, NEVER tie a knot in the floss! You really should read an instruction book and then ask to observe someone who is a stitcher before you start that first piece. One other special hint: Use a highlighter to color the parts of the pattern as you stitch them and you won't have trouble finding where you left off. Happy counting and stitching!
By Horbits
Don't Tie Knots And Other Tips
I didn't know this for awhile but you don't tie knots in the thread when cross-stitching. You hold out a piece of thread about 1/2 inch long in the back and stitch over it to hold the thread. When you end the thread, you slip the needle back through a few stitches to secure the thread (again, no knots). Stitch a whole row or preferably a whole section, by stitching only half the stitch and go the same direction (top to bottom or bottom to top) on each stitch. Then go back over the row/section you've done w/ the other half of the cross stitch (so you're making a row of slashes then going back and making them into X's) If you make the entire X each stitch, it looks sloppy. I found that it helps to follow the pattern in the order of the thread color listed. If the first color is way away from the center (the place you marked on both your cloth and the pattern), this is where the counting comes in. If you tend to work on a more complicated pattern a bit at a time, you can take a pencil and shade in the areas you've finished on the pattern so you'll remember what you've done. Hand wash your finished product. If you need to iron it, place a pillow case or something similar over it. Also, it helps to use an embroidery loop when cross stitching. Place your fabric in the loop then tighten the screw on the loop and stretch the material taut. Tightly stretched fabric is easier to work with and comes out neater than loose fabric. When you finish your cross stitch, you'll need to stretch it again over cardboard or something similar before putting it in a frame. Masking tape over the edges is also a good idea. If you're working an area with several colors with only a few stitches, you can thread several needles with the different colors before you start so you aren't constantly stopping to thread a needle. That's all I can think of. Good luck!
By Nancy
Try Kids Projects First
I agree with Donella, you can get some small easy kits at the dollar store. They have some for kids that you might even want to go for as they are extra simple. The key to cross stitch is centering the design on the cloth. I find the center square of my pattern and mark it with pencil, then I fold the cloth in quarters and press lightly. Where the fold lines meet is the center square, which I mark with a straight pin or washable fabric pencil in a light color. Remember to finish the edges of your fabric by either zigzaging the edges on a sewing machine, using a product called fray check on the raw edges, or just baste slightly inside the raw edge. This is all to keep the fabric from fraying as you work. You might like to try using vinyl Aida cloth or perforated paper for your first projects as the edges don't fray and you don't need to use a hoop for the project. Let us know how you are doing with it. Have fun! Maybe try the one in this post.
By Thriftmeg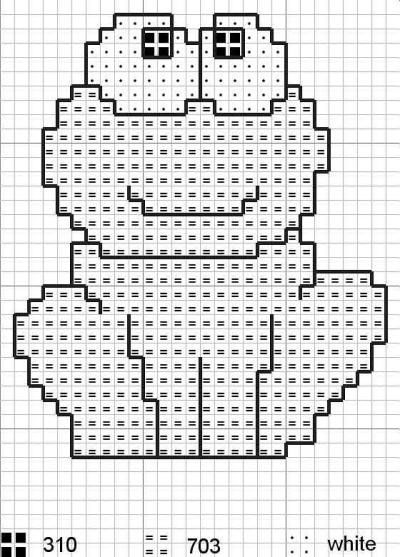 Post your ideas below.
October 18, 2007
0

found this helpful
I have been cross stitching for about 30 years on and off. I had a stroke 4 years ago and had to learn to cross stitch with my non domimant hand. I bought a sit on frame at a craft show that has been my salvation. I was used to not using a hoop as I worked after having creases that I couldn't get out. But after the stroke I couldn't hold the material as I worked. I make presents every year for people now. There are several magazines to choose from that you can get from the bookstores. Some are more difficult than others. But once you get the fever for cross stitch there is no going back. DMC has a website with patterns and tips.
July 2, 2008
0

found this helpful
Hi,
I just learned cross stitching. I already stitched few small patterns, but what really bothers me is that, all of the back of my cross stitch work is messy. Is there a way I can make it neater? Especially when stitching a border pattern which requires moving further from an area to another (2-4 blocks away)?
If you mess up stitches on counted cross stitch, how can I fix them?

Therese from IN
March 26, 2007
0

found this helpful
Depends on the mistake. If your close to it, going in reverse until you get to it works. If your far away from it, snip out the mistake and stitch in an appropriate color. Make sure to just snip the front of the design, pull the cut threads thru the back and cross over them with the new color. To hold them better. Or you can disguise it as something else. Make a black spot on a flower? poof now it's a bee.
March 27, 2007
0

found this helpful
I make mistakes all the time. If it is nothing to serious, just skip it. One thing I do is usually make the outline of the section that I am going to stich. this way I only need to count this area one time. I then go back and "fill" in the outline then do the crosses. Make sense? it works on even small areas. Since I've been doing this, I don;t nearly as many mistakes as I used to. <P>
Another thing, when you do have to snip out some parts and you have all the little edges, use a dap of clear nail polish on the BACK. this will hold the thread to other thread and you don't have to worry that it will unravel. HTH
March 28, 2007
0

found this helpful
Most of the time I undo the stitches, if it is a small area. Otherwise, just let it be. I usually do a small area, and am obsessive about counting the squares. I use a highlighter on the cross-stitch pattern and that helps quite a bit, especially when working with many colors that are very similar to each other
November 22, 2007
0

found this helpful