Fixing Mistakes on Counted Cross Stitch Projects?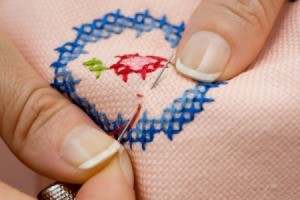 If you mess up stitches on counted cross stitch, how can I fix them?

Therese from IN

Answers
March 26, 2007
0

found this helpful
Best Answer
Depends on the mistake. If your close to it, going in reverse until you get to it works. If your far away from it, snip out the mistake and stitch in an appropriate color. Make sure to just snip the front of the design, pull the cut threads thru the back and cross over them with the new color. To hold them better. Or you can disguise it as something else. Make a black spot on a flower? poof now it's a bee.
March 27, 2007
0

found this helpful
Best Answer
I make mistakes all the time. If it is nothing to serious, just skip it. One thing I do is usually make the outline of the section that I am going to stich. this way I only need to count this area one time. I then go back and "fill" in the outline then do the crosses. Make sense? it works on even small areas. Since I've been doing this, I don;t nearly as many mistakes as I used to.

Another thing, when you do have to snip out some parts and you have all the little edges, use a dap of clear nail polish on the BACK. this will hold the thread to other thread and you don't have to worry that it will unravel. HTH
By Jenny (Guest Post)
March 28, 2007
0

found this helpful
Best Answer
Most of the time I undo the stitches, if it is a small area. Otherwise, just let it be. I usually do a small area, and am obsessive about counting the squares. I use a highlighter on the cross-stitch pattern and that helps quite a bit, especially when working with many colors that are very similar to each other
November 22, 2007
0

found this helpful
Best Answer
I use a seam ripper.
Answer

this Question
2 More Questions
Ask a QuestionHere are the questions asked by community members. Read on to see the answers provided by the ThriftyFun community or ask a new question.
Hey all, I'm new to cross stitch and just realized that one of my stitches is missing the cross, so it looks like a half stitch. How can I fix this? It doesn't look right as a half stitch and it's in the middle of a field of full stitches, so I can't just let it go and keep stitching.
Any advice?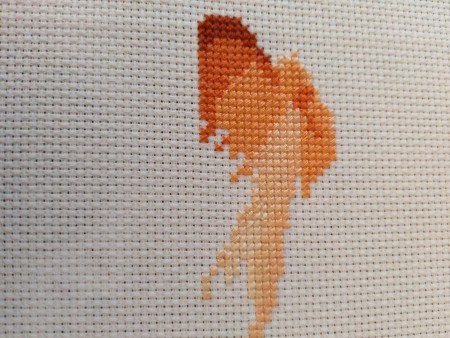 Answers
November 8, 2020
0

found this helpful
Best Answer
Take a needle threaded with the same color as your "mistake" stitch and go back over or under the partial stitch, to make it look complete. If what you have done is upper left to lower right, then you need to go OVER the stitch. If you did the upper right to lower left, then you need to go under the stitch you've done. Which ever way you did the "mistake" stitch, by doing the other HALF STITCH, you will be making a complete cross stitch, and it should look fine. I've been cross stitching for over 30 years, and even I make a mistake now and then....usually when I'm tired. Most mistakes CAN be fixed without undoing a bunch of stitches, but sometimes a mistake can only be properly fixed by clipping the threads and ripping out the wrong part and re-stitching. It stinks when that happens, but for the sake of the project, it's the best thing to do. Sometimes a mistake means taking out some threads in the middle of a section, hiding the ends in the back of your stitching, then doing over, the part you ripped out. Good luck fixing your "mistake half stitch"...I'm sure you can easily fix it. Also, just an observation.... it looks like you need to let your needle hang to straighten out the thread more often to make more even tension on your threads. But for being new to cross stitching, your stitch work looks pretty darn good !!!! Keep it up and stay healthy.
Answer

this Question
How do I fix miss counted rows on my pattern? Do I need to rip it out and start over? I am new to cross stitching and need some advice.
Any advice is welcome. Thanks.
Answers
March 6, 2019
0

found this helpful
If the mistake will be obvious, you must rip out and start fresh. If it is not obvious, you can leave it alone. Only you may know you made an error.
March 7, 2019
0

found this helpful
Can you adjust the pattern to make up for the miscount? I have done that before. I have also had to rip out stitching. Best to use the tinest,sharpest scissors or if you have a very thin seam ripper, that works too. Just be very careful not to cut the fabric fibers. Post back what you decide and the finished sampler.
March 7, 2019
0

found this helpful
Its an entire row. So, it sounds like I may have to rip it all out and start it over.
Answer

this Question
Published by ThriftyFun.
© 1997-2021 by Cumuli, Inc. All Rights Reserved.
https://www.thriftyfun.com/Fixing-Mistakes-on-Counted-Cross-Stitch-Projects-1.html