This page contains cross stitch needlework craft projects and tips.
Browse

Cross Stitch Jar LidChoose cross stitch pattern smaller than the top of a canning ring. Stitch pattern onto Aida cloth. When finished, cut away extra cloth. Center design on orange juice lid.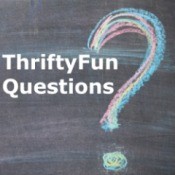 Making Cloth Stiffer for Cross StitchingI bought robin cloth 18 count afghan size 58X43 inches. The squares are so soft and flimsy that they move when cross stitching and make my work look uneven. Any ideas on how to make the cloth stiffer while cross stitching?


Featured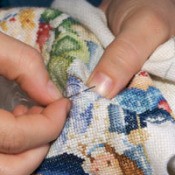 Cross Stitch SayingsHere are cross stitch sayings that have been submitted from the creative ThriftyFun community.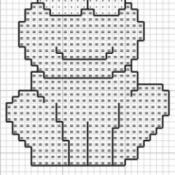 Cross Stitch Tips for BeginnersAdvice for cross stitch beginners from the ThriftyFun community. To protect the edges of your Aida cloth, I put narrow masking tape around the edges of my cloth, it keeps the cloth firm and is easy to remove when you get through.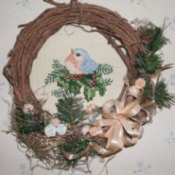 Grapevine Wreath Cross Stitch GiftTired of just framing your cross stitch project or turning them into pillows for gifts? Here's a unique way to display your work or create a special gift. Glue your project to a piece of round cardboard and glue the cardboard to the back of a grapevine wreath.


Questions
Advertisement