When doing a lot of cross stitching, and other needlework, you know you should really keep your hands clean. The easiest and inexpensive solution for me is to use the store brand baby wipes. You can wipe your hands at any time during stitching, they stay moist in their container, and take up very little room.
By Marti S. from Athens, GA
Read More Comments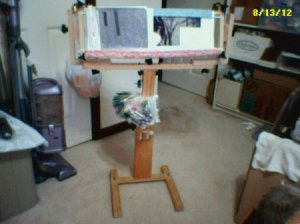 I do a lot of cross stitching and always use a floor stand. However, when kept in the stand frame, it is open to household odors, my hubby's cigarette smoke, etc. I now use a plastic garbage bag to slide over the scroll rods and upper frame, therefore helping to keep it a little cleaner. This also protects it against fur and such from our kitties.
The rods I use can differ from 22 inches to 36 inches depending on what I'm stitching, so the flexibility of the covers is a must. For my current work in progress, I duct taped two garbage bags together so it would slide over the ends easier.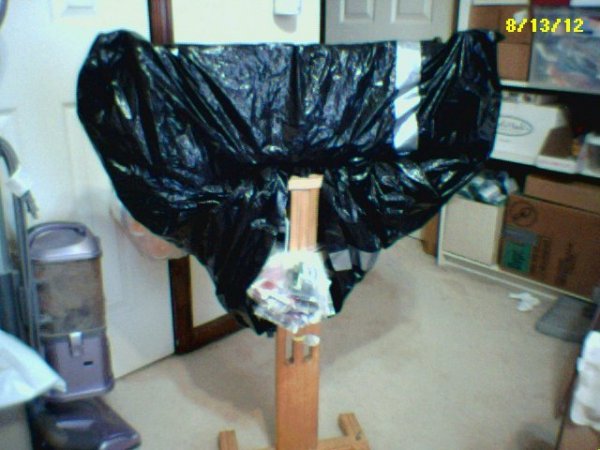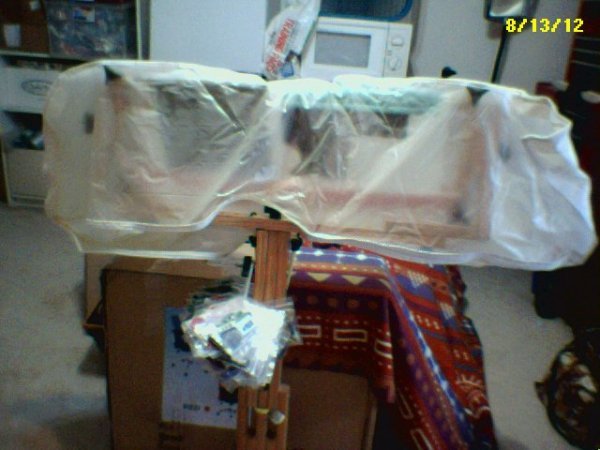 I have even used a garment bag folded in half lengthwise, zipped the end up as far as I could, then used binder clips to close the other end. It seems I've gotten into doing bigger pictures. I can also hang my floss ring on the side when not in use.
This idea can also be used if you don't use a stand, just slip your frame into a bag. :)
By Marti S. from Athens, GA
I wash my hands several times a day, but I still end up with dirty cross stitch fabric. It is mostly on the back because I fold the Aida over the hoop, but I still end up with dirty looking areas on the front.
Any tips for keeping it clean while I'm working? I have to use a hoop as I have neuropathy in my hands and can't hold loose cloth well.
Answers
February 27, 2017
2

found this helpful
what I know that people who quilt do is wear gloves - they either wear thin, tight white fabric gloves, or you could also try using latex gloves. This will prevent the oils on your fingers from getting on yuor fabric. THe oils are what will always make it dirty and attract dirt, so the gloves should solve your problem
February 27, 2017
0

found this helpful
Wash your hands before you start working, and if you get sweaty hands, more often.
February 18, 2018
1

found this helpful
I attach with a safety pin an old and very bleached linen towel or napkin to an edge of my work. It's a little awkward but always there to pull across my palm or project so my hands never are directly touching it.
Answer

this Question

...