Advice for cross stitch beginners from the ThriftyFun community.
Masking Tape For Edges
To protect the edges of your Aida cloth, I put narrow masking tape around the edges of my cloth, it keeps the cloth firm and is easy to remove when you get through.
By Tedsmom
Start With A Book Or A Kit
I would get a book at Hobby Lobby or somewhere that says for beginners. It is pretty simple to do and start with something small first. The squares on the cloth comes in several sizes. The smaller the number on the cloth, the larger the squares and the larger the picture. 11 count aidia is a good number. You could also get a small kit with thread and fabric included to start off.
By Donella
Beginner Tips From An Expert
I started cross-stitching in 1978 and loved designing pieces for folks as well as doing other people's patterns. A few tips: try not to use an embroidery hoop - it often leaves a dirty crease in the fabric and it will stretch the threads it covers. Start out with fabric that is medium in weight as well as in 'count' (number of stitches in an inch). ALWAYS separate each strand of floss from the skein THEN combine them as needed...for instance use only 1 thread for 22-count fabric, but use 4 strands for 11-count fabric. The most important thing to learn is NEVER, NEVER tie a knot in the floss! You really should read an instruction book and then ask to observe someone who is a stitcher before you start that first piece. One other special hint: Use a highlighter to color the parts of the pattern as you stitch them and you won't have trouble finding where you left off. Happy counting and stitching!
By Horbits
Don't Tie Knots And Other Tips
I didn't know this for awhile but you don't tie knots in the thread when cross-stitching. You hold out a piece of thread about 1/2 inch long in the back and stitch over it to hold the thread. When you end the thread, you slip the needle back through a few stitches to secure the thread (again, no knots). Stitch a whole row or preferably a whole section, by stitching only half the stitch and go the same direction (top to bottom or bottom to top) on each stitch. Then go back over the row/section you've done w/ the other half of the cross stitch (so you're making a row of slashes then going back and making them into X's) If you make the entire X each stitch, it looks sloppy. I found that it helps to follow the pattern in the order of the thread color listed. If the first color is way away from the center (the place you marked on both your cloth and the pattern), this is where the counting comes in. If you tend to work on a more complicated pattern a bit at a time, you can take a pencil and shade in the areas you've finished on the pattern so you'll remember what you've done. Hand wash your finished product. If you need to iron it, place a pillow case or something similar over it. Also, it helps to use an embroidery loop when cross stitching. Place your fabric in the loop then tighten the screw on the loop and stretch the material taut. Tightly stretched fabric is easier to work with and comes out neater than loose fabric. When you finish your cross stitch, you'll need to stretch it again over cardboard or something similar before putting it in a frame. Masking tape over the edges is also a good idea. If you're working an area with several colors with only a few stitches, you can thread several needles with the different colors before you start so you aren't constantly stopping to thread a needle. That's all I can think of. Good luck!
By Nancy
Try Kids Projects First
I agree with Donella, you can get some small easy kits at the dollar store. They have some for kids that you might even want to go for as they are extra simple. The key to cross stitch is centering the design on the cloth. I find the center square of my pattern and mark it with pencil, then I fold the cloth in quarters and press lightly. Where the fold lines meet is the center square, which I mark with a straight pin or washable fabric pencil in a light color. Remember to finish the edges of your fabric by either zigzaging the edges on a sewing machine, using a product called fray check on the raw edges, or just baste slightly inside the raw edge. This is all to keep the fabric from fraying as you work. You might like to try using vinyl Aida cloth or perforated paper for your first projects as the edges don't fray and you don't need to use a hoop for the project. Let us know how you are doing with it. Have fun! Maybe try the one in this post.
By Thriftmeg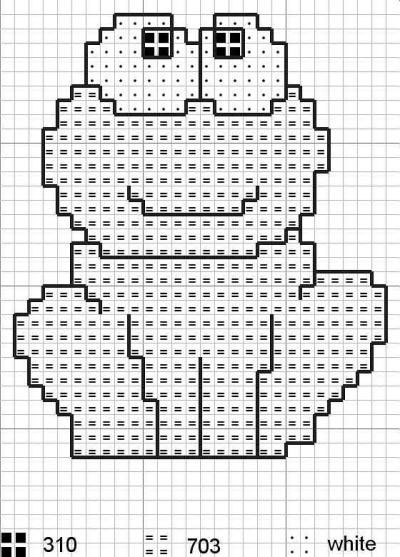 Post your ideas below.