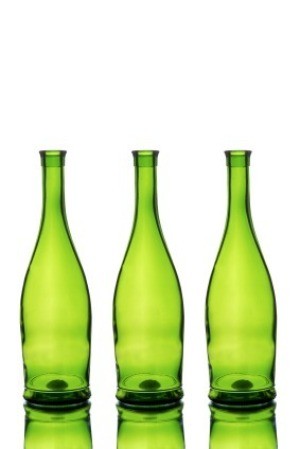 Recycling glass bottles for craft projects often requires that they be cut to size. This is a guide about cutting glass bottles.
Ad
---
Solutions: Cutting Glass Bottles
Read and rate the best solutions below by giving them a "thumbs up".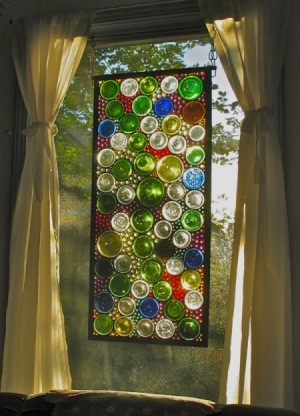 I work with stained glass a lot and often use the bottoms of wine bottles in my windows. The bottles with the pushed in bottoms look really cool with the sun shining through. It's a fair bit of work to get the bottoms cut and shaped for use, but well worth it.
Check on YouTube for several different ways to do this. I have over 30 years experience working with all kinds of glass and have cut up hundreds of bottles.
By Mr. Tim from Tinley Park, IL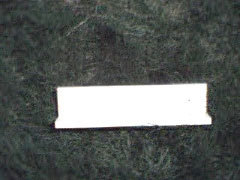 Here are instructions for making a jig to help hold and cut bottles.
Materials:
5 ft. of number 2 (1 by 4) pine board (pick a good straight one)
8 1-5/8 or 2 inch deck screws
wood glue
stain
polyurethane
1 wooden school ruler
Tools:
sander
clamp
1/8 drill bit
electric drill/driver
an electric saw of your choice
Directions
Cut wood in following dimensions:
2 pieces, 18 inches long
1 piece, 12 inches long
1 piece, 7 inches long
Glue and screw the two 18 inch pieces into a "V" Shape. Don't worry that one is going to be higher than the other. The "V" shape

On our first attempt, we put the taller board to the back in assembly.

Glue and screw the 7-inch piece to the bottom. This is the bottle stop. Take special note that the bottom of the "V" and the bottom edge of the stop are even. This will assure good stability, I also left 3/4 of an inch between the front of the "V" and the front of the stop. This is done so that the 12 inch piece will also butt up against the stop and run across the front edge of the "V". A screw at a downward angle attaches the front plate to the "V", making sure not to stick out the inside of the "V". The 12-inch board is nailed to the shorter side to act as a hand rest for cutting the bottles.
Sand all corners and edges to make it user friendly. Attach the wooden school ruler along front edge for making exact cuts. Stain if you like, but a coat or two of polyurethane should help make this a lasting project and easier to use. That's all there is, folks.
To Make The Tapper
Materials:
1 piece of 1/2 inch steel rod, cut to 14 inches
1 ground rod connector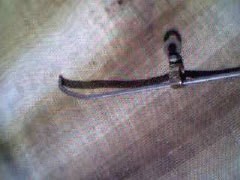 This is a picture of the tapper all together
I put two small bends as shown to be able to reach the bottle sides without hitting the neck. I rounded the end of the rod so it will contact the bottle with no sharp edges. I did this with a bench grinder, but you could also file it round. To attach the ground rod, I replaced the short bolt with a longer one and slit the top to be able to solder in a washer so you could tighten without a wrench. This makes the tapper adjustable for any size bottle.

These are close-up pictures of bottle tapper parts.
Instructions for Using Bottle Cutting Jig:
Materials:
one bottle cutting jig
one glass cutter from hardware store, the kind used to cut flat glass
Lay bottle in jig, making sure that bottom of bottle is firmly against bottle stop. Score with bottle cutter, resting hand on the hand rest. Score and then rotate the bottle. Do not repeatedly score bottle as this is a waste of time and makes the bottle harder to cut. Repeat this until you are all the way around the bottle. Insert tapper and gently tap around the score line until you hear a small cracking sound. Continue until bottle is apart.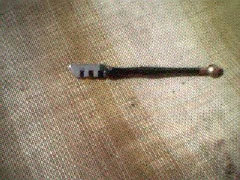 Note To Users: Be ready to tap the cut soon after scoring. Any lapsed time and, believe it or not, the glass will heal and be almost impossible to break.
By Debra and Leo Frick (Colorado)
Give a "thumbs up" to the solution that worked the best! Do you have a better solution? Click here to share it!
Questions
Here are questions related to Cutting Glass Bottles.
I want to know any way to cut a spirit bottle down to make a glass.
Does anyone know how to make the wine bottle edge? After cutting the bottle how do you make the edge smooth and melted looking, not sanded? I have a kiln, and already slump bottles. Any clues, anyone?
By Ruth
AnswerWas this interesting? Yes No
Ad
---
---
Most Recent Answer
By mr. Tim 2 3 03/13/20120 people found this helpful
You have everything you need, if your kiln is big enough! Just stand it cut end up in the kiln and heat slowly to about 1400~1700 F and keep a close eye on it. With the cut end towards the top it should get hotter quicker than the bottom. When it looks rounded to your liking, flash cool it to a temperature. When the glass is stable, then cool to room temperature like any other project.

You can also do this with any torch that has a blue flame. You will still need to bring the whole bottle up to temp. before tying to round over the top edge, or it will shatter. Just remember, glass does not like to change temperature up or down quickly, and you will be OK.

PS. Figure on a few failures, and take notes!
When making a drinking glass out of a beer bottle, what type of string do you use to soak in lighter fluid, then tie around the bottle?
By Alex from Sheffield, MA
AnswerWas this interesting? Yes No
Ad
---
---
Most Recent Answer
By Helmut 8 121 12/11/20100 people found this helpful
In the 50's, when I was a wee widdle kid, we used postal twine, a cheap hemp string, tied to the top and bottom of a thumb-thick willow stick, like it was a fiddle string. Looping the string completely around the bottle, turned the fiddle stick into a bow. "Sawing" rapidly heated up the glass and splashing water on it cracked it.

In the 60's we got lazy and used butcher twine and white gas.

In the 70's they sold bottle cutting jigs, that let you roll a bottle in a V shaped trough with one end stop and a glass cutter.

I improved on that by drilling two holes into each side of the trough and gluing marbles into three of them for smooth sliding bearings, and the glass cutter into the fourth hole.

For the neck side end stop I just clamped a block of wood into the trough with a C-clamp.

For the smoothest rotation I wrapped a strip of rubber cut from an old bicycle inner-tube a couple of times around the bottle and out through a hole in the bottom of the trough. That resulted in smooth and precise cuts and the 100th bottle was cut exactly the same as the first.

To get the edge perfectly smooth I always used a torch. As long as you never stop and keep the torch moving around the top, it works quite well.

Keep in mind, though, even with a perfect cut and a perfectly beaded edge, cut bottle glasses are just a goofy novelty and will be retired to a shelf or given away pretty soon. They are not comfortable for drinking, but if you use colored bottles, they can be used to make very pretty storm candles.

Have FUN!
DearWebby
http://webby.com/humor/blog
How can I cut bottles?
By Pam from Johannesburg
How did you (Mr. Tim) join the bottoms of the bottles together? Did you use came or glue, I can't tell from the photo.
By Kelly Belly from Bernalillo, NM
Archives
Thrifty Fun has been around so long that many of our pages have been reset several times. Archives are older versions of the page and the comments that were provided then.
I heard or read somewhere that you can make your own drinking glasses out of glass water bottles, wine bottles, or beer bottles. Has anyone tried this? I was always afraid to do it as it sounds a little dangerous. As in, maybe safety goggles aren't enough. They said all you have to do is file a little groove around the circumference of the bottle at the height you wish the glass to be and then wrap that groove with a string that's been soaked in kerosene.

So, if you've tried this:

1. What do you use to initially file the glass?

2. How do you minimize the danger of flying glass, etc.?

3. If there are sharp edges afterwards what would you use to file down the rim?

4. Would a glass cutter work instead?

Planet Papier Mache from Wash DC
---
RE: Making Drinking Glasses From Glass Bottles
This was a popular shop class project when I was in high school back in the 1970s. You cut off the neck of the bottle, glue it to the bottom and it becomes the stem of the glass. You do have to use a special glass cutter, which I believe you can get at a crafts store. They are novel, but the big problem with this type of glassware is that the sides of the glasses are so thick so that when you drink out of them, they dribble. I say don't waste your time. If you are looking for fun, frugal glassware, try the mason jars that ready-made spaghetti sauces (like Classico) come in. They work great, are good quality, hold a lot, and are fun to drink from! (11/14/2005)
By Mary
RE: Making Drinking Glasses From Glass Bottles
To make edges of glass smooth to drink from, use sand paper and oil, it works great. (05/04/2007)
By jack sparrow
how to make the edge smooth on cut glass
First of all you cut the beer bottle or wine bottle, then you go to any auto parts store an get some valve grinding compound. Put the valve grinding compound on a sponge and wet it. Then you lay the sponge down and turn the glass up side down on the sponge and start twisting. The edges will come out smooth and rounded. And that's how to make drinking glasses from glass bottles. (12/10/2007)
By mike
***
*** I would like to make glasses like these from the Pottery Barn. However, I have never worked with glass. Any ideas on how to cut the bottles, and then smooth the edges? Thanks.
Michelle
---
RE: Making Drinking Glasses From Glass Bottles
If you Google "bottle cutter", you will get lots of results that have the special kit; and it should include the emery cloth to smooth the edges. It should also have good directions for all steps. I saw nice kits for $29.95. (01/02/2009)
By Jilson
RE: Making Drinking Glasses From Glass Bottles
This idea has been around for years. When I was a child, my father bought a kit to make his own glasses. He used beer bottles, Pepsi bottles, and any other kind of bottle that suited his fancy. He did find the kit at one of those " As seen on television" stores. (01/08/2009)
By Karyn01
RE: Making Drinking Glasses From Glass Bottles
We tried this years ago with a kit. We never were able to use any of them. We couldn't get them really smooth. It always felt sandy and for the time and trouble, it was cheaper and easier to buy glasses, even second hand if you really want to be frugal. They were also ugly and never looked right. (01/08/2009)
By kibby
RE: Making Drinking Glasses From Glass Bottles
There are several video's on youtube showing how to cut glass bottles. I watched them last year because I was going to try it, you know how that goes. It's still on my "like to try list". If I remember, you take cotton string or twine, soak it in nail polish remover, tie it on the bottle where you want it to be cut, set it on fire, and then submerge and snap off the top in a bucket of cold water. (I think the sudden change in temperature breaks it off.) Then you wet sand it smooth. Good luck and let us know the results! (01/08/2009)
RE: Making Drinking Glasses From Glass Bottles
They never come out right. If you'll notice on your regular drinking glasses, the edge is slightly rounded. The straight cut glass never "feels" right when you drink out of it. (01/13/2009)
By Beth