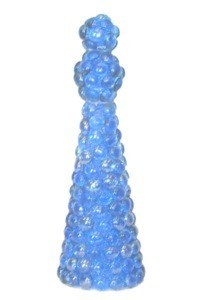 This modern looking statuette seems to be made of glass beads, but it's actually Styrofoam at the core. This keeps the statuette cheap, easy to make, and light enough to put anywhere.
Approximate Time: 1 hour without drying time
Supplies:
Styrofoam ball: 1 1/2 inch
Styrofoam egg: 1 7/8 x 2 1/2 inch
Styrofoam cone: 3 7/8 x 8 7/8 inch
Krylon "Short Cuts" Forever Blue spray paint
low temperature glue gun and glue sticks
round light blue glass accent gems (1/2 inch, about 260)
Instructions:
Take the Styrofoam egg by the narrow end. Place the narrow top down flat against the table. Push down gently on the egg to flatten the top. Flatten about 1 inch of the egg.
Paint ball, egg, and cone with blue spray paint. Let dry.
Starting at the bottom of the cone, use a glue gun to glue the accent gems around the cone. Leave the top flat part of the cone without gems.
Use a glue gun to glue the accent gems around the ball and egg. Leave the bottom, flat portion of the egg without gems.
Place the flat part of the egg on the top of the cone. Use a strong, hefty, but clear glue to attach the egg to the top of the cone to make a body. Use the glue to attach the ball to the top of the egg for a head. Let dry.
By Aysha from Boise, ID
October 12, 2004
2

found this helpful
These tables are an easy project and you could even get your kids to help. This can be done on plastic wood or glass. Find your self a pattern for a simple stain glass project. Geometric works best. Lots of patterns can be found on the internet.
Trace your pattern on to your surface. Fill in your design with flat gems. I use silicone caulk as glue as it will stand up to outdoor use. Wait 24 to 48 hours until glue is really dry and gems are firmly affixed. I like to use light color grout, but you can use any color you like. Grout the flat marbles. Now you have a table you will get raves about.
By Debra in CO
This is for older kids and adults who like shiny baubles to lay around, like me. This craft makes use of the glass rocks you can find in the craft section at Walmart. I like to get the clear ones. You can also used recycled gift wrap or glitter left over from other crafts.
I trace a picture on them, (you have to do small pics) and then I glue glitter on them and glue colored gift wrap to the back side to give the clear glass color.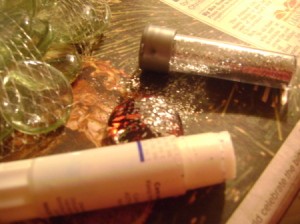 I love any kind of rock, and I love that I can trace any shape onto them because you can see through them. I thought of using stencils on them or writing Japanese letters on them for friends. I had originally wanted to write words on them, but there was no room. I couldn't find any pens small enough. I was going to try for the Lord's Prayer, but it was impossible.
This was so fun. I might put magnets on them for the refrigerator, but more than likely I will make a felt bag to hold them in or a small box. I like to handle these things and look at them.
On the photo here that I did, I traced a Christmas candle from a photo in the paper, however the photo was bit large for this size rock. I loved how it turned out anyway.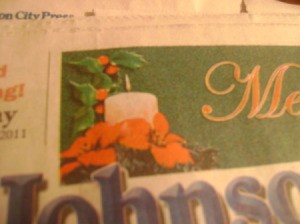 I used a glue stick and rubbed the glue stick on the back and put a piece of gift wrap face up on the bottom of the rock. I pressed the paper onto the rock. I let it sit for a few minutes and then I pulled the extra off and tore off any that remained around the edges.
I then rubbed the glue stick really well on half the rock and then poured some glitter on it. It was shaken off quite forcefully and then it was ready to sit and dry. I would think you could glue the glitter on the bottom of the rock and it would look like a snow globe, but I have not tried that yet.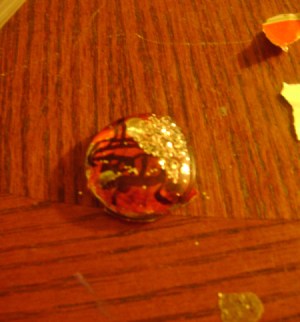 My daughter did the smiley face that I thought was so cute! There is no backing on it, but I think I will put a piece of felt on the bottom and sit it around where there are no animals or small kids around to try to eat them.
By Robyn Fed from Tri-Cities, TN