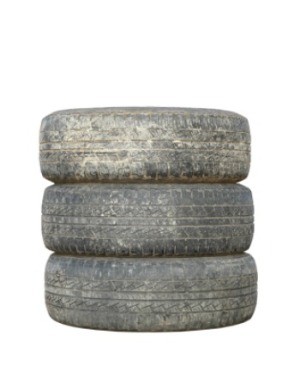 Whether you are trying to dispose of your old tires or using them in a project, you may be looking for a way to easily cut them to suit your purpose. This is a guide about cutting tires.
Ad
---
Solutions: Cutting Tires
Read and rate the best solutions below by giving them a "thumbs up".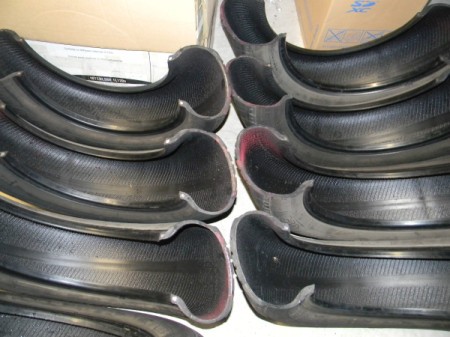 I was able to successfully cut through some old tires using a 7.25 inch circular saw, albeit one fitted with a relatively high-end blade (a 40-tooth 'Diablo' woodworking blade). There are blades designed specifically for cutting through metal, as well, but they're even more costly than the Diablo.
In any case, I was able to cut through the tires without too much difficulty using the circular saw. I had to cut across one side, flip the tire over and cut across the other, and then stand the tire up and cut across the tread in order to get the tire cleanly in half. The blade seemed to hold up well enough, as it cut through the fourth tire about as easily as it cut through the first one.
This is probably very hard on the saw though. I Wouldn't recommend it if you have more than a few tires to cut through. And I'm guessing it may not work at all using the cheap blades that come standard on most circular saws.
Also sparks will go flying everywhere when you do this. Eye-protection is a good idea.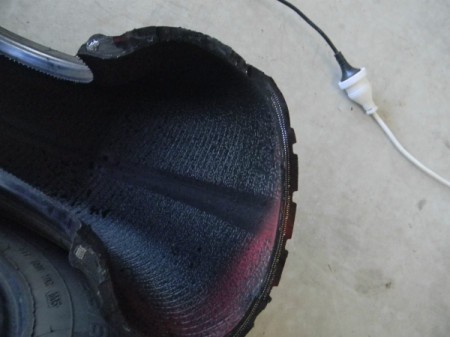 By aroth [1]
Give a "thumbs up" to the solution that worked the best! Do you have a better solution? Click here to share it!
Questions
Here are questions related to Cutting Tires.
How to cut up discarded tires?
By Joe from San Antonio, TX
AnswerWas this interesting? Yes No
Ad
---
---
Most Recent Answer
There are plenty of ideas on the web, but few if any on how to make these designs. I just want to cut the old tires in half to make a path border, but am having a heck of time finding out how to cut them.
Ideas I have got, how tos I don't.
By Tim s.
How do you cut old used junk tires in half so they can be worked with?
By Robert S. from Jacksonville, FL
Archives
Thrifty Fun has been around so long that many of our pages have been reset several times. Archives are older versions of the page and the comments that were provided then.
Could you inform me on how you cut car tires please?
Debra from NSW
---
RE: Cutting Tires
Serrated knife should be used, cutting away from yourself. I did mine last week and got some nasty blisters. Sidewalls cut easier, but still took a lot (took a lot of breaks), of elbow grease. Then you have to sort of stand on inner part of tire/cut part away, on ground, then pull with all your might and turn it inside out. It was very hard to do. I found it a bit easier when I cut close to the tread, made turning a bit easier. Mine have been tastefully spray painted and face my neighbors bay window. He's been giving me funny looks ever since. At least I try and recycle. Don't try and use a saber saw to cut tires/ does not work and was a dangerous idea.
Claudia (04/24/2002)
By admin
RE: Cutting Tires
I have found using a jigsaw with a blade for rubber works quite well for cutting most tires. If you plan to cut into the tread then you need a modified metal blade. As for turning the tire inside out then that too is very easy. But I cannot tell you in a few short words how to do it. Just believe me if I can do it so can you. (I had back surgery a year ago and the smaller tires I can do). I bought a book by Paul Farber that tells all, he also has a video if you want it. (11/19/2003)
By Nadean
RE: Cutting Car Tires
I just came across a site of a guy who used wood chisels and and a hammer, said it took only a bit more time than a band saw did. (05/02/2006)
By Imani
RE: Cutting Car Tires
In Africa they make lots of things out of old tires. The most popular item made are sandals. They use a very sharp knife and water as a lubricant. They stop cutting to sharpen the knife on a honing stone several times each minute! Old-fashioned bias-ply tires can be cut any which way. They deal with steel belted tires by peeling off each layer of rubber between the steel belts. Don't work with steel belted tires without good leather gloves. The edges of those steel belts are very sharp and can cause a nasty, nasty cut.
Incidentally, unfortunately it's not a good business for the Africans because the sandals actually last multiple human lifetimes so they don't get any second-time customers. I guess they need a lesson in planned obsolescence. (07/12/2006)
RE: Cutting Car Tires
I found cutting them with a metal cutting blade Sawzall (actually the Skill version) works through the metal tread and the side wall, but I learned to avoid cutting the side bead through as it ate even the best metal blades up (Dewalt and Lennox). Just cut the bead off longways down the sidewall leaving a donut shape. (03/22/2008)
By Glenn